Velenje Castle
From Culture.si
Contact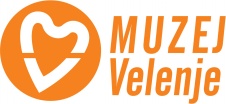 Velenjski grad
Ljubljanska 54, SI-3320 Velenje
Mojca Ževart, Director
History
The first documents mention the owners of Velenje Castle (Welen, vest Welen, Wöllan) as the Kunšper gentlemen in 1270. Their relatives, the Ptuj gentlemen bought the castle in 1322, but gave it away as dowry to the Liechtenstein family. The Counts of Celje conquered the castle for a while at the end of the 14th century, but had to return it after the decree of Duke Albert of Habsburg in 1393. The Family Wagen von Wagensberg entirely renovated the construction in the 16th century and the fortress was transformed into a Renaissance residence. Until the beginning of the 17th century, the castle changed many owners, then the Sauer family remained as owners for almost 200 years. In the 19th century it was bought by Karl and Bianca Adamovich. The last owner of the castle, Count Coronnini-Kromberg used it only as a summer residence until 1943 when the Germans drove him out of Velenje after the Italian capitulation.
After the Second World War the castle was nationalised. Social apartments were made there, a lot of furniture was demolished and the building would have fallen into ruins if the Velenje Coalmine had not founded the Museum of Slovene Coalmines there in 1957. The first collections were gradually organised and at the same time an intensive renovation of the building was carried out. Today Velenje Castle is one of the best preserved castles in Slovenia.
Museum and gallery collections
The Mastodon Collection of the prehistoric elephant from Škale near Velenje; Saleška Valley between the 10th and 17th Century; Baroque Church Art (St George in Škale); the African Collection of František Foit; reconstructions of a shop with mixed goods and an inn from the beginning of 20th century; The City that was Called a Miracle; Šaleška Valley between 1941 and 1945; as well as permanent art exhibitions of the Slovene painter Lojze Perko, theCiril Cesar sculpture collection, and the Gorenje Art Collection with 65 selected works from Slovene Impressionism to contemporary art.
See also
External links
Gallery