Introduction to New Media Art in Slovenia
From Culture.si
The local terminological context
The term intermedia dates back to the mid-1960s and its use is largely connected with the writings of Dick Higgins (1938–1998), one of the co-founders of Fluxus. Among the fundamentals on which the movement was based is the departure from the established art genres and the use of new media, intermedia or non-media to blur the boundaries and thus refuse classification by way of the traditional canon. Over the years, intermedia has been used interchangeably with multi-media. Intermedia, however, has become preferred for expressing the interdisciplinary character of the art practices and activities to which it refers.

The habitual use of the term intermedia in today's Slovenian context could be attributed to its regular use by the public calls of various institutions. The term became embedded in the vocabulary in 2003 when the Ministry of Culture established the Section for Intermedia Arts (later, intermedia art was placed under the wider and unifying Creativity Directorate), thus naming its open calls the same way. In general, it combines all artistic practices that use unstable, variable and dynamic media (or technologies) to express themselves in interdisciplinary ways and cross and fuse boundaries of traditional media or genres. Thus categories such as interventions in the public space could be included.
Historical forerunners
The first intersection between art and science in Slovenia can be traced as far back as to the beginning of the 20th century and the pioneer and visionary of cosmonautics Herman Potočnik (1892–1929), known under the pseudonym Herman Noordung. His work has influenced many artists and researchers, not least Arthur C. Clarke and Stanley Kubrick. However, the ultimate forerunners of new media art can be found rather in the experimental artistic avant-gardes from the beginning of the 20th-century (dadaism, constructivism, futurism).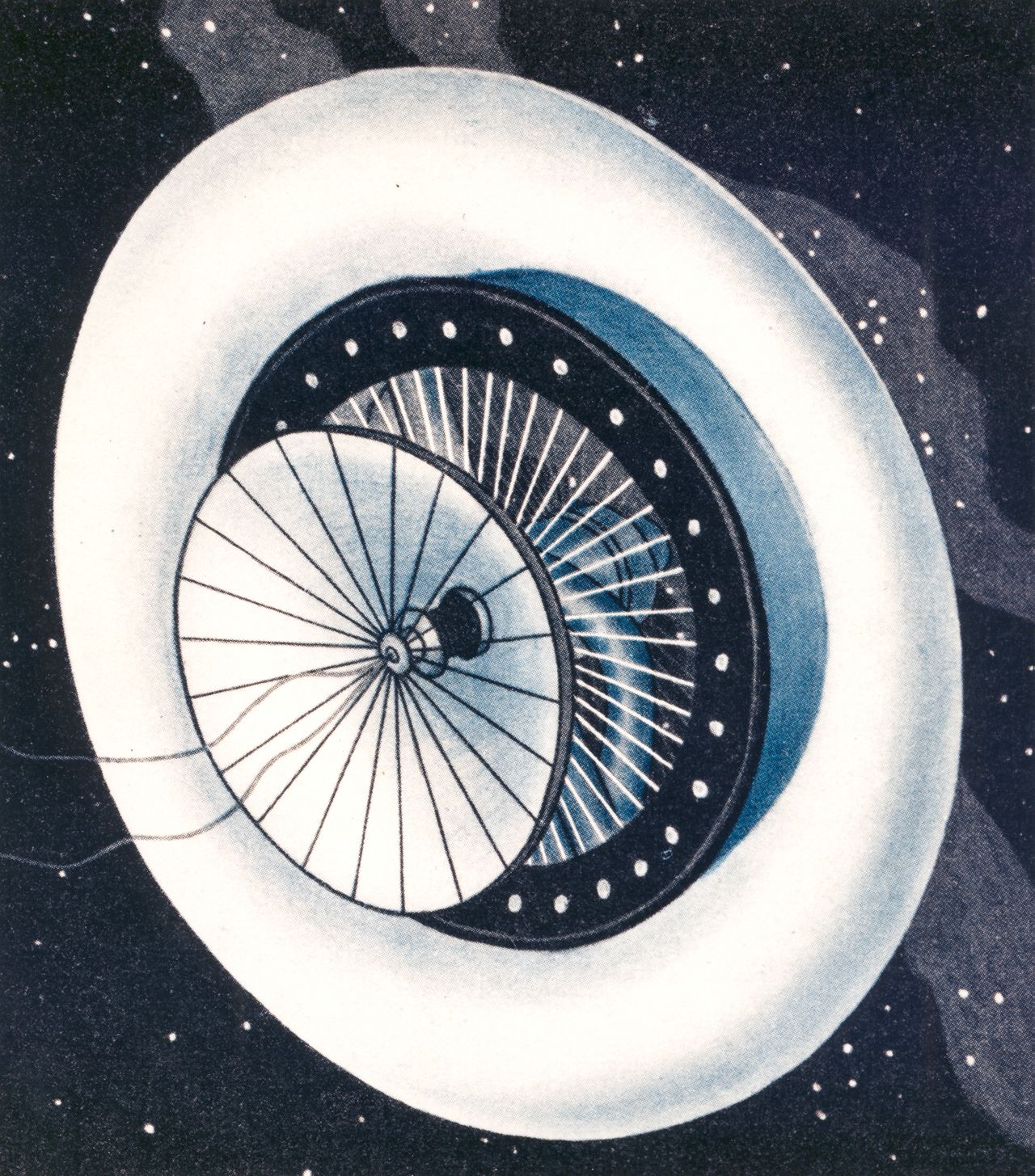 Hermann Noordung depiction of a space station habitat wheel. Hermann Potocnik (1892-1929), also known as Herman Noordung, created the first detailed technical drawings of a space station, 1929 The iconic "Space Station Habitat Wheel" by Herman Potočnik Noordung, 1929.

In Slovenia, one of the most recognised representatives of that period is Avgust Černigoj (1898–1985). He was an early mentor to Edvard Zajec (1938–2018), a pioneer of computer art. It was with Černigoj where Zajec could focus on the significance of the processual aspect of art instead of the product itself. Zajec, who was partly educated in the USA, started incorporating computer graphics in his artistic practice in the late 1960s and constantly searched for two-way communication between the author and the viewer.

From the aspect of processual and conceptual art, the same period was marked with the presence of the neo-avant-garde OHO group (1966–1971). Founding OHO members were Marjan Ciglič (1944–), Iztok Geister (1945–) and Marko Pogačnik (1944–) who along with a great many of their later collaborators belonged to the various fields of art creation, from fine art to literature, film making, critical view and theory. They combined the primary areas of their work in an intermedia manner and are known for their objects, installations and happenings documented on film and with photographs.
Pioneers in the video realm
The first historically canonised artistic video in ex-Yugoslavia, now considered the first Slovenian video, (The White Milk of White Breasts, 1969) was recorded by the tandem Nuša and Srečo Dragan (1967–1988), also a part of the wider platform of the OHO Group.
In the late 1970s, video artist Miha Vipotnik (1954–) began collaborating with the Slovenian national television. There, he completed Videogram 4 (1976–1979), which marks the beginning of experimental video and multimedia art in Slovenia. By manipulating and transforming images, he combined them with sound and movement to synthesise complex media messages. In 1983, Vipotnik established VIDEO CD, the first international video festival in Ljubljana (1983–1987), organised by the Slovenian republic's fairly young Cankarjev dom, cultural and congress centre. In 1986, video gained recognition through Auto-vision, the first programme on video art on national TV made by Vipotnik and Marijan Osole-Max (1956–). By using decontextualised, widely distributed images as a critique of the ruling culture, video production could be presented in clubs and alternative galleries.
Other prolific artist duos experimenting in video include Zemira Alajbegović and Neven Korda - ZANK (1982–) and Marina Gržinić and Aina Šmid (1982–), among individual artists Rok Sieberer - Kuri (1965–) and Ema Kugler (1956–) are prominent, all working in the alternative art scene.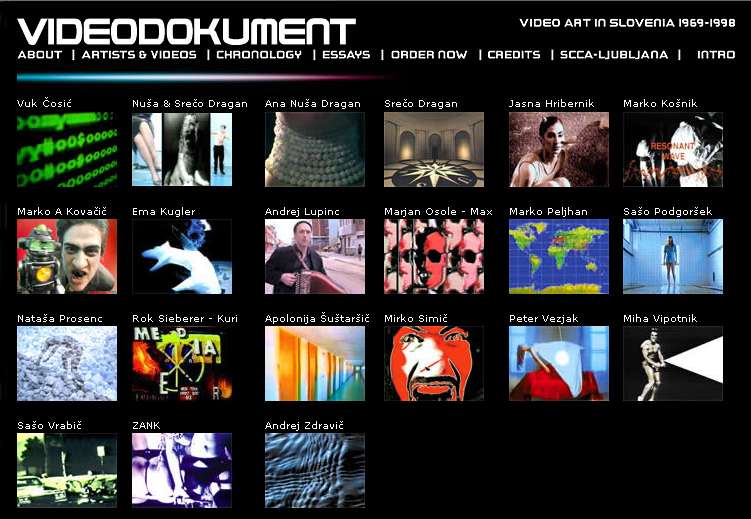 Videodokument, online version
The archive of video art from 1969 to 1998 was first gathered in the project Videodokument.org, developed within the scope of the SCCA-Ljubljana (the former Soros Center for Contemporary Arts – Ljubljana Documentation Programme). It was followed by DIVA Station, a research and study archive of video and new media art, still active today. It is a vital source for retrospectives and thematic screenings, such as the one of Vipotnik's opus organised and hosted by SCCA-Ljubljana with Slovenian Cinematheque in 2020.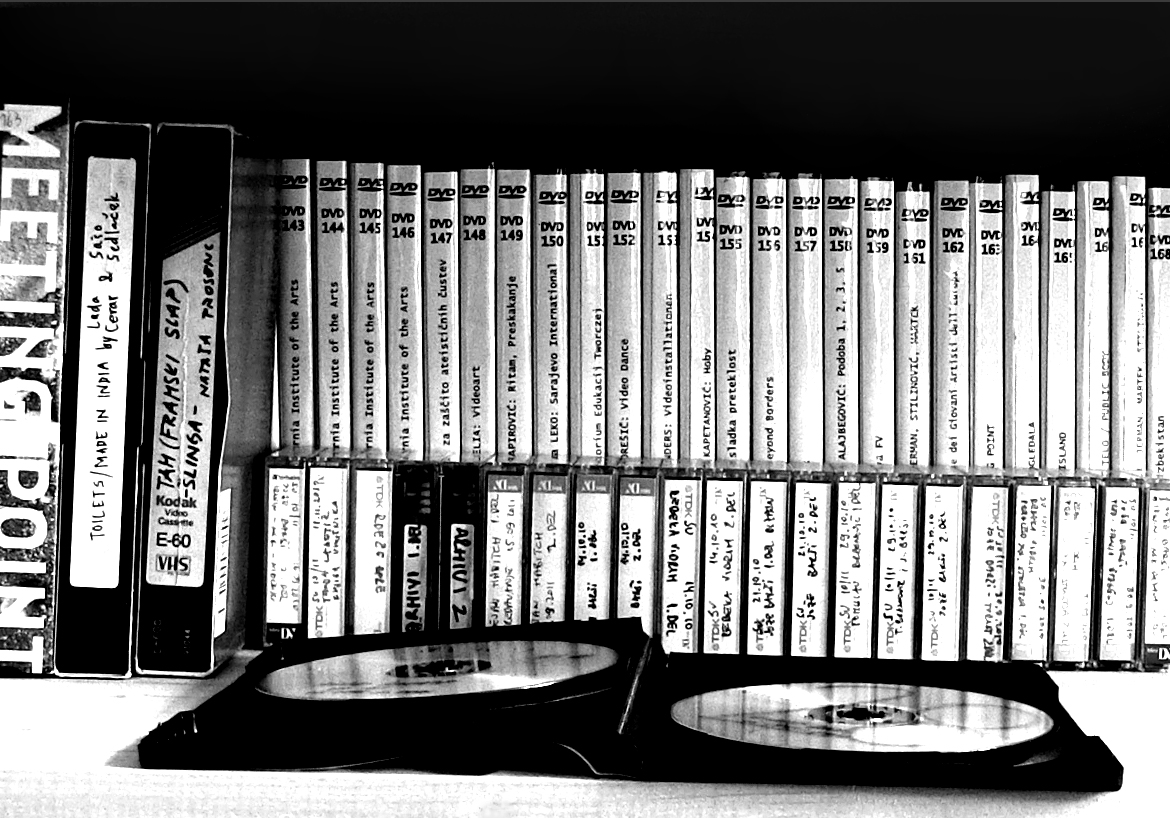 A collection of the DIVA Station at the SCCA-Ljubljana Centre for Contemporary Arts
The first platforms
New media art in the 1970s and the 1980s researched and reflected the different uses of analogue and digital technologies and their artistic as well as social implications. The connection between art and the socio-political goals could only be established in the alternative subcultural scene which, although sometimes intertwined with the institutional one, was much more flexible and adaptable.
An important organisation that supported the experiments and new media art was ŠKUC Association, short for Student Cultural and Art Centre. Envisaged as a counterpart to the dominant exhibition policy of the established national galleries and institutions in Slovenia, Škuc Gallery opened in 1978 with a retrospective show of OHO Group. The interdisciplinary installation Hidrogizma by Jani Osojnik (1951–), Iztok Osojnik (1951–), Dušan Pirih Hup (1952–2008) and Vesna Černivec (1951–) was set up there in 1979. Hidrogizma was among the first experiments of combining sound with fine arts and was in fact a big scale water instrument that foresightedly posed questions about the postdigital and global understanding of the world. Since its beginning, Škuc Gallery has been a platform for multimedia projects such as Casus Belli by Marko Kovačič (1956–) in 1983.
Visual artist, performer and collector Marko A. Kovačič in his studio at Metelkova mesto Autonomous Cultural Zone in Ljubljana
The theatre group FV-112/15 (1981–1989), known for combining aspects of theatre and disco, operated under the ŠKUC-Forum protectorate in three locations throughout its history: the student dorms in Ljubljana's Rožna dolina (Disko Študent), the Šiška district (FV Disko) and Kersnikova ulica (K4). From FV formed the multimedia "music-body band" Borghesia. Active in the same years, the band was crucial for the group's connection to video art, using monitors, cameras and VHS recorders as early as 1982. ŠKUC-Forum's Video Section was led by Marjan Osole - Max (1956–) who later founded Studio TDS Brut and was the initiator of the ATV "alternative television".
ŠKUC began publishing several magazines and publications in 1972. Visual and concrete poetry was also published in Tribuna Magazine (1951–2018) and Problemi Journal (1962–). Theoretical texts and reviews were published in specialised magazines such as Ekran, Magazine for Film and Television or the now-defunct Sinteza: Magazine for art culture.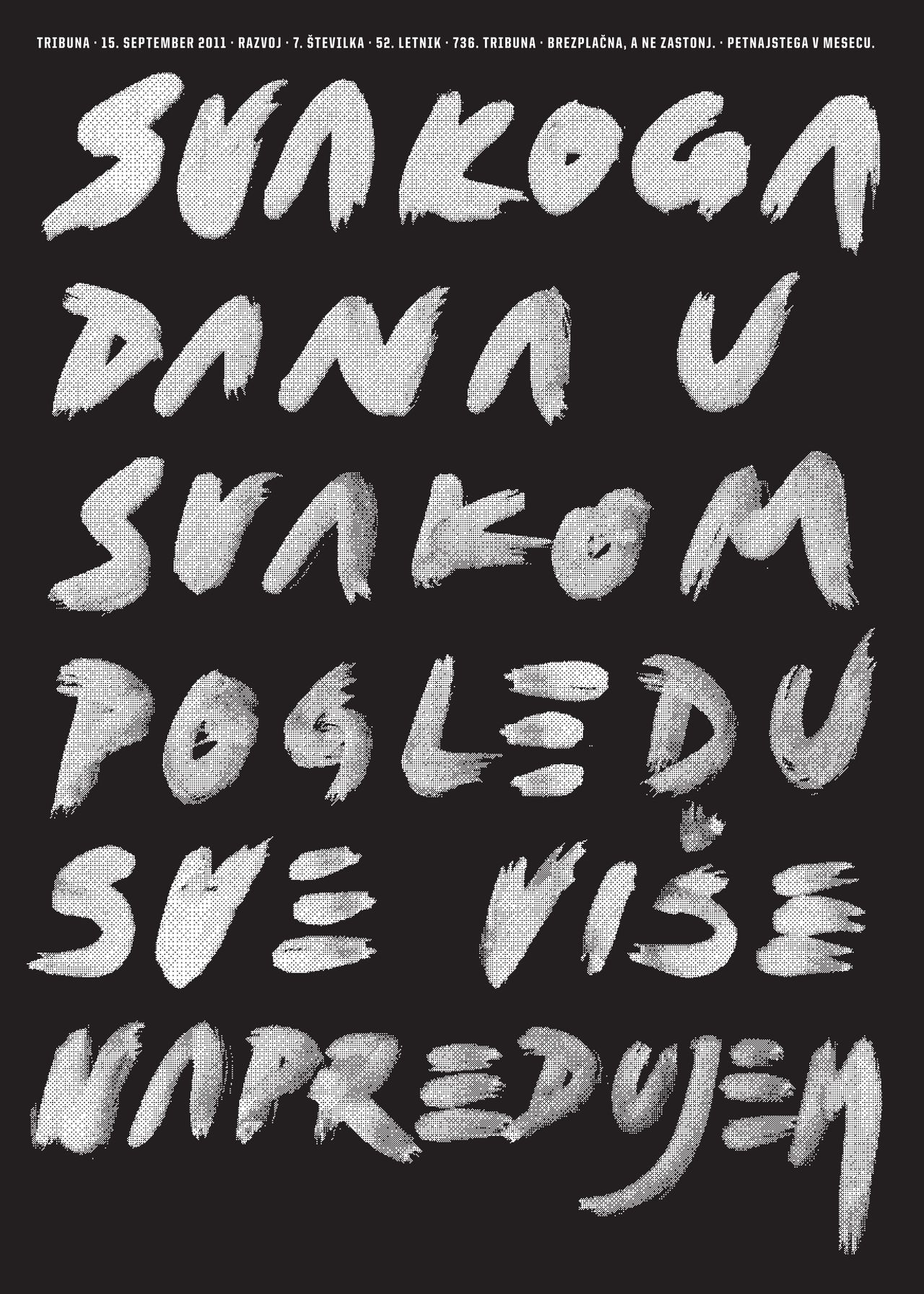 Tribuna, September 2011
Radio frequencies
Radio Študent (RŠ) (1969), the oldest alternative radio station in Europe, established a software redaction in the first half of the 1980s. Active only a few years, it focused on the newest available technologies, mostly using Spectrum computers. Even though they functioned as a separate entity, they became involved in the radio programme through the radio-television Študent (RTVŠ) with visual inputs such as animations that could be loaded as the computer programme and watched synchronised with the radio stream. Later, RŠ was also responsible for the first regular Slovenian radio show about computer science Kondicija dvojiškega sistema that appeared in the second half of the decade, initiated by Peter Levart and soon after taken over by Miha Kralj. One of the contributors of the show in the 1990s was Luka Frelih (1974-), who parallelly co-founded (along with Marko Peljhan (1969-) and Vuk Ćosić (1966-), among others) the pioneering and still very active infrastructure for digital innovations Ljudmila (Ljubljana Digital Media Lab) in 1994.
In the 1990s, RŠ hosted the show Egon March Institute Presents (1991–1996) that broadcast lectures from Škuc, Kapelica Gallery or the Information Centre of the Museum of Modern Art, Ljubljana. Marko Košnik (1961-) established Egon March Institute in 1986; later, along with Borut Savski (1960-), Bojan Ažman - Chiron Morpheus (1965–) and Frelih, he co-founded the Ministry of Experiment (MZX), active 1994–1995. One of their goals was to reawaken the experimental approach towards media that had been thwarted since the mid-1980s. Among their many activities was building a strong internet infrastructure, already setting up an internet radio stream in 1998. MZX acted as an independent production unit within RŠ between 1997 and 2000, supported by the radio and additional funding from the Open Society Institute Slovenia.
In 1999, Savski began with his radio show Huda ura about experimental music and the art of sound that continued until 2013. In 2009, he co-founded Cirkulacija 2, a still-active association for the interdisciplinary production of contemporary art based on DIY principles with Stefan Doepner (1966–), Boštjan Leskovšek (1965–), Majda Gregorič (1960–) and Ksenija Čerče (1969–), later joined by Jakob Harisch. Thus, three out of the four initiators of MZX established prominent intermedia institutions that are still play an important role in the Slovenian contemporary art scene.
In 2011, Bojan Anđelković (1976–), initiator of the RŠ broadcast Artefakt (2005–2016) which researched the autonomous radio language in the reality of the hybrid media, founded the RŠ intermedia art platform, R A D A R. An open radio (art-theory) investigative platform for cooperation among contemporary art practices and theories in connection with the radio medium and a focus on the durational aspects of the work. It is still active with regular radio broadcasts and the annual festival event RADART.
Emerging venues in the new state
The political climate in the newly independent democratic Republic of Slovenia (1991–) favoured individualisation and prompted business-based models of collaboration. To develop their own technological means of expression, new media artists began building their own new structures of production and promotion, namely private institutes or associations, which enabled them access to public funding. Some of the newly-established art platforms or spaces in the 1990s or early 2000s were Projekt Atol Institute (1992–) by Marko Peljhan, Intima Virtual Base (1996–) by Igor Štromajer, P74 Centre and Gallery (1997) by Tadej Pogačar and Aksioma Institute (2002–) by Janez Fakin Janša (né Davide Grassi), among others.
Support from the Open Society Institute Slovenia, a prominent facilitator of the civic society in the early 1990s, helped to establish the Soros Center for Contemporary Arts - Ljubljana (1993–1999), later replaced by the SCCA-Ljubljana Centre for Contemporary Arts (2000–). Many organisations followed based on the same support: Ljudmila - Ljubljana Digital Media Lab (1994–) in Ljubljana, KIBLA Multimedia Centre (1996–) in Maribor and PiNA Primorje Information Atelier (1997–) in Koper; all still important organisations and producers in the new media art scene.
A popular format in the 1990s became youth centres that stimulated activities for young people in the field of arts – some prominent examples are MKC Maribor Youth Culture Centre (1993–), MIKK Youth Information Cultural Club in Murska Sobota (1995–), Velenje Youth Centre (MC Velenje) (1997–) and Brežice Youth Centre (MC Brežice) (1997–), to name just a few, all supporting multimedia and new media art activities in their diverse infrastructure. In 2000, Egon March Institute organised the international project hEXPO – festival of self-organised cultural forms, a synchronised action carried out by 15 co-producers with over 70 international guests.
Many of the abovementioned are today renowned in international new media circles for their participation in new media festivals, conferences and networks (e.g., ISEA, Ars Electronica Festival, Transmediale Berlin, Dutch Electronic Arts Festival (DEAF), European Media Arts Platform (EMAP), SEAFair in Skopje, European Cultural Backbone (ECB), European Multimedia Forum, Webby Awards), where they promote and seek new models of co-production as well as new funding sources, both locally and internationally and facilitate the active exhibiting of Slovenian artists abroad. In 2017, Maja Smrekar (1978–) received the Golden Nica at Ars Electronica – Prix Ars Electronica in the Hybrid Art Section; in 2019, Špela Petrič (1980–) received the Ars Electronica – Award of Distinction in the Artificial Intelligence and Life Art Category.
Today, the first generation of protagonists of Slovenian new media art are internationally-acclaimed artists (and theorists), having attained impressive and pioneering achievements during the 1990s, when they also managed to establish their own creative artistic platforms. For some, the point of departure was performing arts, for others, music and sound. The Academy of Fine Arts and Design of the University of Ljubljana in collaboration with graduates of the Faculty of Computer and Information Science in Ljubljana and the Faculty of Electrical Engineering and Computer Science in Maribor produced a new generation of new media artists, such as the artistic duo of Narvika Bovcon (1976–) and Aleš Vaupotič (1975–). BridA is an artistic collective that formed while its members were studying at the Academy of Fine Arts of Venice in 1996. Of all the artistic disciplines, new media artists are typically the most internationally involved as far as co-productions (artistic collaboration as well as funding) and education are concerned: many representatives are lecturers of interdisciplinary studies at prominent universities in Europe, America and Asia.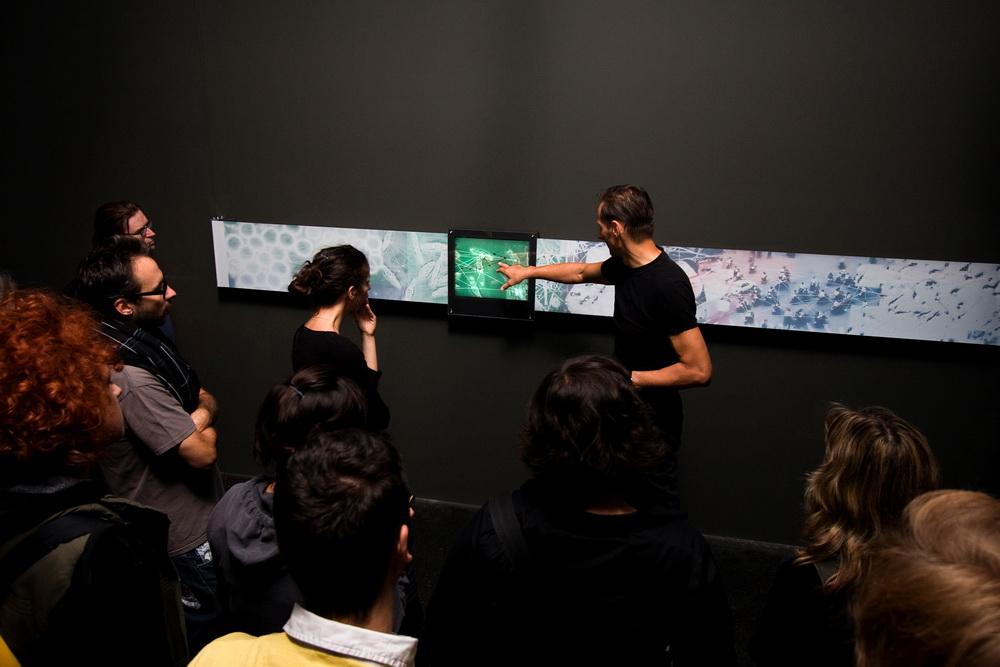 BridA presenting their interactive installation project Modux 3.4 at Ars Electronica, Linz, 2008 The presentations of BridA's interactive installation project Modux 3.4 at Ars Electronica, Linz, 2008.
Space and the body: New media on the borders of science
The alternative culture of the 1980s in Slovenia is most widely represented by the world-famous Neue Slowenische Kunst (NSK) movement. Its constituent groups – Laibach, Irwin, New Collectivism, Scipion Nasice Sisters Theatre – represented the fields of music, fine arts, graphic design and performing arts, respectively. New media art and the use of technology within the NSK endeavours questioned the notions of authorship and originality in the arts and orchestrated the creation of Gesamtkunstwerk artworks, culminating in the performance Krst Pod Triglavom (Baptism under Triglav), staged in Cankarjev dom in 1986.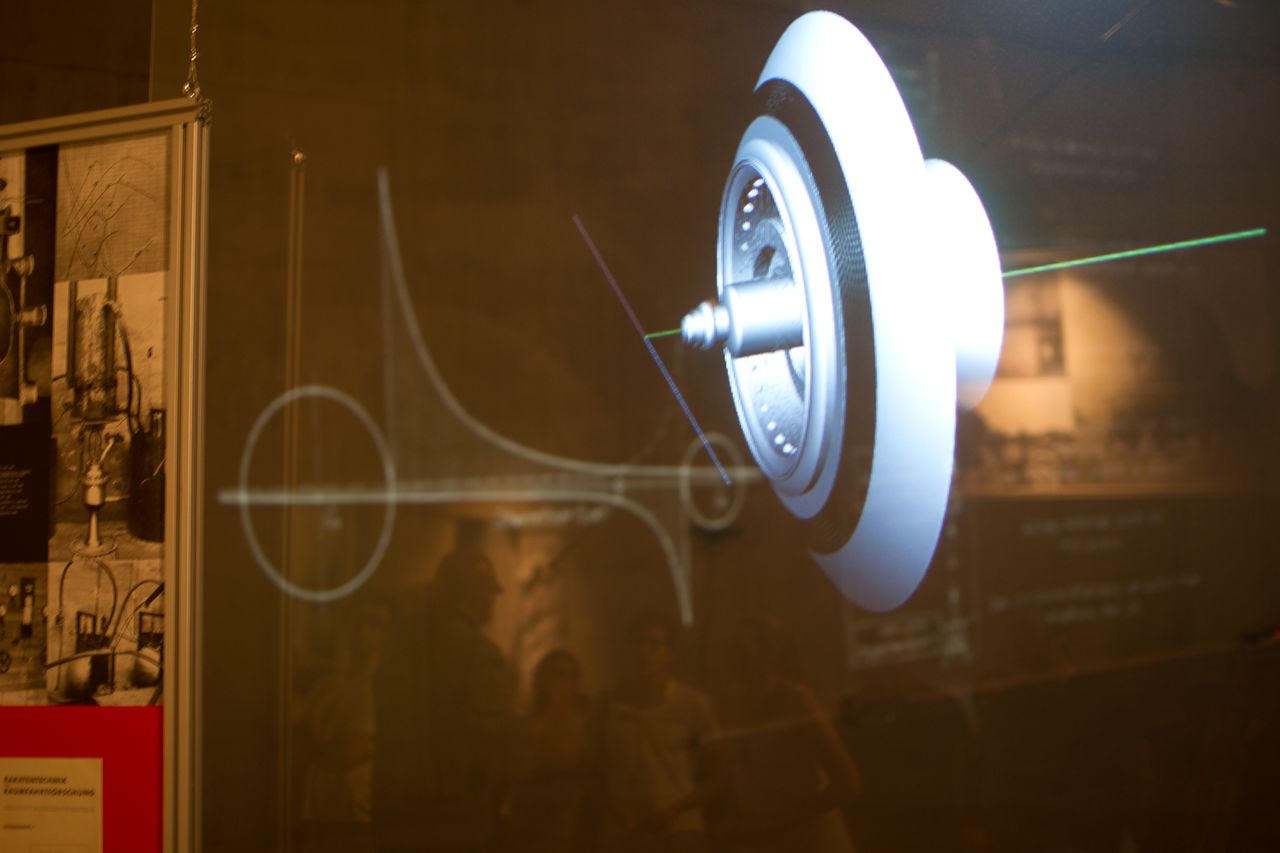 Permanent exhibition entitled Herman Potočnik Noordung: 100 Monumental Influences in Vitanje, 2012
The NSK performing arts activities were led by Dragan Živadinov (1960–), the most-known contemporary adherent of Herman Potočnik Noordung in the artistic field. Following Scipion Nasice Sister Theatre, Živadinov founded Noordung Cosmokinetic Cabinet in 1991. Together with Dunja Zupančič and Miha Turšič, they initiated the 50-year project Noordung 1995::2045, Biomechatronic projectile (1995–2045) that aims towards post-gravity art – not as an artistic genre but rather as a space in which art could be built under the terms of non-gravity. Živadinov is also a co-founder of the Cultural Centre of European Space Technologies (KSEVT) (2012–) in Vitanje the original programme of which was based on the concept of the culturalisation of outer space, introduced by the team within the Delak Institute (1995–).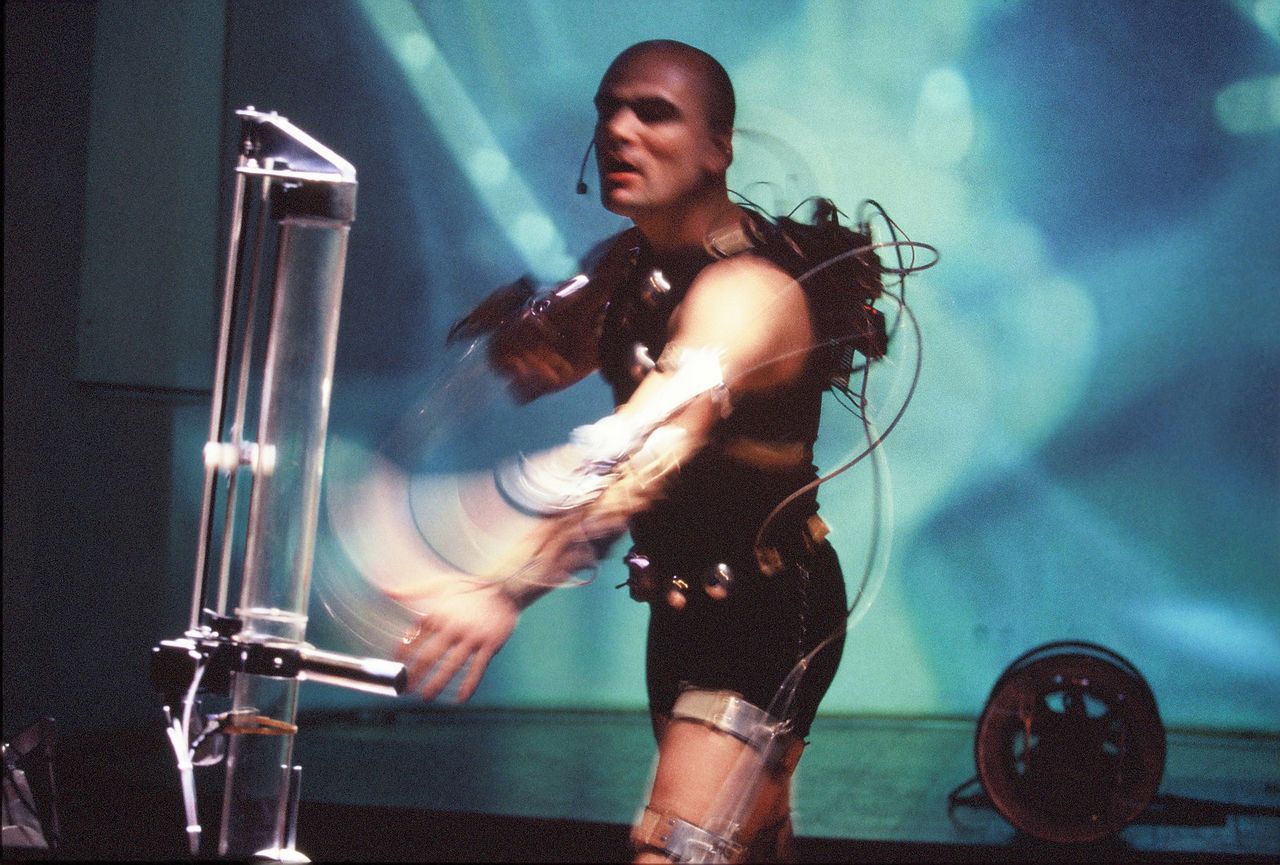 Radical practices and statements that were directly connected to the body of the artist found a place in Kapelica Gallery, established in 1995. Fundamental works body art works were performed by Ive Tabar (1966–) and the tandem Eclipse (1999–) among others.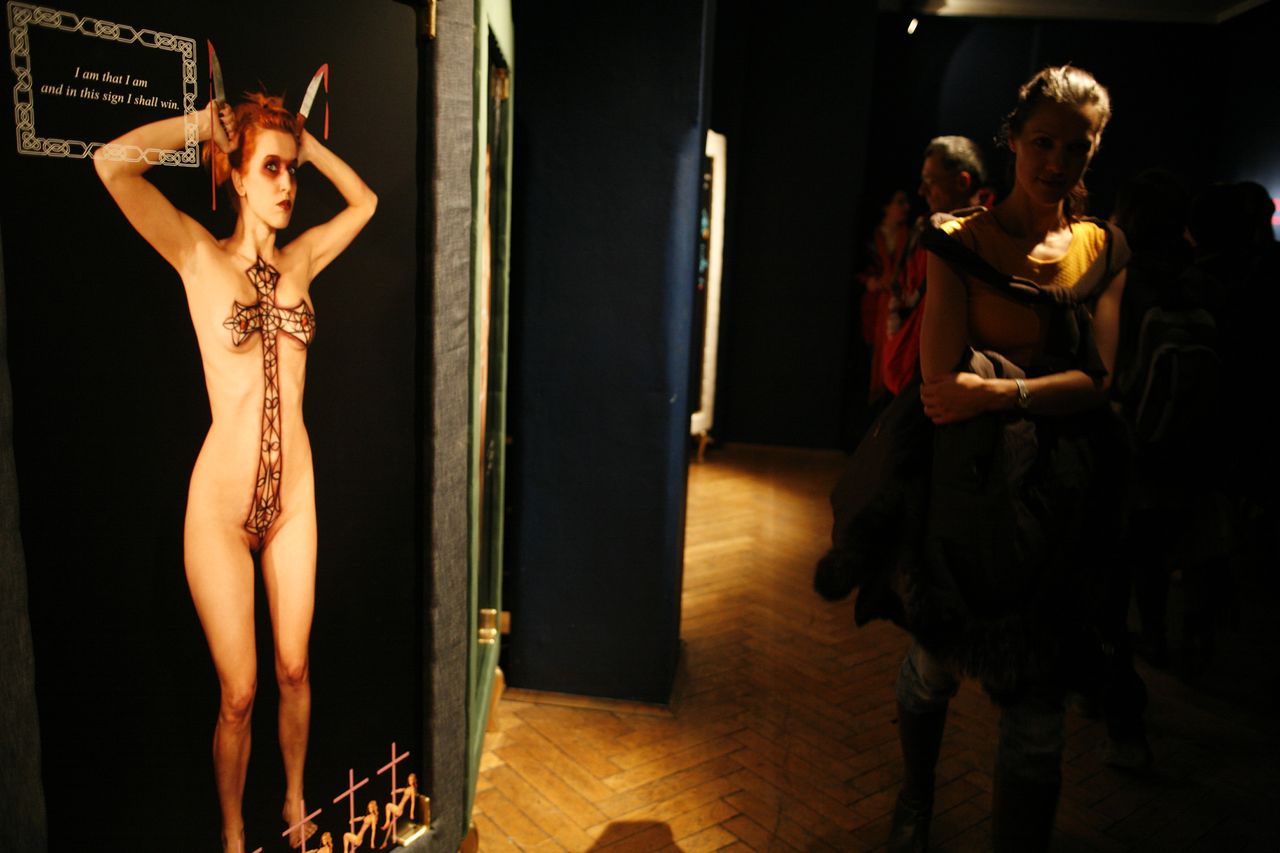 Photographic exhibition 10. Of Blasphemy We Are Guilty by Eclipse at Kapelica Gallery in Ljubljana, marking its 10th anniversary
Still today, Kapelica Gallery as a representative institution of the new media art in Slovenia has preserved its specific interest in radical forms of practices connected with the body. In recent years, they have established collaboration with artists Saša Spačal (1978–), Polona Tratnik (1976)–, Mojca Založnik (1978–) and the already mentioned Smrekar and Petrič. The artistic director of Kapelica Gallery is, from its very beginning, Jurij Krpan. Krpan was also a curator of U3 Triennial of Contemporary Slovene Arts in 2006 where he represented eleven new media art projects in one of the four modules of the exhibition.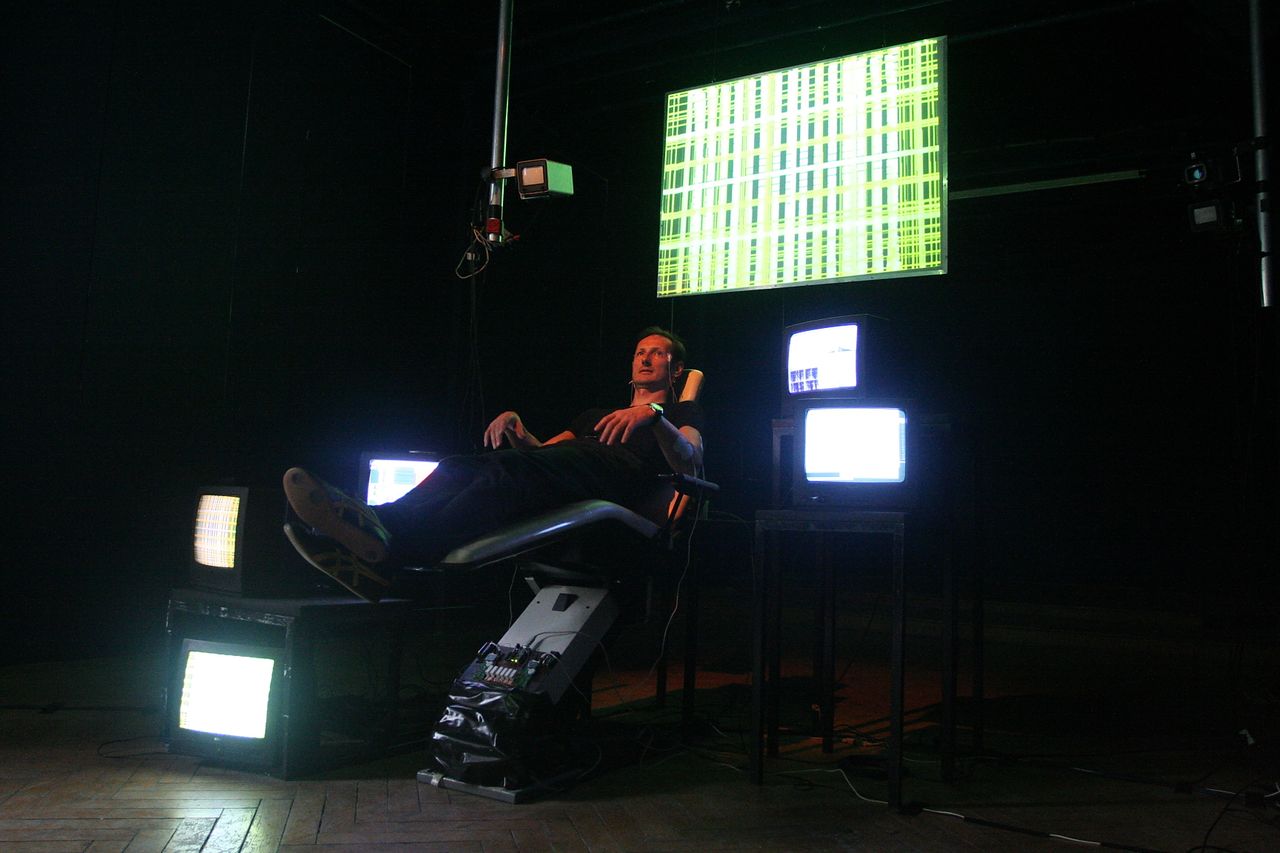 Installation BrainTV by Maja Smrekar with curator Jurij Krpan at Kapelica Gallery, Ljubljana
Since 2000, Kapelica has been a part of Kersnikova Institute, a cultural nonprofit and nongovernmental organisation formed by the Student Organisation Ljubljana (ŠOU) that until the end of 2020 was located at Kersnikova ulica 4 – hence the name of the institute. Along with Kapelica Gallery, a platform for contemporary and investigative art, a part of the institute is also Rampa Lab (2001–) that serves as the multimedia educational center and BioTehna (2012–) a platform for artistic investigation of living organisms. Lately, it is therefore a prominent institution in bio-art production using biotechnology and organisms, addressing contemporary social themes concerning ethical and ecological questions.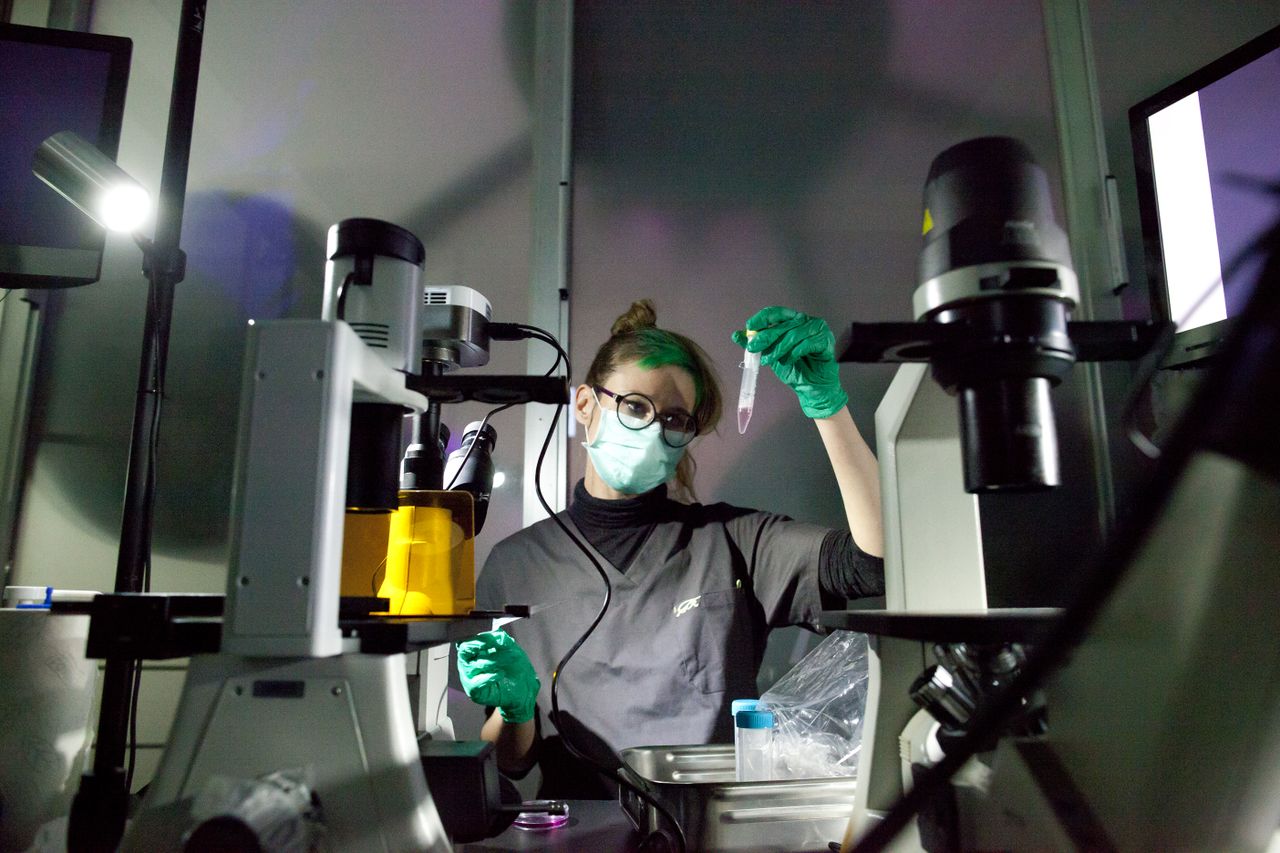 Strange Encounters: Metaphysics, Algae and Carcinoma by Špela Petrič, BioTehna, 2017. Strange Encounters: Metaphysics, Algae and Carcinoma (2017), one of the projects by Špela Petrič produced by BioTehna.
New technologies, hacking practices and radical politics
After the eruption of new media that established themselves in art forms such as happenings, performance, body art, installation, land art and video, the second wave was much more connected with the rise of computer science and the appearance of the world wide web, cybernetics, net art and sound art. The projects and productions became ever more complex.
Net art did not occur with a delay in Slovenia, in fact artists from this geographical region actively co-created the crucial premises of this new domain in art that was formed through conferences and mailing lists. Some of the names associated with the net art movement are Vuk Ćosić (1966–), Igor Štromajer (1967–), Jaka Železnikar (1971–) and Teo Spiller (1965–) who collaborated with Tadej Komavec (1965–) an artist active in the cybernetic field. Their approach towards watching the image is continued in some works of Sanela Jahić (1980–). Some of the representatives in the cybernetic field are Marko Peljhan (1969–), Luka Frelih (1974–), Vadim Fiškin (1965–), Darij Kreuh (1966–), Janez Fakin Janša (né Davide Grassi, 1970–), Luka Drinovec (1973–) and Sašo Sedlaček (1974–).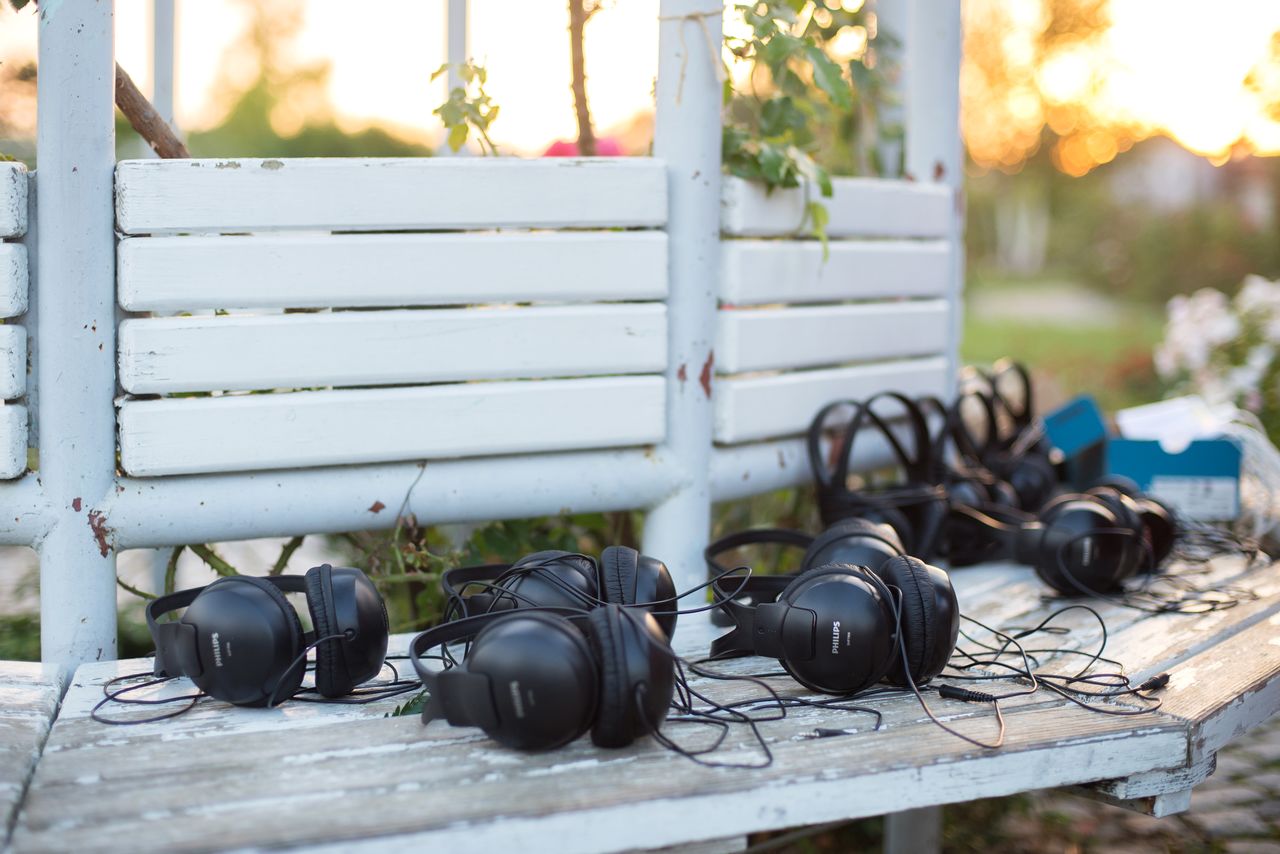 The Sonica International Festival of Transitory Art concluded in the peaceful surroundings of the Tivoli park with soundwalk Walking the Aphelion by Irena Pivka and Brane Zorman, 2016.
The connection between robotics and sound can be found in the work of Borut Savski (19600–) and the Cirkulacija2 team. In the sound field the Institute for Contemporary Art Processing CONA, established in 2007 by the musician and new media artist Brane Zorman (1962–) and the architect and scenographer Irena Pivka (19670–) plays an important role. In 2008, they established RadioCona, a platform that uses the radio-frequency space in the art contexts and understands FM frequency as public space, exploring it from different perspectives and mediated through artworks, audiobooks, programming and exhibitions. In 2018, CONA initiated the guest programme for sound, bioacoustics and art at Steklenik Gallery. Some prominent new media artists in the sound field are also Miha Ciglar (1980–), Tao G. Vrhovec Sambolec (1972–), Robertina Šebjanič (1975–), Marko Batista (1976–), Luka Prinčič (1977–), Ida Hiršenfelder (1977–), Tadej Droljc (1981–) and others.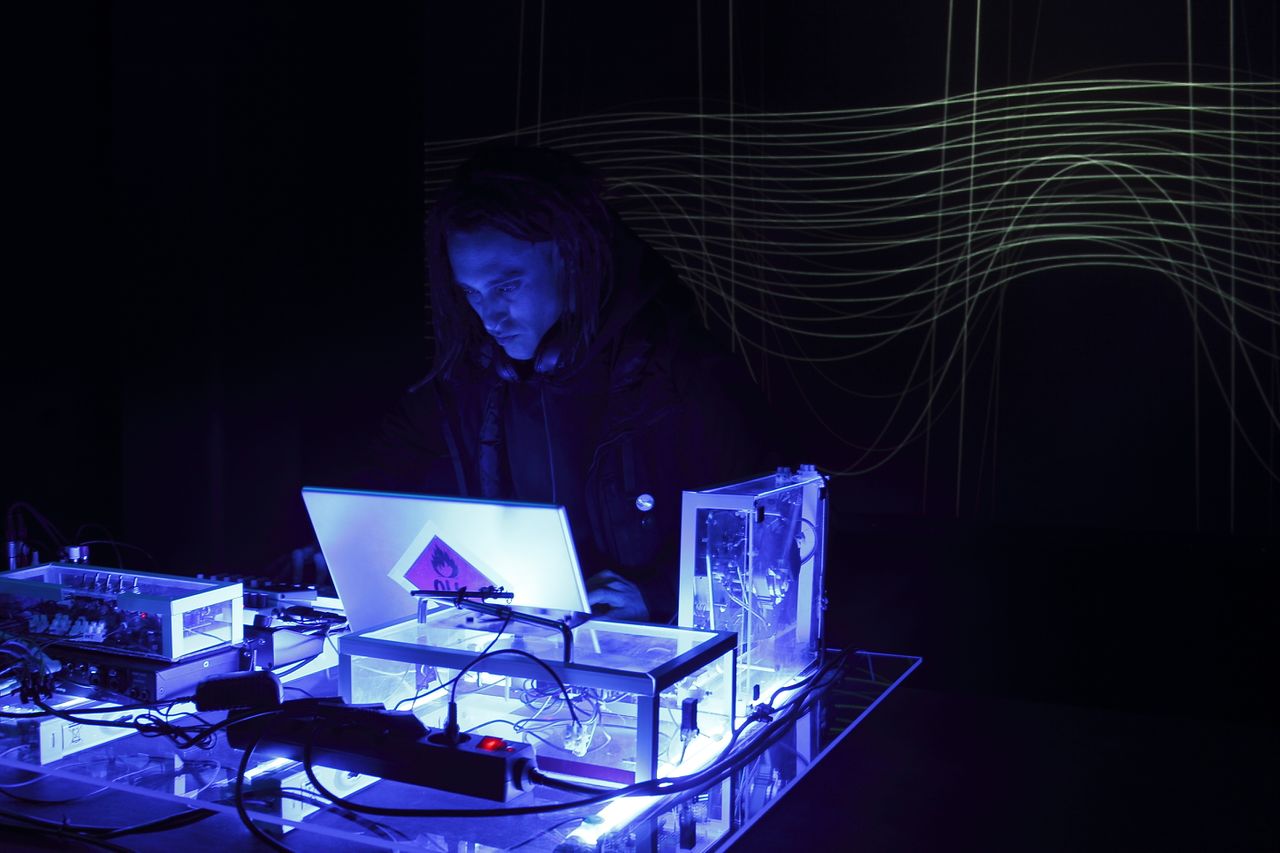 Music performance Hybrid Sonic Machines by Marko Batista at Kapelica Gallery in Ljubljana. The music performance Hybrid Sonic Machines by Marko Batista at Kapelica Gallery in Ljubljana, 2010.
The festive entrance into the 21st century
New media art is a vital and diverse art sector in Slovenia that has seen intensive development during the last decades. Information technology has changed the landscape of creation as well as that of cultural management and production. Several new media art projects and their exponents reiterated the significance of the tactical use of technology – new media that promote creation and imagination, participation and choice over representation, spectatorship and consumption. Ljubljana's Cyberpipe (2001–2015) was a vibrant new media art catalyst joined by a strong commitment to open source software practices and ethics. In the early 2000s, ArtNetLab (2000–) was active as a co-producer of several festival editions: the Festival of Computer Arts (IFCA) in Maribor (Big Brother is Watching You, N. Y. Shock Society, Friendly Fire), co-producing it with MKC Maribor Youth Culture Centre from 2004–2006; and the 1.3 Festival of Video and New Media Art (2007) with the City Art Museum Ljubljana and Kinodvor Cinema.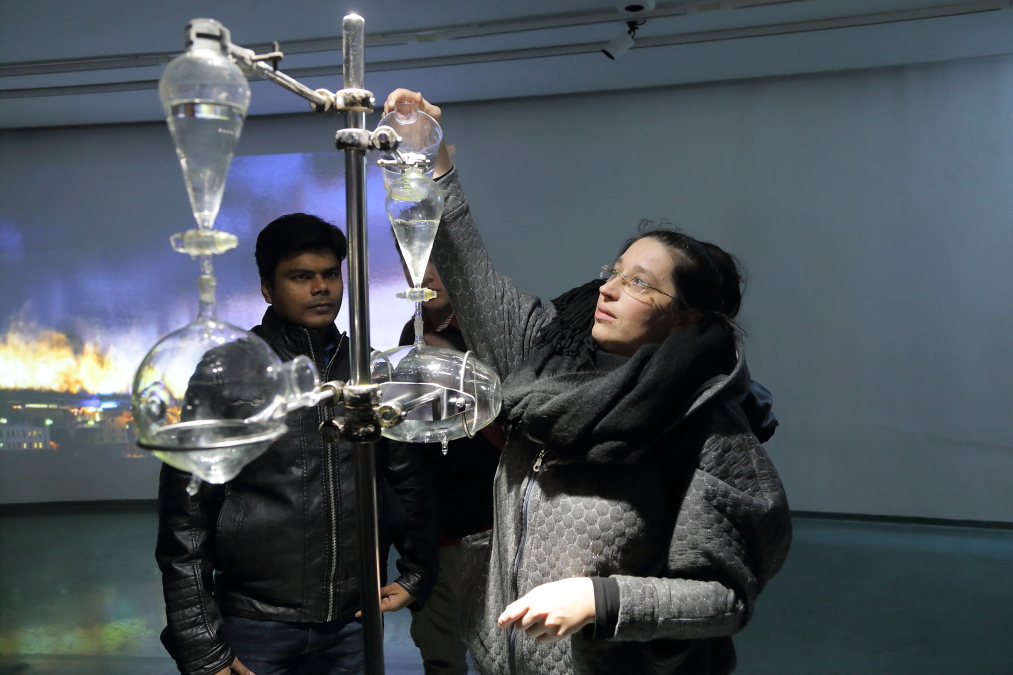 Pixxelpoint International Festival of Contemporary Art Practices, 2016. Artist Robertina Šebjanič at the Pixxelpoint International Festival of Contemporary Art Practices in 2016.
Nova Gorica Arts Centre launched Pixxelpoint International Festival of Contemporary Art Practices in 2000. Originally set up as a computer art festival, it broadened its programme on the intersection between wider selection of contemporary technologies with arts, science and other societal practices in 2016. KIBLA Multimedia Centre has run the KIBLIX Festival of Arts and Technology since 2002. The international new media festival Speculum Artium (2008-) organised by the Delavski dom Trbovlje Cultural Centre took for its model Linz's Ars Electronica and its triangle principle – new media art based on the collaboration between the fields of art, science and technology. DigitalBigScreen, an accompanying festival of Speculum Artium, focuses on 360-degree videos and environments.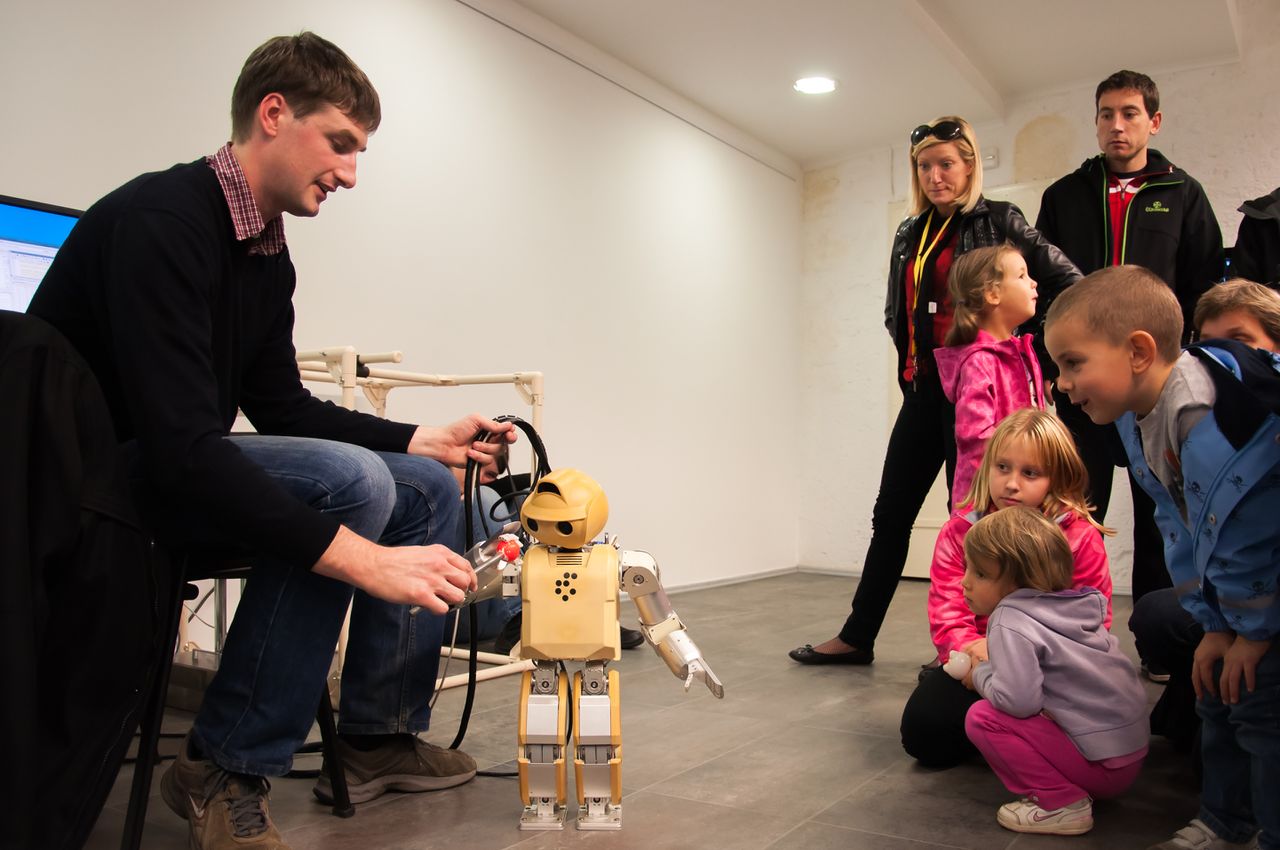 The younger visitors of the Speculum Artium Festival watching a project set up by the Jožef Stefan Institute, 2013
The annual Festival IZIS has been hosted in various places on Slovenian coast since 2013. The International Festival of Transitory Art Sonica takes place every year since 2009 when it was conceived as a showcase of the annual programme produced by the hyperactive MoTA Museum of Transitory Art. Since then it has hosted performances of many acclaimed international sound artists and developed other sections of their diverse programme. In 2020, Ljudmila Art and Science Laboratory began organising a new international festival of art, science and technology "Is it working?" to present its latest production and is a co-organiser of Slovene Summer Hack Camp – PIFcamp since 2015.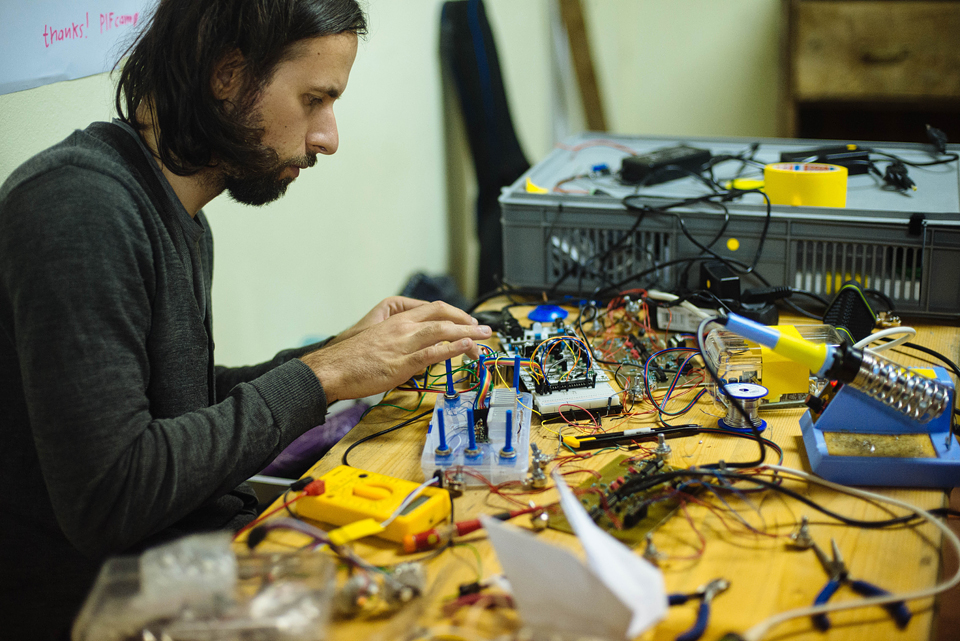 Tilen Sepič prepares a light installation at PIFcamp 2015.
New media artworks have slowly been incorporated in the acquisition policies of the Slovenian public art museums (e.g., Museum of Modern Art and Maribor Art Gallery) and the ministry's funding policy encourages national and international co-productions. In 2017, the Museum of Contemporary Art Metelkova (MSUM) hosted the resounding retrospective show of the trio Janez Janša, Janez Janša, Janez Janša (2007–) of their socially critical works that involve new technologies in their production. Artists Žiga Kariž (1973–), Emil Hrvatin (1964–) and Davide Grassi (1970–) changed their names to Janez Janša in 2007 and became party members of the Slovenian Democratic Party (SDS), which has been led since 1993 by a politician named Janez Janša. The political slogan of SDS was at the time "The more we are, faster we will achieve our goals." Janez Janša (né Davide Grassi) changed his name again in December 2020 to Janez Fakin Janša.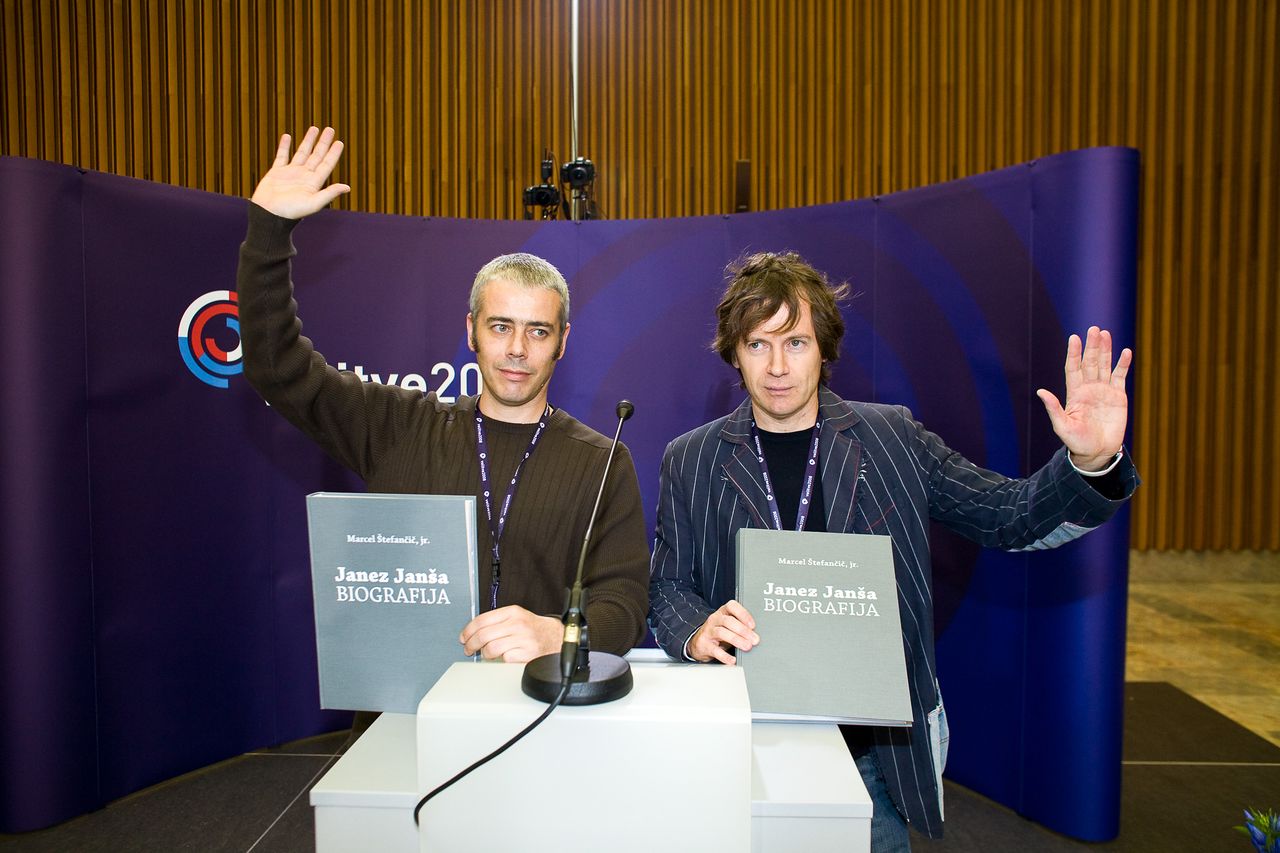 Janez Janša and Janez Janša present their Biography in 2008.

Since Slovenia's entry into the EU in 2004, there has been an influx of changes in the financial structure of venues, their programmes, initiatives and modes of (co-)production. M3C Multimedia Centres Network of Slovenia was established in 2004 as a non-formal network of nine multimedia centres based on the European Regional Development Fund (ERDF) and is by now defunct. In 2009, Trbovlje, the New Media Setting (TNM) was set up, based on the newly-established festival Speculum Artium. Its goal was to turn the town of Trbovlje and the wider Zasavje coal-mining region into a venue for new media art, with information technology, robotics, bio-mechanics and virtual reality in focus.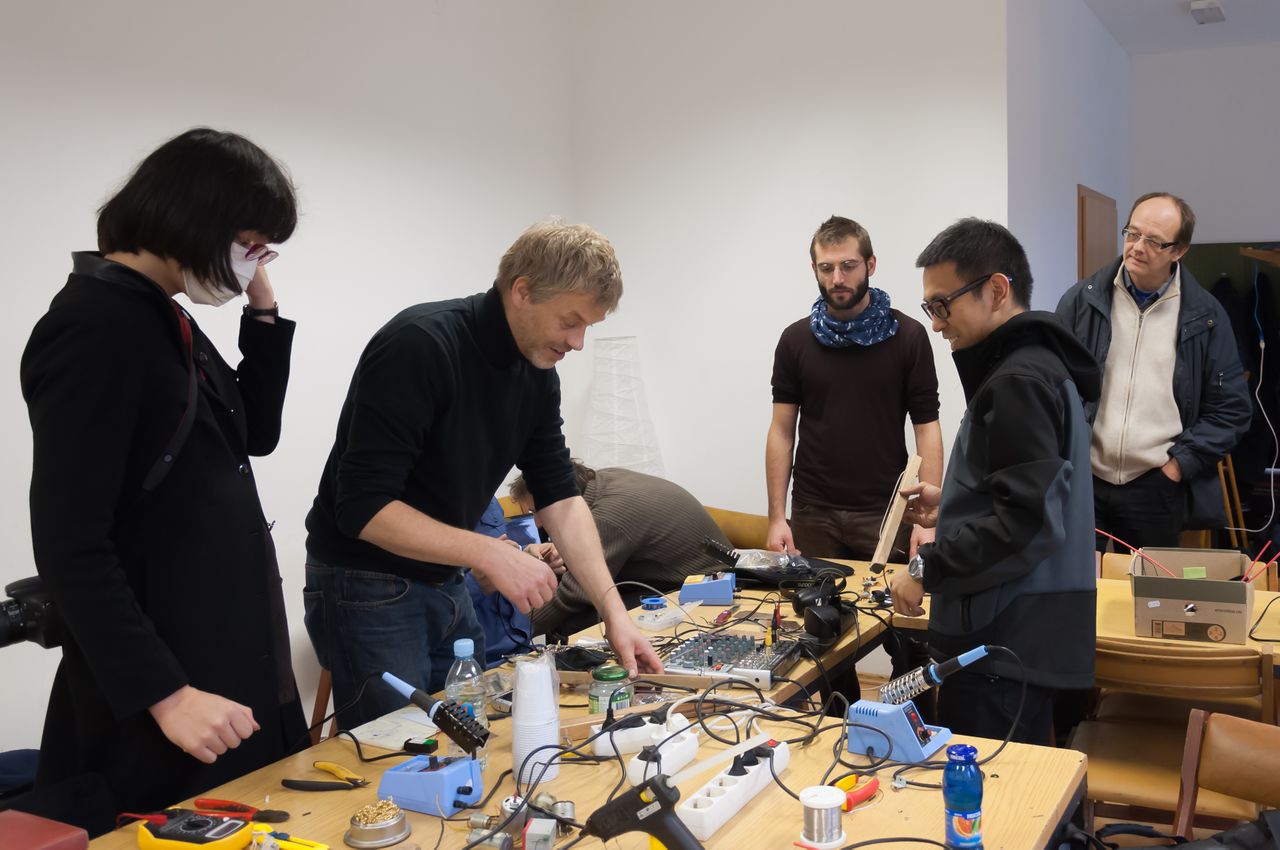 A workshop by Stefan Doepner, organised under the auspices of the Trbovlje, New Media Setting project, 2015 Sound artist Stefan Doepner presents a workshop at Trbovlje - The New Media Setting in 2015.

Aksioma Institute for Contemporary Art opened Aksioma Project Space in 2011 that functions as a gallery space where international and domestic artists are represented. Their focus is on the artistic projects that utilise new technologies in order to investigate and discuss the structures of modern society. Along the exhibitions, they organise lectures, talks or symposiums and publish publications, while cultivating a digital archive of those events on their webpage. Since 2013, Aksioma has run the initiative U30+, an annual call for proposals for artists under the age 35 with the attempt to bridge the gap between the study years and the art world and to outline an emerging trends in the young Slovenian "post-digital" art scene.
The Arts Academy of the University of Nova Gorica led the Creative Europe co-funded cross-sector project MAST – Master Module in Art, Science and Technology (2018–2021). Working with many international and local partners including Kersnikova Institute, the project set out to develop an applied study module at the intersections of art, science and technology, combining methodologies and practices that intertwine the academic sphere closely with the industry realm of the Culture and Creative Sectors (CCS).
In 2019, two networks were supported from the European Regional Development Fund. RUK – Network of Art and Cultural Research Centres (2019–2022) connects Delavski dom Trbovlje together with PINA Primorje Information Atelier and KIBLA Multimedia Centre. The Project konS - a platform for contemporary investigative art (2019–2022) combines Kersnikova Institute, Projekt ATOL, Aksioma, Ljudmila Art and Science Laboratory, Cona in Ljubljana with Youth Centre Velenje, MKC Maribor, LokalPatriot in Novo mesto and University of Nova Gorica – Academy of Arts.
Institutions and venues
During the 1990s creative diversity in the field of new media art was backed up by the emergence of a handful of organisations and producers, including Ljudmila - Ljubljana Digital Media Lab, Kapelica Gallery and KIBLA Multimedia Centre. Today all of them are renowned in international new media circles for their participation in the new media festivals, conferences and networks (for example, ISEA, Ars Electronica festival, Transmediale Berlin, Dutch Electronic Arts Festival (DEAF), SEAFair in Skopje, European Cultural Backbone (ECB), European Multimedia Forum, Webby Awards), where they have promoted and sought new models of co-production as well as new funding sources, both locally and internationally.
Other important venues for the presentation of new media art since 1992 have included P74 Centre and Gallery (which has promoted emerging artists) and occasionally Škuc Gallery and the Mala Gallery, while bigger overview exhibitions were shown at Museum of Modern Art. In Maribor, KiBela Art Space at KIBLA Multimedia Centre also presented several new media art projects. The Slovenian Cinematheque was an important venue for audio-visual projects. At the same time Slovenia acquired two festivals dedicated to new media art, and several others that included new media art projects. Established in 2001, Cyberpipe in Ljubljana was another vibrant new media art catalyst. The M3C Multimedia Centres Network of Slovenia, set up in 2004 with state and European support, has a growing membership of 23 multimedia arts organisations.
Spearheaded by the international new media festival Speculum Artium, organised by the Delavski dom Trbovlje Cultural Centre, the Trbovlje, New Media Setting (TNM) was set up in 2009, turning the town of Trbovlje and the wider Zasavje coal mining region into a venue for new media art, with information technology, robotics, bio-mechanics and virtual reality in focus.
See also