Contact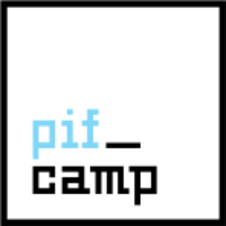 PIFcamp
Tina Dolinšek, Head organiser
Festival dates
8.8.2021 - 14.8.2021
Context and background
First held in 2015, PIFcamp is an extension of the artistic, educational and awareness raising endeavours conducted by the Ljudmila Lab and the Projekt Atol Institute. Both are involved in new media art and technology-related activities and have been running a joint programme of workshops, artist residencies and art projects since 2012.
Initially, the gathering was established as a part of the Changing Weathers project. Co-funded by the Creative Europe programme, this project is coordinated by Projekt Atol and features partners from Norway (Hilde Methi), Finland (the Finnish Bioart Society), Latvia (RIX-C), the Netherlands (Sonic Acts), Austria (Time's Up) and Slovenia (Ljudmila). Its basic aim is to facilitate responses towards the precarious geophysical, geopolitical and technological predicaments of our time.
Concept
With PIFcamp's fundamental principles being DIY (do-it-yourself), DIWO (do-it-with-others) and DITO (do-it-together), the meeting is foremost a platform for distributing knowledge, ideas and experiences. Styling itself as a hack camp, PIFcamp sees hacking as a broad set activities that disrupt the regular patterns of uses and treatments of technology.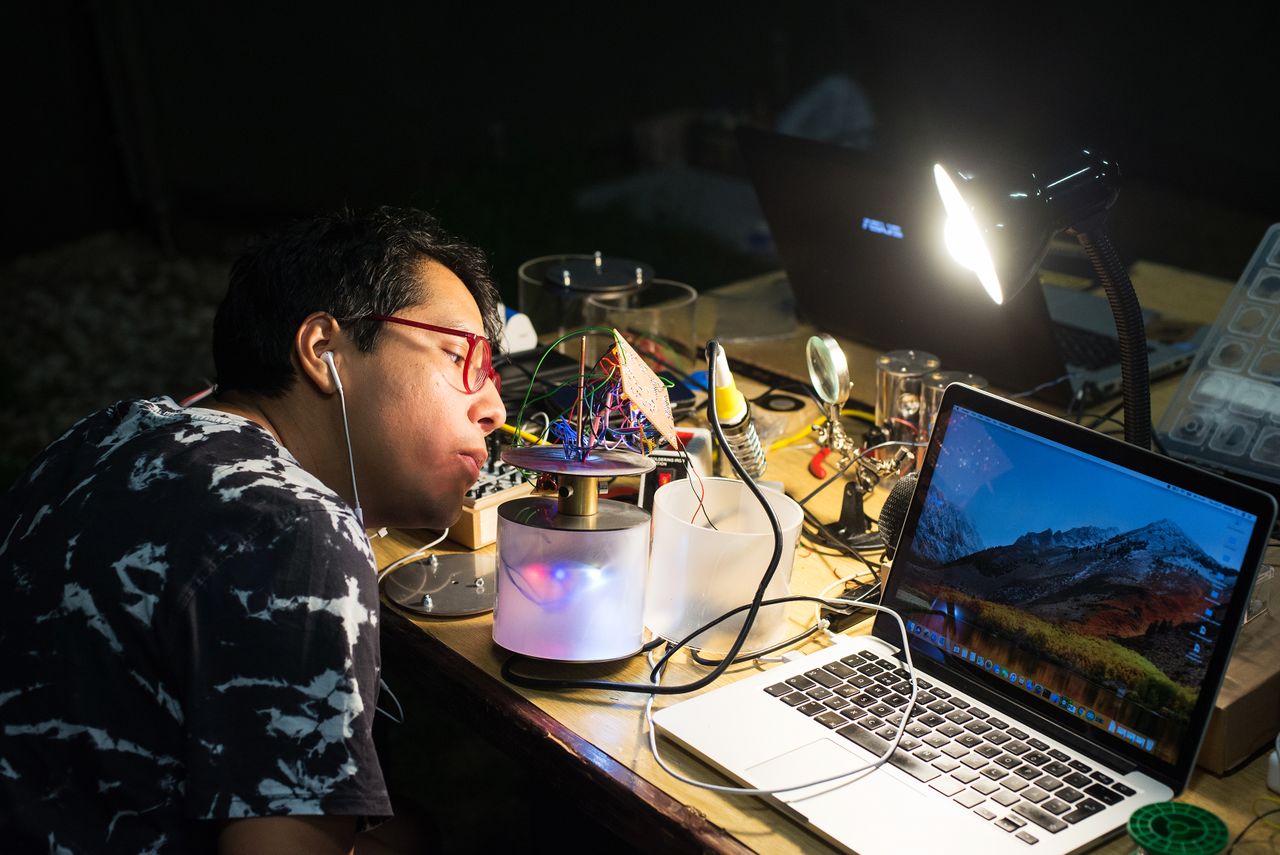 Juan Duarte developing Aeolian Artefacts sound project at the PIFcamp 2018.
Programme
Each year, a select number of artists and researchers is invited to hold workshops, theoretical lectures and onsite briefings. Other participants are equally invited to share their knowledge, and the roles of mentors and apprentices frequently change and overlap. Consequently, the outcomes and topics of the camp are only partially predefined.
Some of the creative fields tackled at PIFcamp have been DIY synthesizer making, e-textiles and wearable electronics, artefacts and systems that interact with nature, light installations, bio-hacking, and music.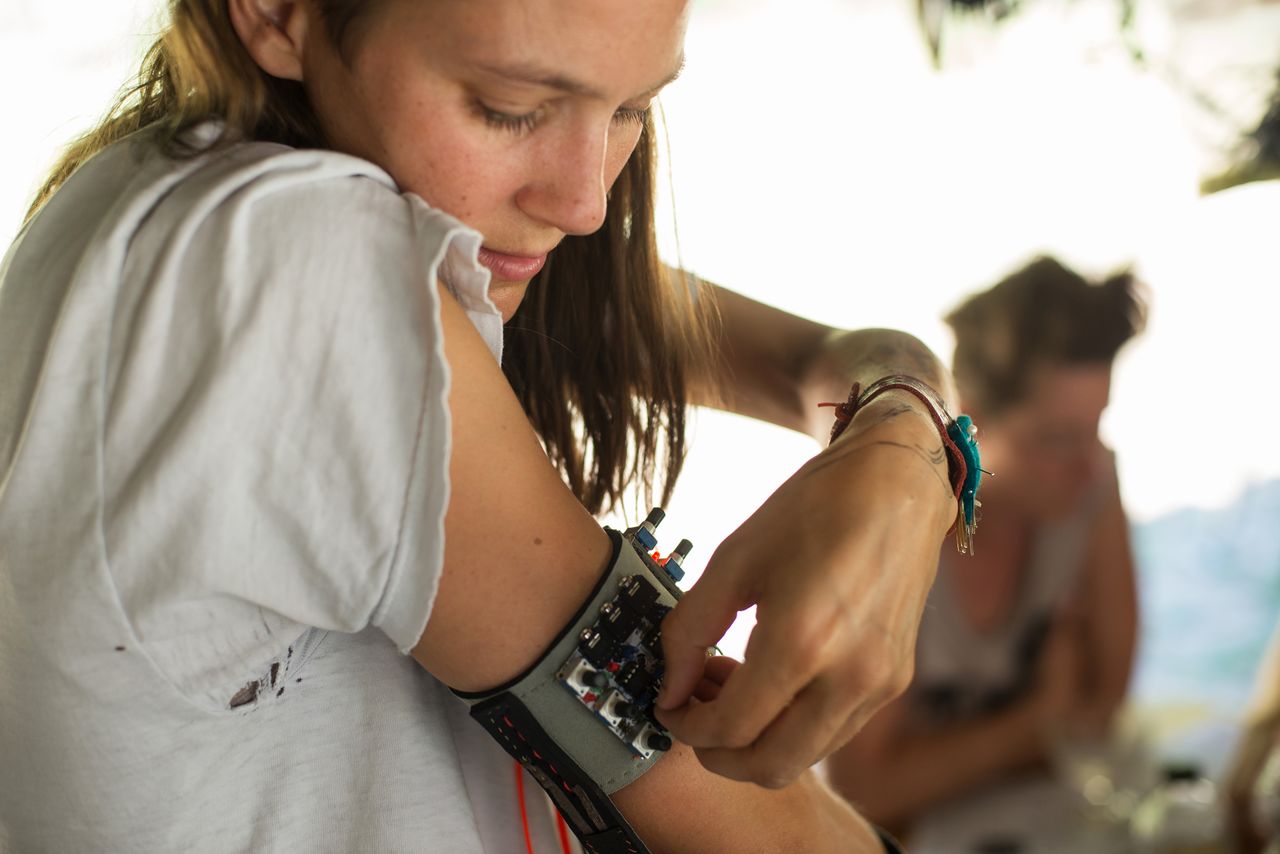 Sense Yourself Making project developed by Hannah Perner-Wilson at the PIFcamp 2018.
The participants
The meeting is open to anyone, yet limited to about 50 people. The organisers look for hackers, makers, DIY enthusiasts, scientists, programmers, noise freaks, new media artists, obsolete and new technology geeks, bio-artists, and so on. A short proposal on what one wants to develop or learn during PIFcamp is needed from those applying to attend.
Some of the hosted artists and researchers have been the Swiss bio-hacker Marc Dusseiller (also of BioTehna), who conducted different experiments on local plants, from sound analysis to chlorophyll extraction; Lynne Bruning (US), who utilised embroidery, lace making, and sewing to make wearable electronics and eTextiles; Peter Edwards aka Casper Electronics (US), who dealt with DIY electronics for music making; Václav Peloušek (Bastl Instruments, CZ), who worked on modular synthesizers; and Leslie Garcia and Paloma Lopez (MX), who explored the relationships between waveforms, living matter and the way in which sound frequencies affect and create physical forms.
The PIFcamp 2018 presented the Bastl instruments workshop and hosted also Dmitry Morozov aka Vtol, Lavoslava Benčič, Juan Manuel Escalante, Jakob Scheithe, Juan Duarte, Klemens Kohlweis and Jani Pirnat. Hannah Perner-Wilson developed the Sense Yourself Making project (cf. the Gallery below).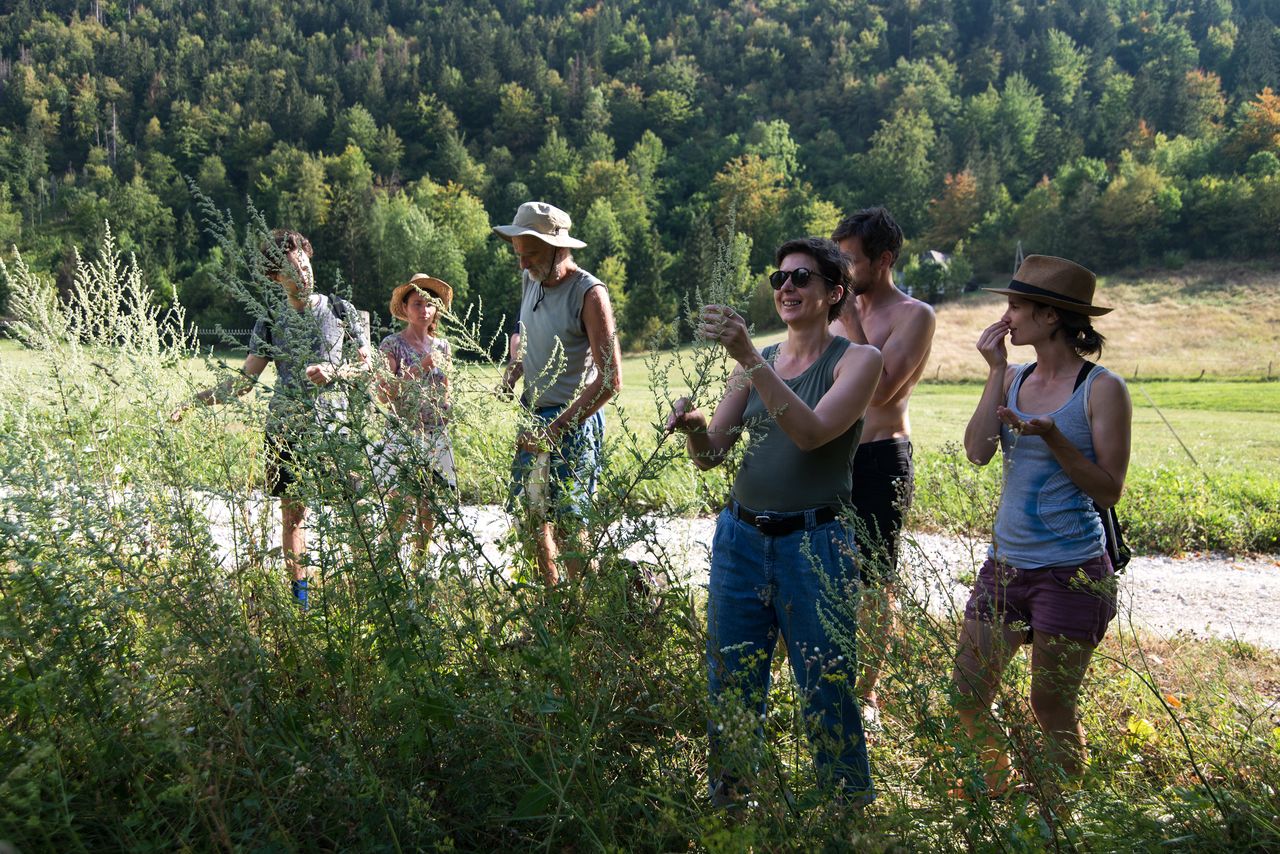 Hack your food with Dario Cortese at the PIFcamp 2018.
The local Dario Cortese led a field workshop on collecting edible wild plants, while Luka Frelih (also head of Ljudmila) among other things created a so-called Hacktivated Reactive Network, which took on signals from the real world environment of the PIFcamp, morphed them through live-coded scripts and fed them back to the camp through screens and kinetic sculptures.
Numerous other artists (coming from the USA, the UK, Japan, Finland, Poland, Hong Kong, Spain, France and several other countries) applied by themselves, among them, Tom O'Dea (IR), Sebastian Frisch (AT), Robertina Šebjanič, Marko Peljhan, Tilen Sepič and many others.
See also
External links
Gallery