Category:Visual arts
From Culture.si
Subcategories
This category has the following 35 subcategories, out of 35 total.
C

G

P

V

V cont.

V cont.

S
In our Events Archive you can search for Visual arts from Slovenia Worldwide
Located in the main town square in Velenje, the Velenje Regional Gallery is a vivid contemporary arts institution in the heart of the Šaleška Valley. Since 1976 its exhibition programme has focused mostly on local and Slovene fine artists, including the graduate students of the Academy of Fine Arts and Design, whose production has been presented annually at the Velenje Artists' Colony since 1990.
The gallery was thoroughly renovated in 2015. Its programme underlining the regional dimension should expand with the launch of the Centre of Creative Industries (CCI) that opens the door to architects, designers or new media.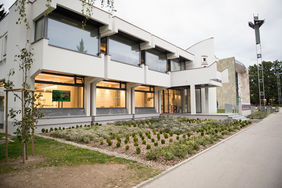 Running a series of programmes and events that deal with music, visual arts, literature, poetry, film, architecture and so on, the KUD Sestava is an independent cultural producer of a rather wide-ranging profile. The bulk of its activities take place at Celica, a youth hostel establishment inside the Metelkova mesto Autonomous Cultural Zone.
In order to run the hostel's cultural programme, most notably a gallery and a series of weekly music gigs, Sestava collaborates with a number of outside protagonists, among them the KUD Mreža Arts and Culture Association and the Folk Slovenia Cultural Society. Together with the Godibodi Institute it also co-produces the annual Godibodi Festival.
Pages in category "Visual arts"
The following 279 pages are in this category, out of 279 total.
A

B

C

D

E

F

G

G cont.

H

I

J

K

L

M

M cont.

N

O

P

R

S

Š

T

U

V

W

Z

Ž
Media in category "Visual arts"
The following 261 files are in this category, out of 261 total.