Category:Visual arts
From Culture.si
Subcategories
This category has the following 35 subcategories, out of 35 total.
C

G

P

V

V cont.

V cont.

S
Upcoming events
10 March 2014


A screening of Fruits of Our Lands and Framing the Space (Museum and Galleries of Ljubljana, Škuc Gallery - ŠKUC Association) followed by a lecture by the director

Jasmina Cibic

, supported by the Embassy of the Republic of Slovenia Budapest, at

Capa Centre

in

Budapest

,

Hungary

programme

15 March to 2 June 2014


Irwin, Dreams and Conflicts, an exhibition dedicated to the eponymous group, opens at

Galleria Civica di Modena

in

Modena

,

Italy

programme

19 March to 6 April 2014


An exhibition of works by

Veronika Ban

, supported by the Embassy of the Republic of Slovenia Brussels, at

Espace Art Gallery

in

Brussels

,

Belgium

programme
Visual arts web resources
Latest Entries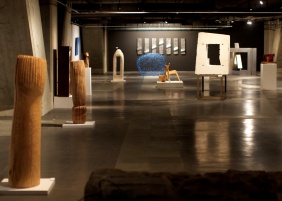 Established in 1988, the Jakopič Gallery is situated in the "look-out" basement floor of Slovenska cesta 9 in the centre of Ljubljana. The contemporary exhibiting space of more than 900 square metres is part of an architectural complex designed by Edvard Ravnikar on the location of the Roman Forum in Emona, and includes in situ ruins of ancient government buildings. The Jakopič Gallery was at first managed by the Museum of Modern Art, and later taken over by the former Architecture Museum of Ljubljana, which presented contemporary architectural and design exhibitions there until 2004. In 2007 the Municipality of Ljubljana renovated and re-opened the exhibition space, which has been managed by the Museum and Galleries of Ljubljana since 2008.
The eclectic programme presents interesting chapters of modern art. It has often served as one of the venues for larger exhibition projects such as May Salon, Biennial of Graphic Arts, the Month of Design or Photonic Moments.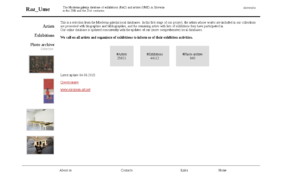 The Modern Art Archive, Museum of Modern Art department collects printed matter and press clippings related to exhibitions of Slovene artists (digitised with the special Razstava ("Exhibition") software programme). It has also built an archive and press clipping service of articles containing biographical and bibliographical and also other data on Slovene 20th- and 21st-century artists (digitised with the Umetnik ("Artist") computer programme).
A selection of the two databases is available online through the Raz_Ume Database. It currently contains over 13,500 artists, more than 8,300 exhibitions and 170 photographs. (Interestingly, Raz_Ume is a play on words using Raz from Razstava, "exhibition" and Ume from Umetnik, "artist" to create the Slovenian expression "He/She understands".)
Pages in category "Visual arts"
The following 266 pages are in this category, out of 266 total.
A

B

C

D

E

F

G

G cont.

H

I

J

K

L

M

M cont.

N

O

P

R

S

Š

T

U

V

W

Z

Ž
Media in category "Visual arts"
The following 240 files are in this category, out of 240 total.