Category:Visual arts
From Culture.si
Subcategories
This category has the following 35 subcategories, out of 35 total.
C

G

P

V

V cont.

V cont.

S
In our Events Archive you can search for Visual arts from Slovenia Worldwide
all events
Visual arts web resources
Latest Entries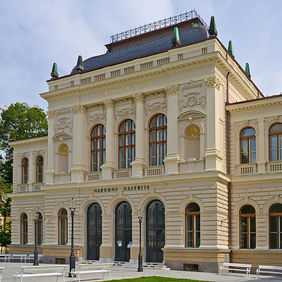 The National Gallery of Slovenia (Narodna galerija) is the main art museum in Slovenia that holds the country's largest fine art collection from the late medieval period up to the early twentieth century. It was founded as early as 1918 as the National Gallery Society with the aim of establishing a museum for Slovenian fine arts. First housed in the Kresija Palace, the Gallery relocated to the Narodni dom palace in 1926.
A completely reorganised and expanded permanent exhibition of the collections returned to public view in January 2016, following an extensive renovation of the Narodni dom palace.
The Domestic Research Society (DRS) was established in 2004 by visual artists Alenka Pirman and Damijan Kracina, and art historian Jani Pirnat. Under the motto "nothing of that which is domestic is alien to us" the society documents, collects, researches and presents domestic phenomena as installations, exhibitions or web projects related to the field of culture, art, science, conservation, and education.
Alongside an ongoing spoken Slovenian open online dictionary Razvezani jezik - The Unleashed Tongue, launched in 2004, the team has conceived several engaging visual arts projects, the most recent being the Word for Word, Without Words, an interdisciplinary exhibition in City Art Gallery Ljubljana.
In spring 2016 the Domestic Research Society got engaged in TRACES, a multi-annual interdisciplinary research project that tackles the 'hard-case' of contentious heritage and its transmitting via new forms of collaboration between artists, researchers and cultural institutions. TRACES is funded under the EU Horizon 2020 Reflective Society programme and involves collaboration of 11 research institutions from Austria, Italy, Germany, Norway, Switzerland, Romania, Slovenia and the UK. The Domestic Research Society conducts a research Casting of Death together with the experts from National and University Library, Moderna galerija (MG), and City Museum of Ljubljana.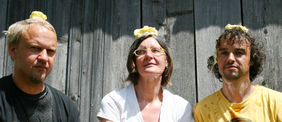 Pages in category "Visual arts"
The following 280 pages are in this category, out of 280 total.
A

B

C

D

E

F

G

G cont.

H

I

J

K

L

M

N

O

P

R

S

Š

T

U

V

W

Z

Ž
Media in category "Visual arts"
The following 261 files are in this category, out of 261 total.