Category:Visual arts
From Culture.si
In our Events Archive you can search for Visual arts from Slovenia Worldwide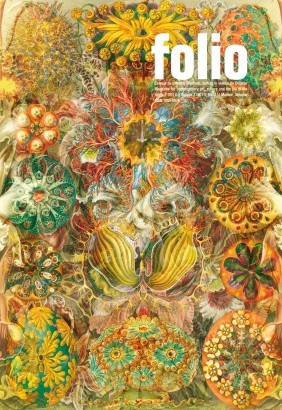 Folio Magazine was established by KIBLA Multimedia Centre in 2009 as a "guide to intermedia art, culture and the joy of life". This bilingual quarterly in newspaper format brings mostly interviews with Slovene and international artists and cultural operators.
The content in the first four issues derives from the international activities of the multimedia centre as well as its KiBela Art Space programme, however, Folio strives to become the central newspaper in the upcoming European Capital of Culture 2012 (Maribor and partner cities) activities. Folio is a free magazine available in several art spaces throughout Slovenia or by request (for the cost of shipping).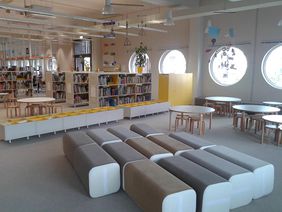 Founded in 1958, Cankar's Library Vrhnika is a regional library and an information centre. In addition to its ongoing library activities, it runs a variety of events and educational activities for children and adults, including English lessons, music, dance, and fine arts workshops, weekly fairytale readings, new book presentations, and exhibitions by local artists. Reading club events are also organised with the aim of stimulating reading. The library has a special room dedicated to the first published works of Ivan Cankar (1876–1918), a fin de siècle writer born in Vrhnika. Ivan Cankar Library has a branch library in Borovnica. In 2014 the library moved to the new Vrhnika Cultural Centre in the renovated premises of the former IUV Leather Industry Vrhnika. The library incorporates some of the features of the former industrial sewing hall.
Upcoming events abroad
29 June to 5 August 2017


Organic Memory group exhibition featuring also

Boris Beja

's installation Sisyphean Task at the B#SIDE WAR Festival at

Ca' Dei Ricchi

in

Treviso

,

Italy


programme
all upcoming events
all events
Visual arts web resources
Latest Entries
Subcategories
This category has the following 35 subcategories, out of 35 total.
C

G

P

S

V

V cont.

V cont.
Pages in category "Visual arts"
The following 281 pages are in this category, out of 281 total.
3

A

B

C

D

E

F

F cont.

G

H

I

J

K

L

M

M cont.

N

O

P

R

S

Š

T

U

V

W

Z

Ž
Media in category "Visual arts"
The following 265 files are in this category, out of 265 total.