Category:Visual arts
From Culture.si
Subcategories
This category has the following 35 subcategories, out of 35 total.
C

G

P

V

V cont.

V cont.

S
Visual arts web resources
Latest Entries

Run by the SCCA-Ljubljana Centre for Contemporary Arts since 1997, the annual World of Art: School for Contemporary Arts [Svet umetnosti] is the sole programme in Slovenia and a pioneering one in the broader region of Central, Eastern and Southern Europe which offers practical and theoretical education in the field of contemporary art.
The annual programme comprises two semesters, the first one is more theory oriented, the second one is practical and is dedicated to the conceptualisation and realisation of a student-curated exhibition of contemporary art under the guidance of the programme tutors. The exhibition is also accompanied by a catalogue including texts written by the students.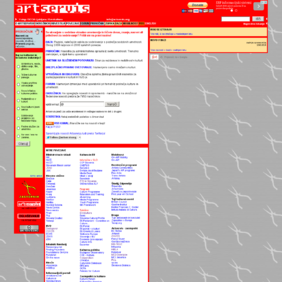 Established in 2001, Artservis.org is a web-based bilingual information resource for artists, theorists, and cultural managers who operate with/in Slovenia or abroad. It collects and publishes information on funding sources (national and international, public and private), participation opportunities (calls for proposals, invitations), educational programmes (focusing on art or theory production and management), collaboration, advocacy (including a manual for freelance artists, artists' associations, and NGOs), and provides other useful on-line resources (free legal consulting, E-mail lists, websites, databases, forums). Its free weekly e-mail Newsletter is received by more than 6,000 subscribers around the globe. Since 2006 Artservis.org has been a member of the Informal Network of SEE Cultural Portals (inSEEcp).
Pages in category "Visual arts"
The following 263 pages are in this category, out of 263 total.
A

B

C

D

E

F

G

G cont.

H

I

J

K

L

M

M cont.

N

O

P

R

S

Š

T

U

V

W

Z

Ž
Media in category "Visual arts"
The following 221 files are in this category, out of 221 total.