Category:Visual arts
From Culture.si
Subcategories
This category has the following 35 subcategories, out of 35 total.
C

G

P

V

V cont.

V cont.

S
In our Events Archive you can search for Visual arts from Slovenia Worldwide
Visual arts web resources
Latest Entries
This commercial gallery, managed by Mladinska knjiga Bookstores, specialises in book illustration, graphic art and antiquities and Slovene crafts objects. It incorporates a shop with tools for visual artists and occasionally presents some small exhibitions of work by local artists.

The origins of the ARS Gallery go back to 1973 when one of the Mladinska knjiga shops started selling imported artistic materials and literature. It evolved into one of the first commercial galleries, presenting works by contemporary Yugoslav artists. The gallery has been situated at its present location since 1980.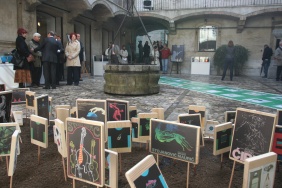 The Magistrat Gallery is situated in four atria in Ljubljana Town Hall and consists of the Glass atrium, the Historical atrium, the Main atrium and the Right Atrium.
Beside sculpture exhibitions, the Magistrat Gallery is often used for presentations of public competitions such as the exhibition for best urban-architecture solutions of the Kolezija public baths featured in spring 2009. As well, it presents exhibitions prepared for different anniversaries, such as the one prepared in autumn 2009 on the occasion of the 120-year-anniversary of the establishing of the Commission for Streets and Squares Renaming, Ljubljana
Pages in category "Visual arts"
The following 266 pages are in this category, out of 266 total.
A

B

C

D

E

F

G

G cont.

H

I

J

K

L

M

M cont.

N

O

P

R

S

Š

T

U

V

W

Z

Ž
Media in category "Visual arts"
The following 241 files are in this category, out of 241 total.