Category:Film
From Culture.si
Subcategories
This category has the following 29 subcategories, out of 29 total.
In our Events Archive you can search for Film from Slovenia Worldwide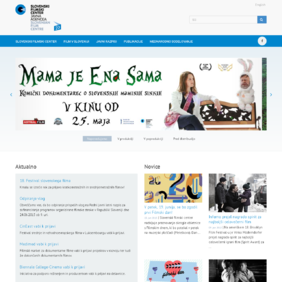 Film-center.si is the website of the former Slovenian Film Fund, which in January 2011 was transformed into the Slovenian Film Centre. The website was formerly known as Film-sklad.si.
Being not just the principal public film funder involved in all major Slovene film productions, but also the public institution that takes care of the promotion of Slovene cinema at home and abroad, the Slovenian Film Centre runs a website which offers all sorts of information regarding Slovene cinema and is regularly updated with news about films in pre-production, production or post-production, public tenders, retrospectives, screenings at film festivals and awards won by Slovene film makers. The website also provides the lists of all Slovene production and distribution companies, institutions working in the field of cinema, film festivals, magazines, TV stations and cinema halls. A fully searchable database of Slovene cinema is included in the website. All information is available in Slovenian and English languages.
The Dharmafilm Society for Film and Video Production is a non-profit and non-governmental organisation established in 2003 which has organises the annual FF600 Film Festival up to 2010.
all upcoming events
Current events abroad
21 January to 28 January 2017


Nighthawk by Špela Čadež at the 2017 Sundance Film Festival at Broadway Centre Cinema, Holiday Village Cinema, Redstone Cinema, Yarrow Hotel Theatre in Park City, USA programme

20 January to 24 January 2017


Screenings of Nightlife, directed by Damjan Kozole (Vertigo), Houston, We Have a Problem!, directed by Žiga Virc (Studio Virc), Good Luck, Orlo!, directed by Sara Kern (Cvinger Film), Beyond Boundaries, based on a poetic text by Aleš Šteger, A Comedy of Tears, directed by Marko Sosič (Arsmedia), Liberation Day, and Valley of Peace, directed by France Štiglic, as well as Tales from Chestnut Forests, directed by Gregor Božič (Nosorogi), within the First Lab Cut programme of the When East Meets West co-production meeting, at the Trieste Film Festival at Sala Tripcovich, Teatro Miela in Trieste/Trst, Italy programme

30 September 2016 to 29 January 2017


An exhibition of covers and posters by Stripburger and screenings of Stripburger in Motion and Wanted, directed by Boris Dolenc and produced by Forum Ljubljana, at the international exhibition Animal Collective at CentroCentro in Madrid, Spain programme
all events
Film web resources
Latest Entries
Pages in category "Film"
The following 162 pages are in this category, out of 162 total.
2

A

B

C

D

E

F

F cont.

G

H

I

K

L

M

M cont.

N

O

P

R

S

T

V

Z
Media in category "Film"
The following 118 files are in this category, out of 118 total.