Category:Venues
From Culture.si
Subcategories
This category has the following 21 subcategories, out of 21 total.
C

D

E

F

G

L

M

N

O

T

V

L

M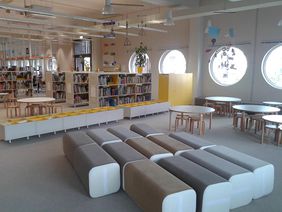 Founded in 1958, Cankar's Library Vrhnika is a regional library and an information centre. In addition to its ongoing library activities, it runs a variety of events and educational activities for children and adults, including English lessons, music, dance, and fine arts workshops, weekly fairytale readings, new book presentations, and exhibitions by local artists. Reading club events are also organised with the aim of stimulating reading. The library has a special room dedicated to the first published works of Ivan Cankar (1876–1918), a fin de siècle writer born in Vrhnika. Ivan Cankar Library has a branch library in Borovnica. In 2014 the library moved to the new Culture House in the renovated premises of the former IUV Leather Industry Vrhnika. The library incorporates some of the features of the former industrial sewing hall.
Established in 1993, the Celje Gallery of Contemporary Art is situated on the outskirts of the old town centre and is part of the architectural complex of buildings that once formed the foothill castle of the Counts of Celje. Since 2005 it is managed by the Celeia Celje Institute - Centre for Contemporary Arts as its principal exhibition space. Annually the venue hosts up to 10 exhibitions addressing specific themes or offering a thorough monographic presentation of individual artistic positions. The adjacent small Hodnik (Corridor) Gallery features a lively programme of short-termed (even less than a week) presentations by emerging artists from the region. The exhibitions are usually prepared by the house curators although the Centre for Contemporary Arts also collaborates with foreign experts and offers a working platform for guest curators through its artist-in-residence programme AiR Celeia Celje.
Year of establishment
Latest Entries
Pages in category "Venues"
The following 345 pages are in this category, out of 345 total.
A

B

C

Č

D

E

F

G

H

I

J

K

K cont.

L

M

N

N cont.

O

P

R

S

Š

T

U

V

W

Y

Z

Ž
Media in category "Venues"
The following 167 files are in this category, out of 167 total.