Category:Venues
From Culture.si
The establishment of Škuc Gallery in 1978 as part of the alternative programmes of the ŠKUC offered an important foil to the dominant exhibition policy of the established national galleries and institutions in Slovenia.
Preparing approximately one exhibition monthly plus additional events and guest appearances abroad and at home, the Škuc Gallery has over the years become one of the most visited exhibition premises in Slovenia. Through close co-operation with institutions and individuals working in the region, including art centres in Austria, Croatia, Hungary and Italy and many more, Škuc Gallery has developed into an important art production centre.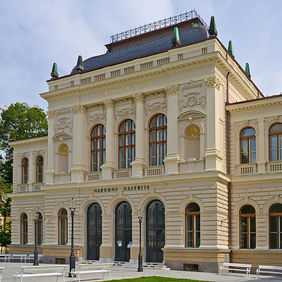 The National Gallery of Slovenia (Narodna galerija) is the main art museum in Slovenia that holds the country's largest fine art collection from the late medieval period up to the early twentieth century. It was founded as early as 1918 as the National Gallery Society with the aim of establishing a museum for Slovenian fine arts. First housed in the Kresija Palace, the Gallery relocated to the Narodni dom palace in 1926.
A completely reorganised and expanded permanent exhibition of the collections returned to public view in January 2016, following an extensive renovation of the Narodni dom palace.
Year of establishment
Latest Entries
Subcategories
This category has the following 23 subcategories, out of 23 total.
C

D

E

F

G

L

M

N

O

T

V

C

L

M
Pages in category "Venues"
The following 353 pages are in this category, out of 353 total.
A

B

C

Č

D

E

F

G

H

I

J

K

K cont.

L

M

N

N cont.

O

P

R

S

Š

T

U

V

W

Y

Z

Ž
Media in category "Venues"
The following 181 files are in this category, out of 181 total.