Category:Venues
From Culture.si
LokalPatriot is one of the liveliest cultural centres in Novo mesto. The original and inventive programmes presented here are conceived by a team of young and engaged local professionals.
Since 2000 the institution operates at three separate venues and runs the Jazzinty and Fotopub festivals.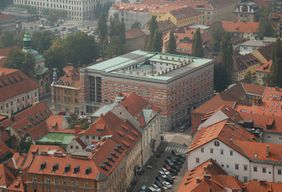 The National and University Library (NUK) serves as the national library of Slovenia, the main library of the University of Ljubljana for humanities and social sciences, the Slovenian legal deposit library and the trusted digital repository for Slovenian cultural and scientific heritage. NUK is the headquarters of the Slovene bibliographical service, and the national aggregator of e-contents from the field of culture to Europeana.
With roots in the 18th century, the institution was housed in the exquisite cultural monument conceived by Slovene architect Jože Plečnik and built 1938–1940. A four-storey, four-winged building in the shape of an irregular rectangle, with two small inner yards can boast with an interior with a number of excellent architectural details, made of marble, bronze, or wood.
Year of establishment
Latest Entries
Subcategories
This category has the following 23 subcategories, out of 23 total.
Pages in category "Venues"
The following 355 pages are in this category, out of 355 total.
A

B

C

Č

D

E

F

G

H

I

J

K

K cont.

L

M

N

N cont.

O

P

R

S

Š

T

U

V

W

Y

Z

Ž
Media in category "Venues"
The following 199 files are in this category, out of 199 total.