Category:Dance
From Culture.si
In our Events Archive you can search for Dance from Slovenia Worldwide

Plesna izba Maribor was established in 1994 by Minka Veselič Kološa, whose pioneering work in the area of dance education has been awarded several times. Besides a highly successful and extensive programme of dance education, Plesna izba Maribor also produces dance and performing arts performances. In 2007 Maribor Dance Room has launched the Contemporary dance Platform [Platforma sodobnega plesa], intended to presentations of national and international makers in the field of contemporary dance art, which has been organised in 2014 and 2015 together with Performa Festival.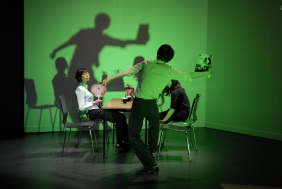 The Mladi levi Festival (in English: Young Lions Festival) is one of the most prominent events organised by Bunker Institute, which initiated the festival in Slovenia in 1998 within the international network Junge Hunde. The international festival that takes place every end of the summer at the Old Power Station and the surrounding neighbourhood, aims to present makers whose work is characterised by original approaches to theatre and dance, focusing on talented and emerging stage performers, along with presenting already established progressive authors. The Festival has a distinctive atmosphere, marked with creativity and vibrant spirit, and social nature. It is an interdisciplinary place of exchange and co-operations, which extend beyond the habitual local or international concepts.
Dance web resources
Latest Entries
Subcategories
This category has the following 19 subcategories, out of 19 total.
B

C

D

D cont.

D cont.

F

P
Pages in category "Dance"
The following 73 pages are in this category, out of 73 total.
A

B

C

D

E

F

G

H

I

K

M

N

P

P cont.

Q

R

S

Š

T

U

V
Media in category "Dance"
The following 131 files are in this category, out of 131 total.