Category:Dance
From Culture.si
Subcategories
This category has the following 19 subcategories, out of 19 total.
B

C

D

D cont.

D cont.

F

P
In our Events Archive you can search for Dance from Slovenia Worldwide
Following the success of theirs debut features Idle Running (V leru, 1999) and Bread and Milk (Kruh in mleko, 2001) Staragara was established as an independent non-profit cultural organisation in 2003 by filmmakers Janez Burger and Jan Cvitkovič. Although it is primarly focused on film production (its unorthodox films have won numerous international awards), Staragara also produces commercial spots, contemporary dance performances by the choreographer Magdalena Reiter and occasionally organises special dance events and programmes. Staragara also produced a special film project for Maribor, European Capital of Culture 2012 - Man With a Raven [Mož s krokarjem, 2012].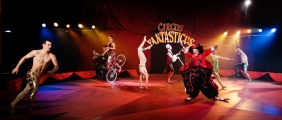 Plesna izba Maribor was established in 1994 by Minka Veselič Kološa, whose pioneering work in the area of dance education has been awarded several times. Besides a highly successful and extensive programme of dance education, Plesna izba Maribor also produces dance and performing arts performances. In 2007 Maribor Dance Room has launched the Contemporary dance Platform [Platforma sodobnega plesa], intended to presentations of national and international makers in the field of contemporary dance art, which has been organised in 2014 and 2015 together with Performa Festival.
Dance web resources
Latest Entries
Pages in category "Dance"
The following 72 pages are in this category, out of 72 total.
A

B

C

D

E

E cont.

F

G

H

I

K

M

N

N cont.

P

Q

R

S

Š

T

U

V
Media in category "Dance"
The following 131 files are in this category, out of 131 total.