Category:Dance
From Culture.si
Subcategories
This category has the following 19 subcategories, out of 19 total.
B

C

D

D cont.

D cont.

F

P
In our Events Archive you can search for Dance from Slovenia Worldwide
Registered in 1993, Maska Institute is a non-profit, non-governmental organisation for publishing, production, education, and research. It is divided into three departments: Maska Productions (performances, interdisciplinary and visual artworks), Maska Publishing (Maska, Performing Arts Journal as well as books and other publications on contemporary performance and society), and Maska Symposium (an ongoing seminar about contemporary stage arts). Its activities engage in contemporary art and theory, research, experimental performing practices, interdisciplinary art, and critical theory all with a strong emphasis on international cooperation, especially throughout the entire space of Europe.
Following the success of theirs debut features Idle Running (V leru, 1999) and Bread and Milk (Kruh in mleko, 2001) Staragara was established as an independent non-profit cultural organisation in 2003 by filmmakers Janez Burger and Jan Cvitkovič. Although it is primarly focused on film production (its unorthodox films have won numerous international awards), Staragara also produces commercial spots, contemporary dance performances by the choreographer Magdalena Reiter and occasionally organises special dance events and programmes. Staragara also produced a special film project for Maribor, European Capital of Culture 2012 - Man With a Raven [Mož s krokarjem, 2012].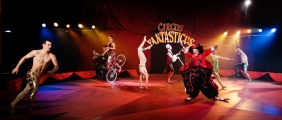 Dance web resources
Latest Entries
Pages in category "Dance"
The following 73 pages are in this category, out of 73 total.
A

B

C

D

E

F

G

H

I

K

M

N

O

P

Q

R

S

Š

T

U

V
Media in category "Dance"
The following 130 files are in this category, out of 130 total.