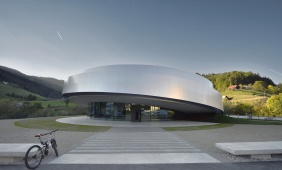 The Cultural Centre of European Space Technologies (KSEVT) opened in Vitanje in September 2012. The building design is the work of four architectural bureaus which established the Architectural Union for Vitanje (AZZV): Bevk Perović Arhitekti, Dekleva Gregorič Arhitekti, Ofis Arhitekti, and SADAR + VUGA Architects.
Described as "a living room" of Vitanje inhabitants and a space for the synthesis of art and science focused on the culturalisation of space and "post-gravity art" by its inceptors, KSEVT promises an interaction between the local, the regional, and the planetary.
In September 2015 the international symposium Out of the Cradle '15 / Habiton in Vitanje encompassed presentations of the first art satellite in orbit. Matters of Gravity, an exhibition of a Mexican group of 9 artists and 1 scientist, is on view until 3 January 2016. Recently, a short-term exhibition entitled The Slovenian Space Academy presented the collaborative projects between Slovene organisations and The European Space Agency (ESA).