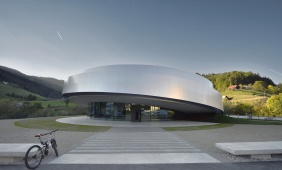 The Cultural Centre of European Space Technologies (KSEVT) opened in Vitanje in September 2012. The building design is the work of four architectural bureaus which established the Architectural Union for Vitanje (AZZV): Bevk Perović Arhitekti, Dekleva Gregorič Arhitekti, Ofis Arhitekti, and SADAR + VUGA Architects.
Described as "a living room of Vitanje inhabitants and a space for the synthesis of art and science focused on the post-gravity art" by its inceptors, KSEVT promises an interaction between the local, the regional, and the planetary. Next to permanent exhibition Herman Potočnik Noordung: 100 Monumental Influences since October 2013 an exhibition VOYAGER/DR. MAVRETIČ presents the work of Dr Anton Mavretič and the space probe Voyager.
At the 14th International Architecture Exhibition – la Biennale di Venezia (7 June 6 – 23 November 2014) the exhibition at the Pavilion of Slovenia (Arsenale) is curated by the Cultural Centre of European Space Technologies (KSEVT). The project delves into the fundamentals of architecture through the opus of the pioneer of space architecture, Herman Potočnik Noordung.