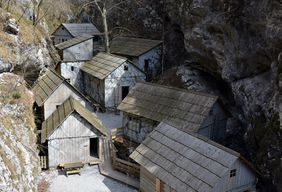 The Franja Partisan Hospital at Dolenji Novaki near Cerkno is a cluster of functionally-arranged Partisan hospital facilities located in the narrow, barely accessible Pasice Gorge, which is itself a natural attraction. The hospital complex comprises 14 wooden buildings and several small auxiliary facilities which were gradually set up in the period from December 1943 to May 1945.
The hospital was among the best-equipped of clandestine partisan hospitals, with an operating room, an X-ray apparatus, a care facility for the disabled, and a small electric plant. Most of the equipment was preserved in situ till the flood in 2007. A complete renovation was finished in May 2010. The hospital is administered by Idrija Municipal Museum.
Franja has received a renowned award presented by the Committee for European Heritage, the European Heritage Label (out of 36 proposed European sites the 16 were selected), and is also on a Tentative List of the candidates for a UNESCO World Heritage List.