Culture.si
From Culture.si
Content
Culture.si offers four major services: an up to date address book, images and logo collectionc for download and re-use according to their specific licences, calendar of international events, and referential articles on Slovene culture.
Articles
Over 3,000 articles, complete with profiles and contacts, are continuously updated and complemented. Each article is edited and proofread for English, providing also referential translations of the names of Slovene cultural organisations and institutions.
They are tagged with over 400 different categories so that many useful lists can be obtained, for example: Brass band music, Comic art exhibition organisers, Cultural management web resources, Dance residencies, Embassies and consulates in Slovenia, Film periodicals, Literature venues, Museum libraries, Music festival organisers, New media art festivals, Recording studios, Theatre research, Visual arts awards, etc.
Worldwide events from Slovenia
Culture.si publishes a calendar of previously unavailable announcements of cultural events from Slovenia happening around the world with links to relevant articles and selected external links on programmes. The lists of events by field are displayed on thematic portal pages.
Photo and logo collections
In Slovenia the photo collection of Culture.si is the fastest growing independent resource of free images that are available for reuse, also for commercial purposes. They have been obtained from Slovene producers and institutions, from Slovene photographers individually and via SPP Institute for Promotion of Photography, or taken by the Culture.si team, while some were found on the Internet (free licences). The images are included in the Europeana.eu portal through the National and University Library, which acts as a national aggregator.
The logos are provided by their owners, preferably in a vector format. They are available for download and can be used with the permission by their owners if properly attributed (licence CC BY-ND 2.5). This collection is a practical resource for cultural operators and publishers as well as a unique showcase of Slovene visual communications design.
Address book
Culture.si provides updated contacts (addresses, telephone and fax numbers, e-mails and web addresses) that can be searched by the region, discipline or type (producers, venues, festivals etc.).
Background
Culture.si portal is based on the experience with the Cultural Profiles databases project initiated and managed by Visiting Arts, conceived by Tim Doling, Managing Editor, and developed by Librios Ltd. From 2002 till 2008 the Ministry of Culture of the Republic of Slovenia in partnership with the British Council Slovenia actively supported the establishment and maintenance of the Slovenia Cultural Profile, a comprehensive English-language guide to culture in Slovenia, aimed at both cultural professionals and the general public. The publication Slovenia Cultural Profile, based on the database, was issued in 2004 and 2008.
The collection of data that had been compiled and developed for the Slovenia Cultural Profile with financial support from the Ministry of Culture provided the basis for the newly organised, updated, and redesigned MediaWiki Culture.si database.
Semantic MediaWiki cultural portal
In 2009 the Ministry of Culture initiated its own cultural portal for those seeking international cooperation with Slovenia called Culture.si. This flexible public database providing for the needs of the cultural sphere, built with semantic web principles, using open source and open formats, was developed by Ljudmila - Ljubljana Digital Media Lab (2009–2010). Based on the Ministry of Culture's open call for the maintenance and development of the portal for the period 2011–2014, the project has been managed by Ljudmila Art and Science Laboratory since 2011. Portal Culture.si is funded by the Ministry of Culture.
Mission
Culture.si hopes to broaden and promote international cultural cooperation, as well as knowledge and recognition of Slovene culture.
User groups
There are several different groups which can benefit from the information offered by Culture.si. Although primarily designed to meet the needs of culture professionals, Culture.si also caters to researchers, students, artists, tourists and anyone looking for information on Slovene cultural institutions, organisations, producers, venues, festivals, heritage, funding, education, support services, etc. Culture professionals may benefit from thorough and regularly updated address books, timeline charts prepared for research purposes, and image and logo banks for easy incorporation into publications. Students of culture may benefit from lists of educational possibilities in Slovenia. Any material found on this portal may be used based on the specified terms.
Enhance Wikipedia!
Wikipedia in English has over 3 million articles but not many of them are related to culture in/from Slovenia. Please, contribute! You can copy and adapt facts or texts from Culture.si by simply acknowledging the source (Culture.si, the Ministry of Culture of the Republic of Slovenia). Make sure to consult the WikiProject Slovenia pages first!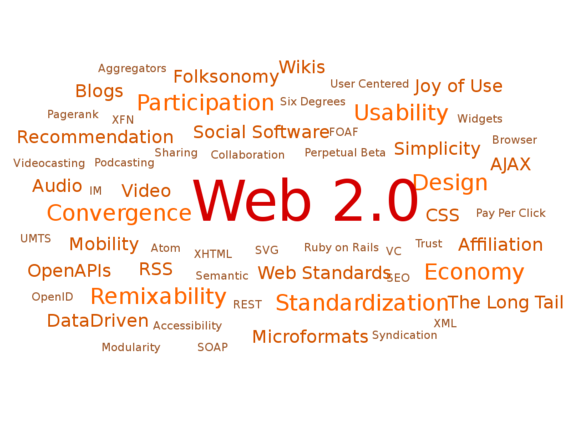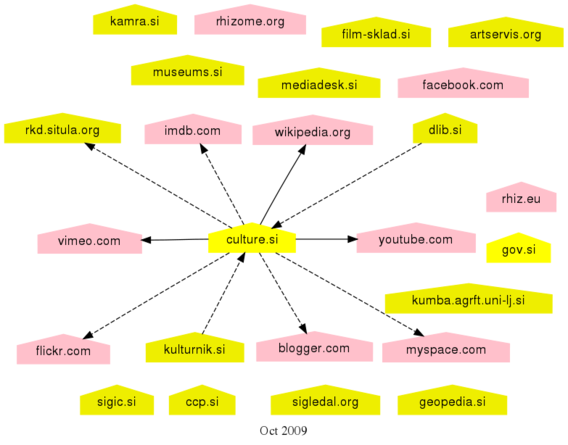 Reports & Factsheets
See also
Press clipping
External links
Culture.si social
References
On Semantic MediaWiki
Impressum
Developed and published by Ljudmila Art and Science Laboratory
Project co-ordinator:

Živa Zupan

Editors:

Helena Pivec

,

Alenka Pirman

Language editor:

Jana Renée Wilcoxen

Additional proofreading and language editing:

Kristjan Mavri

Worldwide events editor:

Anja Mrak

Social media editor:

Alenka Pirman

Previous social media editor:

Ali Bramwell

Photo editor:

Živa Zupan

Previous photo editors:

Lidija Biškup

,

Ali Bramwell

Programming & realisation:

Luka Frelih

,

Žiga Kranjec

,

Zoran Obradović

,

Mitja Doma

Design: atelje.Balant
Strategy and communication:

Alenka Pirman

Additional communications:

Marko Brumen

Copywriter:

Irena Duša Draž
Some stocks were obtained with the help of SPP Institute for Promotion of Photography.
Consultants (content reviews 2013):

Vesna Teržan

(architecture, design),

Natalija Glažar

(archives)
Current writers:

Tina Dolinšek

,

Nina Hlebec

,

Katja Kosi

,

Anja Mrak

,

Dare Pejić

,

Alenka Pirman

,

Helena Pivec

,

Tea Pristolič

,

Denis Valič

,

Jana Renée Wilcoxen

,

Anže Zorman

Previous writers:

Katja Černe

,

Danaja Grešak

,

Maia Juvan

,

Nataša Kocjančič

,

Eva Lučka Kozak

,

Andreja Musar

,

Aljaž Pavlin

,

Ivan Pirnat

,

Gregor Pompe

,

Janez Premk

,

Maja Škerbot

,

Ičo Vidmar

,

Miha Zadnikar
Legal advisor:

Urša Chitrakar

Founded and funded by the Ministry of Culture of the Republic of Slovenia
Acknowledgements
The Culture.si portal is a complex enterprise and wouldn't be possible without the benevolent help of many individuals. We wish to thank the following: Ali Bramwell, Vuk Ćosić, Jure Čuhalev, Miran Hladnik, Tea Hvala, Vesna Jurca Tadel, Urška Jurman, Jiři Kočica, Mateja Koren, Amelia Kraigher, Špela Kučan, Borut Krajnc, Mateja Lazar, Inge Pangos, Stojan Pelko, Anja Premk, Domen Savič, Barbara Skubic, Alenka Suhadolnik, Robertina Šebjanič, Majda Širca, Darja Vuga, Beti Žerovc, and many more.
Gallery