Ljudmila Art and Science Laboratory
From Culture.si
Background
Self-proclaimed as 'the latest spin-off' from the Open Society Institute - Slovenia (1992–2000), the Ljudmila Art and Science Laboratory was established by 10 new & all media artists, developers, hackers, programmers, and computer engineers, engaged in the Ljudmila - Ljubljana Digital Media Lab, a programme of KUD France Prešeren Arts and Culture Association.
The founding members of the Ljudmila Art and Science Laboratory are Urban Belina, Mitja Doma, Luka Frelih, Tomaž Ižanc, Žiga Kranjec, Igor Križanovskij, Zoran Obradović, Alenka Pirman, Robertina Šebjanič, and Živa Zupan.
Strictly Analog Festival and PIFcamp
In 2013 Ljudmila launched the Strictly Analog Festival, an international joint project with partner institutions in Graz, Trieste, and Tokyo as well as locally based Lighting Guerrilla Festival, MoTA Museum of Transitory Art, and Projekt Atol Institute.
In 2015 the first edition of the PIFcamp, a temporary nomad hacker-base, took place in Trenta. As a part of the European Changing Weathers it was organised by Ljudmila Art and Science Laboratoy and Projekt Atol Institute. The participants took active part in exploration and representation of climate, economic, ecological, technological, social, political, cultural, artistic and geopolitical changes and tensions of past, present and future Europe, in DIY, DIWO and DITO manner. Several hands-on workshops, presentations, field trips and laboratory research was assisted by experienced local and international guests from different fields.
Education
Ljudmila organises regular workshops in basic and advanced use of open source software (Blender, Pure Data, MediaWiki), as well as the Free Circuit workshops and Digital Dish public lectures and artist talks by international new media artists. The Prosto-vezje programme in general engages in the experimental ("circuit bending", "tinkering" and "kits") development and making of the electronic circuit hacks based on the free software. The participants are encouraged to develop further uses and include the findings in their artistic work. Since 2013 Ljudmila has developed the education programme in collaboration with the Projekt Atol Institute.
Theremidi Orchestra
As a result of a theremin and theremidi physical interface workshop at Ljudmila in 2011 the electronic noise ensemble Theremidi Orchestra was founded in 2011, in collaboration with Borut Savski, Cirkulacija 2. The Theremidi audiovisual public presentations at festivals are usually combined with open workshops for making DIY instruments and gadgets.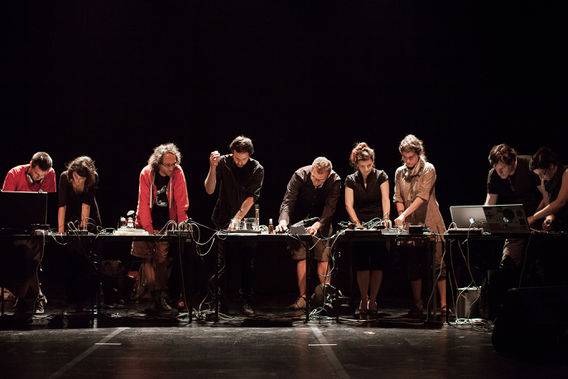 Portals and digital agenda
In 2013 Ljudmila Art and Science Laboratory was invited by the Ministry of Culture to collaborate with the National and University Library and Archives of the Republic of Slovenia and organise a line of discussions related to Digital Agenda in the Field of Culture in order to identify the issues and outline basic standards and recommendations for a common strategy. The working group led by Ljudmila focused on data acessibility, while the other two groups discussed the processes of digitisation and permanent data preservation.
See also
External links
Gallery