Category:Museums
From Culture.si
Subcategories
This category has the following 28 subcategories, out of 28 total.
A

D

H

I

L

M

M cont.

N

P

R

S

T

V

M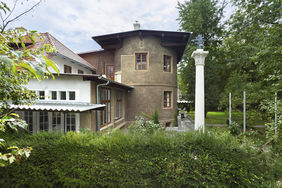 The house where Jože Plečnik (1872–1957) lived from 1921 until his death has been restored as a museum and opened to the public in 1974. A thoroughly renovated complex that houses the Plečnik Collection as well as a new permanent exhibition and a study centre reopened in September 2015.
The two houses at Karunova ulica 4 and 6, and an adjacent garden with a lapidarium; together with the entire inventory of furniture and other objects used by Plečnik, have been managed by the Museum and Galleries of Ljubljana since 2010. The collection contains extensive archives of architect's sketches, plans, correspondences, and other documents, including the archive of Ognjišče akademikov arhitektov (Academy of Architecture Collection).
The Czech and Slovene Ministries of Culture submitted the Plečnik's urban planning and architectural works in Ljubljana and Prague on the UNESCO World Heritage tentative list in January 2015.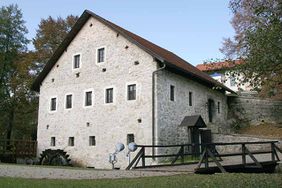 Trubar Homestead was opened in the village of Rašica, near Velike Lašče, in 1986 on the 400th anniversary of the death of Primož Trubar (1508–1586). He is considered to be the founder of the literary Slovene language and was the leader of the Protestant Reformation movement in Slovenia.
Though a very important figure in his time, not much material evidence is left of his life in Rašica. Consequently, he is presented through copies of his books and some other documents and artefacts connected with his life. That is coupled with stained glass portraits of his famous contemporaries, including some of the rulers of the time. Though lacking any significant material legacy, the guided tours offer an extremely informative insight into the historical contexts and the rather epic story of Primož Trubar.
Next to the main building are a traditional Slovene kozolec ("wooden hay-drying rack"), a water-driven Venetian sawmill, the Skedenj Gallery and a well-kept park area. The former stables have been turned into an inn and the granary into a reception and a shop.
all events
Museums web resources
Latest Entries
Pages in category "Museums"
The following 277 pages are in this category, out of 277 total.
A

B

C

Č

D

E

F

G

H

I

J

J cont.

K

L

M

N

O

P

R

S

Š

T

U

V

W

Z

Ž
Media in category "Museums"
The following 391 files are in this category, out of 391 total.