Category:Museums
From Culture.si

The National Museum of Contemporary History, originating in 1944 as the Scientific Institute of the Executive Committee of the National Liberation Front (IOOF), which subsequently became the Museum of National Liberation (1948). In 1952 it was relocated to Cekin Mansion, situated in Ljubljana's Tivoli Park, where it still resides today. In 1962 it became the Museum of the People's Revolution and acquired its current name in the 2003.
It houses collections of items from the First and the Second World War, as well as from the period between the wars, the era of socialism, and the later formation of the new Slovene state. It has a branch in Brestanica in the Rajhenburg Castle.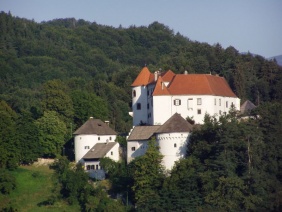 Housed in Velenje Castle, the Velenje Museum is a public cultural institution which collects, documents and preserves the cultural heritage of Velenje and the Šaleška Valley. Its diverse collections are displayed in eleven thematic exhibitions and offer an insight into a vast range of historical periods and phenomena including prehistoric times and the remains discovered in the Šaleška Valley from 2 types of mastodons; the development of the modern mining town of Velenje during Socialism; the internationally important African collection of masks, puppets and other objects gathered by František Foit; Baroque church art; the modern paintings of Lojze Perko; contemporary art from the Gorenje Art Collection; authentic interiors from the 1930s, and other ethnological reconstructions of the characteristic vernacular heritage of the Šaleška Valley.
The museum also manages the Kavčnik and Gril homesteads, WWII memorial rooms at Topolšica and Graška gora, and the recently established Museum of the Leather Industry in Slovenia.
Museums web resources
Latest Entries
Subcategories
This category has the following 28 subcategories, out of 28 total.
A

D

H

I

L

M

M cont.

N

P

R

S

T

V

M
Pages in category "Museums"
The following 277 pages are in this category, out of 277 total.
A

B

C

Č

D

E

F

G

H

I

J

J cont.

K

L

M

N

O

P

R

S

Š

T

U

V

W

Z

Ž
Media in category "Museums"
The following 401 files are in this category, out of 401 total.