Category:Museums
From Culture.si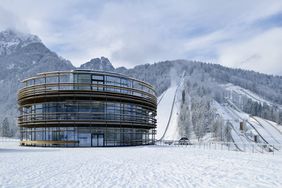 The Planica Museum is dedicated to the history of ski jumping and flying in Planica, an alpine valley in northwestern Slovenia. Historically, this valley has been one of the prime sites for the development of ski flying as a sports discipline of its own, and consequently, the museum also presents the wider history of ski jumping as such. Nevertheless, its main focus is to present and develop both the cultural as well as the technical heritage of almost a century of ski jumping in Planica.
Set in a newly constructed pavilion as a part of the Nordic skiing complex called the Nordic Centre Planica, the museum opened its doors in 2016. The exhibition was collected and set up by Iztok Durjava from the Slovene Sports Museum which is also managed by the Institute of Sports of the Republic of Slovenia Planica.
The Novo mesto Regional Office of the Institute for the Protection of Cultural Heritage of Slovenia, founded in 1980, is responsible for cultural heritage in the Dolenjska and Bela krajina regions, with cultural monuments declared of high importance by the state, among them the St. Nicolas Church in Novo mesto with famous altar painting by Jacopo Robusti Tintoretto (1518 - 1594), the Brežice Castle, the Partisan Baza 20 in Kočevski rog, the Ausperg Ironworks at Dvor near Žužemberk and Mithras temple at Rožanec near Črnomelj. Recent motorway building works have uncovered an archaeologically rich region, and archaeological excavations and research work are still under way at different sites. The office has its quarters, conservation and restoration workshop and depots in Grm Castle (16th – 18th Century) with stucco ceiling decoration and wall paintings in the tower room.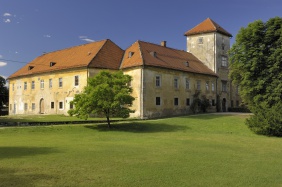 all events
Museums web resources
Latest Entries
Subcategories
This category has the following 28 subcategories, out of 28 total.
A

D

H

I

L

M

M cont.

M cont.

N

P

R

S

T

V
Pages in category "Museums"
The following 277 pages are in this category, out of 277 total.
A

B

C

Č

D

E

F

G

H

I

J

J cont.

K

L

M

N

O

P

P cont.

R

S

Š

T

U

V

W

Z

Ž
Media in category "Museums"
The following 423 files are in this category, out of 423 total.