Category:Museums
From Culture.si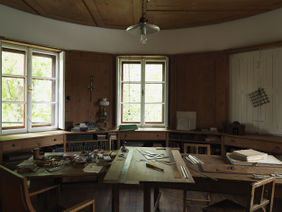 The collection is located at the Plečnik House in Trnovo, where Jože Plečnik lived from 1921 until his death in 1957. Plečnik's original work and furniture, his library, his drawing tools, and his personal belongings are preserved here, together with a large archive of sketches, plans, photographs, and models made of wood, clay, and plaster, as well as Plečnik's correspondence and his student work. The main part of the collection is on display in the cylindrical annex of the house, constructed between 1923 and 1925 by the architect himself.
The Czech and Slovene Ministries of Culture submitted the Plečnik's urban planning and architectural works in Ljubljana and Prague on the UNESCO World Heritage tentative list in January 2015.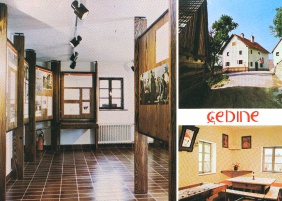 Located in a substantially altered old Barlič homestead, this memorial room commemorates the Founding Congress of the Communist Party of Slovenia, which was held here in 1937. The room was set up in 1985 and contains original period furniture, and two panels illustrate the events which occurred here.
all events
Museums web resources
Latest Entries
Subcategories
This category has the following 28 subcategories, out of 28 total.
A

D

H

I

L

M

M cont.

M cont.

N

P

R

S

T

V
Pages in category "Museums"
The following 277 pages are in this category, out of 277 total.
A

B

C

Č

D

E

F

G

H

I

J

J cont.

K

L

M

N

O

P

P cont.

R

S

Š

T

U

V

W

Z

Ž
Media in category "Museums"
The following 409 files are in this category, out of 409 total.