Category:Museums
From Culture.si
Subcategories
This category has the following 28 subcategories, out of 28 total.
A

D

H

I

L

M

M cont.

N

P

R

S

T

V

M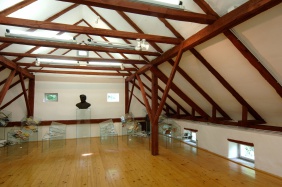 Famous Slovene writer, publicist, political and cultural worker France Bevk (1890–1970) was born at the Volar homestead in the village of Zakojca. He spent his childhood and early youth living on a slope of the Kojca mountain, above the Baška Valley.
The France Bevk homestead was opened to visitors in 1990 on the 100th anniversary of the writer's birth. It was established by the Idrija Municipal Museum which also houses France Bevk's Memorial Room, donated by his wife and transferred from Ljubljana to Idrija in 1971. His homestead in Zakojca is nevertheless administered by the Cerkno Museum.
Newly opened in May 2015, the Museum of Puppetry is a joint project of the Ljubljana Puppet Theatre and the Ljubljanski grad Public Institute, supported by the Municipality of Ljubljana. A permanent exhibition entitled Images of Slovenian Puppetry Art, 1910-1990 displays the numerous forms, contexts, and techniques of puppet shows, featuring both children's plays as well as experimental theatre performances.
The museum houses a vast collection of material artefacts such as artistic and technical designs for puppet shows, puppets, scenic elements, stages and written documents. In addition, the museum also screens television puppet shows, runs workshops, presents interactive puppet stages, and actively engages in developing the field of puppetry conservation and restoration know-how.
The establishment of the museum presents a pioneering work for Slovene puppet arts, as the material history of Slovene puppetry has never before been systematically researched, not to mention restored and exhibited. With this in mind, one of the primary objectives of the museum is to create the conditions for the proper care and long-term preservation of Slovene puppetry culture heritage.
Museums web resources
Latest Entries
Pages in category "Museums"
The following 277 pages are in this category, out of 277 total.
A

B

C

Č

D

E

F

G

H

I

J

J cont.

K

L

M

N

O

P

R

S

Š

T

U

V

W

Z

Ž
Media in category "Museums"
The following 399 files are in this category, out of 399 total.