Category:Festivals
From Culture.si
Subcategories
This category has the following 12 subcategories, out of 12 total.
Visit the Festivals in Slovenia infographics page or consult the Timeline of Slovene festivals (since 1909).
The Days of Poetry and Wine Festival is a festival that hosts the younger generation of poets from all over the world. Up to 2009 it took place in Medana (a village in Goriška Brda next to the Italian border) during the last week in August, basically turning the village into the poetry capital of Europe for a week. In 2010 the 14th edition of the festival moves to Ptuj, a historical town of Roman origin in eastern Slovenia, one of regional partner cities of Maribor, European Capital of Culture 2012. Since then the festival takes place in Ptuj. It is run by Beletrina Publishing Institute.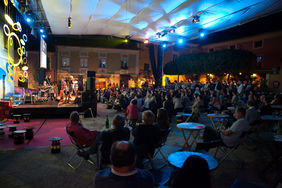 Since 2000 the Jazzinty International Music Workshop and Festival has been taking place every August at the LokalPatriot club in Novo mesto.
Foreign jazz musicians and pedagogues are invited every year to run the workshops and to play at the festival. These jazz events have become one of the main international musical events in the region of Dolenjska. In spite of rather conventional musical programming there's also a space for more progressive performers, teachers, and concerts. The Jazzon Award is bestowed every year.
The Jazzon Alpe-Adria competition is open for the composers from Slovenia, Austria and Croatia.
Year of establishment
Latest Entries
Pages in category "Festivals"
The following 278 pages are in this category, out of 278 total.
2

A

B

C

Č

(

D

E

F

G

G cont.

H

I

J

K

L

M

N

N cont.

O

P

R

S

Š

T

U

V

W

Y

Z
Media in category "Festivals"
The following 222 files are in this category, out of 222 total.