Category:Festivals
From Culture.si
Subcategories
This category has the following 12 subcategories, out of 12 total.
Visit the Festivals in Slovenia infographics page or consult the Timeline of Slovene festivals (since 1909).
The Speculum Artium Festival was established in 2008 as an annual new media art festival with different art academies participating. It supports inter-cultural dialogue and is an intermediary between art, technology, and society. Since 2010 it has been organised by Delavski dom Trbovlje Cultural Centre in the industrial town of Trbovlje.
The Academy of Fine Arts and Design, the Faculty of Computer and Information Science, University of Ljubljana, the Academy Of Fine Arts Prague, the University of Applied Arts Vienna, the Graduate School of Information Science and Technology, the University of Tokyo, and the University of Art and Design in Linz have participated so far.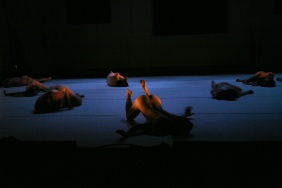 Launched in 1995, Exodos International Festival of Contemporary Performing Arts was the first international festival of performing arts to be organised in independent Slovenia. Besides presenting contemporary theatre and dance performances of national and international makers, Exodos has always emphasised the educational and theoretical aspects of its work by organising practical workshops, lectures, discussions, and round tables related to the theme of individual festival's editions, as well as organised conversations with makers appearing at the festival. From 1999 till 2011 the festival was organised annually by the Exodos Institute. The next editions are biennial.
The 17th Exodos Festival was curated by Jan Fabre and hosted also the 6th Balkan Dance Platform. In 2013 the festival was curated by Tim Etchells, Artistic Director of the Forced Entertainment Theatre company, while the 2015 edition is curated by Jan Goossens, Artistic Director of the KVS Theatre in Brussels who had developed a rich exchange programme with Congolese artists. The 19th edition is entitled Future archives: Focus Africa.
Year of establishment
Latest Entries
Pages in category "Festivals"
The following 278 pages are in this category, out of 278 total.
2

A

B

C

Č

(

D

E

F

G

G cont.

H

I

J

K

L

M

N

N cont.

O

P

R

S

Š

T

U

V

W

Y

Z
Media in category "Festivals"
The following 215 files are in this category, out of 215 total.