Category:Festivals
From Culture.si
Visit the Festivals in Slovenia infographics page or consult the Timeline of Slovene festivals (since 1909).
The first Brumen Biennial of Slovenian Design was organised by the Brumen Foundation in November 2003 at the National Gallery of Slovenia in Ljubljana.
Since then the biennial has become a notable and respected event to evaluate and award Slovenian design in about seven categories. The biennial has come to provide a specialised and expert-based overview of the field of visual communication for Slovenian designers and design firms.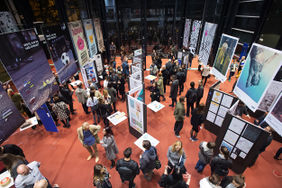 The international Pranger Festival, a meeting of poets, critics, and poetry translators, has been organised every summer since 2004 in Rogaška Slatina and Šmarje pri Jelšah by the KUD Pranger Cultural Association. The festival is named after the "pranger", a medieval pillory or public humiliation device which was set up in the centre of villages in this region, since the festival's concept is to disclose the literary word to the public, from literary critics, theoreticians and translators, to readers and other writers. Meetings, panel discussions and readings of poetry are organised during the five-day event. On this occasion the Slovene Writers' Association bestows an annual Stritar Award to the most promising literary critic.
Year of establishment
Latest Entries
Subcategories
This category has the following 12 subcategories, out of 12 total.
Pages in category "Festivals"
The following 279 pages are in this category, out of 279 total.
2

A

B

C

Č

(

D

E

F

G

G cont.

H

I

J

K

L

M

N

N cont.

O

P

R

S

Š

T

U

V

W

Y

Z
Media in category "Festivals"
The following 254 files are in this category, out of 254 total.