Category:Festivals
From Culture.si
Visit the Festivals in Slovenia infographics page or consult the Timeline of Slovene festivals (since 1909).
Launched in 2000 by a small group of women – members of associations KUD Mreža Arts and Culture Association, ŠKUC_LL, Monokel and Kasandra Lesbian-Feminist Association (now defunct), the International Feminist and Queer Festival Red Dawns takes place annually at Metelkova mesto Autonomous Cultural Zone in Ljubljana. Red Dawns features young international creators and activists whose work frames, questions and transgresses gender roles and identities.
The festival features performances, concerts, exhibitions, urban interventions, as well as video projections, round tables, book presentations, and lectures. It hosts artists and activists whose work is subversively beautiful in their brave-hearted questioning of the supposed natural and social determinants of women's femininity and men's masculinity.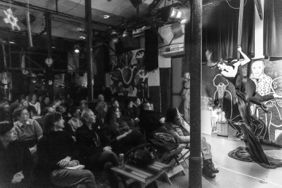 Launched in 1982, Radovljica Festival is the oldest early music festival in Slovenia. It regularly features internationally-renowned singers and instrumentalists, performing on period instruments and ensembles, such as Sequentia, Gothic Voices, Trio Mediaeval, the Rolf Lislevand Ensemble, Café Zimmermann, Sonatori della Gioiosa Marca, London Baroque and Ensemble Zefiro.
The 2011 edition of the festival presented a literary-music evening The Saga of Hallgerd by Svetlana Makarovič and Milko Lazar and international groups Die Singphoniker, Black Narcissus, , Zefiro, Sequentia, Lisa Rydberg and Gunnar Idenstam, James Bowman and Andrew Plant at the Radovljica Manor, while Yves Rechsteiner in Henri-Charles Caget interpreted the Jean-Philippe Rameau's arias and dance music at the Velesovo Church. A one-day vocal workshop was led by Ian Honeyman, an English tenor (also actor and pianist).
Year of establishment
Latest Entries
Subcategories
This category has the following 12 subcategories, out of 12 total.
Pages in category "Festivals"
The following 279 pages are in this category, out of 279 total.
2

A

B

C

Č

(

D

E

F

G

G cont.

H

I

J

K

L

M

N

N cont.

O

P

R

S

Š

T

U

V

W

Y

Z
Media in category "Festivals"
The following 254 files are in this category, out of 254 total.