Category:Music
From Culture.si
In our Events Archive you can search for Music from Slovenia Worldwide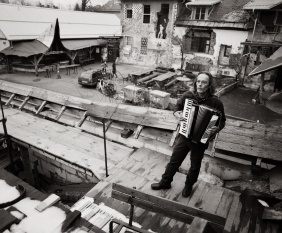 The music group Bratko Bibič & The Madleys is closely associated with the work of its founder Bratko Bibič. He is one of the most prominent and internationally acclaimed Slovene musicians, an unconventional author-composer, accordionist, performer-interpreter, cultural activist and urban theorist. As an all-round artist Bibič has been invigorating the Slovene musical scene as well as stages abroad in different bands – Begnagrad, Nimal, Bratko Bibič & The Madleys, and Accordion Tribe, featuring accordionists Guy Klucevsek (USA), Otto Lechner (Austria), Maria Kalianemi (Finland) and the late Lars Holmer (Sweden).
The Madleys are Bratko Bibič's long-distance group, never really fixed, with changing personnel from trio to larger ensembles. Usually it is adapted to various usages, from performing music for his tricky and edgy montage of archival film material to live concerts.
It's Everyone Else are Lucijan Prelog and Pika Golob, a rather special duo of a very loud musical persuasion. Their music is a unique merge of hardcore, industrial, electro and rock, seasoned with a generous dose of distortion and some pop sensibility. Their weapons of choice are two pairs of keyboards and samplers, a drum machine and their own screaming, excruciating vocals.
They established the band in 2009, at first calling themselves Hold Your Horses. One year after they were chosen to participate in the Club Marathon tour, already showing a formidable live presence. Their live shows are direct, loud and unpredictable. They usually perform under the stage and thus truly close to the audience, with whom they interact in often daring ways. Mosh pits very often spontaneously take place.
all events
Music web resources
Latest Entries
Subcategories
This category has the following 28 subcategories, out of 28 total.
Pages in category "Music"
The following 539 pages are in this category, out of 539 total.
1

A

B

C

Č

D

(

E

F

G

H

I

I cont.

J

K

L

M

N

O

P

P cont.

R

S

Š

T

U

V

W

Y

Z

Ž
Media in category "Music"
The following 376 files are in this category, out of 376 total.