Category:Music
From Culture.si
In our Events Archive you can search for Music from Slovenia Worldwide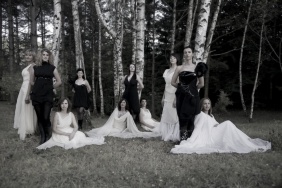 Initially part of the France Marolt Student Folk Dance Group, the female vocal group Katice was established in 1992 and comprises Alenka Trampuš Bakija, Barbara Povše Golob, Branka Krušić, Darinka Borštnik, Jasna Klinc, Marjana Cešek, Metka Knific, Naja Zapušek, Nataša Kosmač Bagar, Petra Trobec, Tanja Drašler, and Vesna Nastran.
Katice sing the traditional songs of all the Slovene regions, preferably the ones on the fringes of the Slovene ethnic territory such as Rezija, Bela krajina, Istria and Prekmurje, with a mix of influences from neighboring cultures. They travel from the melancholic songs of the Panonic plain to the extraordinary harmonies of the Rezija region, taking a stroll through the diverse seasons and ages of life, from joy at birth past a carefree childhood, adolescent puns and marriage, all the way towards death. Their rich vocal repertoire is seasoned by the sounds of a whistle and an earthenware pot-bass. They are also accompanied by a traditional musicians and they even dance to their songs. In singing modern arrangements of folk songs, Katie connect the traditional and modern in a highly original manner.
The Cerkljanski Mladinski Alternativni Klub [The Cerkno Youth Alternative Club], acronymed as C.M.A.K., got established in 1997. It is a self-organised, non-party and non-profit alternative youth club, located in the small yet culturally rather vibrant town of Cerkno. The centre is based on volunteer work and a D.I.Y. philosophy, thus enabling C.M.A.K. its relatively strong programme of concerts, workshops, education programmes, puppet animation, cinema evenings and sport events.
all upcoming events
Current events abroad
25 April to 26 May 2017


Huh? Pre-Brexit Tour, an exhibition by

Tadej Pogačar

and

Dejan Habicht

(P.A.R.A.S.I.T.E. Institute) at

Ə /UH/-BOOKS

in London,

United Kingdom

programme

28 December 2016 to 31 July 2017


The Sound of Bugs, an exhibition with sound and soundscape design by

Boštjan Perovšek

, at

Croatian National History Museum

in

Zagreb

,

Croatia

programme
all events
Music web resources
Latest Entries
Subcategories
This category has the following 28 subcategories, out of 28 total.
Pages in category "Music"
The following 544 pages are in this category, out of 544 total.
1

2

A

B

C

Č

D

(

E

F

G

H

I

I cont.

J

K

L

M

N

O

P

P cont.

R

S

Š

T

U

V

W

Y

Z

Ž
Media in category "Music"
The following 375 files are in this category, out of 375 total.