Category:Music
From Culture.si
Subcategories
This category has the following 28 subcategories, out of 28 total.
In our Events Archive you can search for Music from Slovenia Worldwide
The Maribor Academic Choir unites students from Maribor and the wider Štajerska (Podravje) region. It has been operating since 1964 when the student cultural association (KUD Študent) with its male choir was established. The choir's first conductor was Stane Jurgec.
Maribor Academic Choir has toured to the UK, the Netherlands, Germany, France and Austria. It has been led by several recognised conductors, including Simon Robinson from the UK, Jože Fürst and – since 2002 – Zsuzsa Budavari-Novak from Hungary.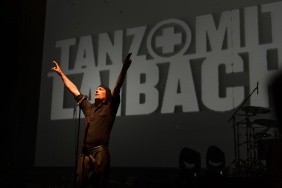 Laibach is an retro-avant-garde music group from Trbovlje, established in 1980. The name of this most famous Slovene band is the historic German version of the name for the Slovene capital Ljubljana. In 1984 they co-founded the Neue Slowenische Kunst art collective, Laibach has been involved in a "gesamtkunstwerk" multidisciplinary art practice from industrial music to visual arts (xeroxes, posters, prints, paintings, videos, installations and performances). Since the beginning the group was associated and surrounded with controversy, provoking strong reactions by political authorities in former Yugoslavia and in particular in the Socialist Republic of Slovenia. Laibach is actually best known for their cover versions, which are often used to subvert the original message or intention of the song.
all upcoming events
Current events abroad
19 February to 28 February 2017


A tour of the South African Republic by Carmina Slovenica at Brebners Concert Hall, Hugo Lambrecht Auditorium, Ken McKenzie, North West University, University of Pretoria in Bloemfontein, Cape Town, Potchefstroom, Pretoria, Winterton, South Africa programme

28 December 2016 to 31 July 2017


The Sound of Bugs, an exhibition with sound and soundscape design by Boštjan Perovšek, at Croatian National History Museum in Zagreb, Croatia programme
all events
Music web resources
Latest Entries
Pages in category "Music"
The following 529 pages are in this category, out of 529 total.
1

2

A

B

C

Č

D

(

E

F

G

H

I

I cont.

J

K

L

M

N

O

P

P cont.

R

S

Š

T

U

V

W

Y

Z

Ž
Media in category "Music"
The following 356 files are in this category, out of 356 total.