Category:Monuments and sites
From Culture.si
Subcategories
This category has the following 11 subcategories, out of 11 total.
The Museum of Hostages in Begunje na Gorenjskem was founded by the Municipality of Radovljica in 1961 and incorporated into the Radovljica Municipality Museums in 1963. It is housed in the northwest wing of the Katzenstein mansion, where the cells of those condemned to death were located during the Second World War. The mansion, with its interesting history from the 14th century onwards, is now a psychiatric hospital. The museum is declared a cultural monument of national importance together with the Katzenstein mansion, the memorial park in Draga Valley, the avenue lined with chestnut trees, and the pavilions Jožamurka and Brezjanka designed by Slovenian architect Jože Plečnik.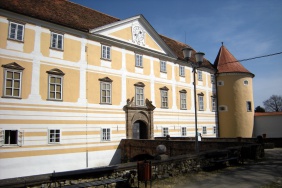 The Slovenska Bistrica Castle, first mentioned in 1313 as Burk Feistritz, stands in the old centre of Slovenska Bistrica town and is closely bound with the history of the town's development. To the west of the castle extends a park, originating from the 16th century. Both the castle and the park have been declared a cultural monument of state importance. Today the castle houses a museum with several collections and serves as the Slovenska Bistrica cultural centre.
Monuments and sites web resources
Latest Entries
Pages in category "Monuments and sites"
The following 137 pages are in this category, out of 137 total.
A

B

C

Č

D

F

G

H

I

J

K

K cont.

L

M

N

O

P

P cont.

R

S

Š

T

U

V

W

Z

Ž
Media in category "Monuments and sites"
The following 178 files are in this category, out of 178 total.