Category:Monuments and sites
From Culture.si
Baza 20 was one of the numerous camps in the woods of Kočevski Rog which were once the commanding structures of the National Liberation Movement of Slovenia in the Second World War. Numerous secretively built partisan structures and settlements scattered in the Kočevski Rog forest had the code name Baza plus number: 15, 15a, 21, 80, etc. Only Baza 20 and the field hospitals Jelendol and Zgornji Hrastnik have been preserved as monuments of national and cultural heritage and have also undergone extensive restoration work.
This former base camp (baza), which was granted the status of a cultural and historical monument of national importance in 1952, has been managed by the Dolenjska Museum in Novo mesto since 1994.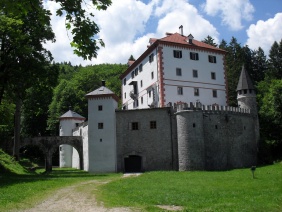 The earliest record of Snežnik Castle dates from 1269 when it was owned by the patriarchs of Aquileia. The castle lies on a strategic site, on the edge of the Lož Valley under the Snežnik mountains surrounded by a beautiful park and vast forests with diverse and rich flora and fauna including big game ranging from bears, boars, wolves and lynxes, to wild fowl and deer, and was always favourite hunting residence. Throughout the centuries the castle has changed owners many times, but in 1853 the castle and associated forests of Snežnik were bought by German Prince Otto Viktor Schönburg-Waldenburg, who gave it to his third son Georg. Thereafter it remained in the Schönburg-Waldenburg family until 1945. The last caretaker Leon Schauta saved Snežnik Castle from destruction after the Second World War by keeping good relations with the locals before and after the war. Restoration began in the 1960s and the castle opened to the public in 1970/71. In 1983 two additional exhibition rooms were opened. After a restoration completed in 2008, the romantic state-owned castle came under the administration of the National Museum of Slovenia and is the only Slovene Castle with genuine furnished interiors.
Since 2014 the Floating Castle Festival has embedded into the picturesque surroundings of the castle the late summer "folk-puppet-music-theatre site-specific event".
Monuments and sites web resources
Latest Entries
Subcategories
This category has the following 11 subcategories, out of 11 total.
Pages in category "Monuments and sites"
The following 138 pages are in this category, out of 138 total.
A

B

Č

C

D

F

G

H

I

J

K

K cont.

L

M

N

O

P

P cont.

R

Š

S

T

U

V

W

Z

Ž
Media in category "Monuments and sites"
The following 178 files are in this category, out of 178 total.