Category:Monuments and sites
From Culture.si
Subcategories
This category has the following 11 subcategories, out of 11 total.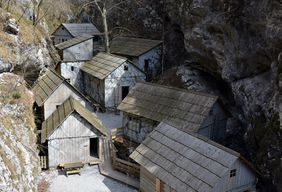 The Franja Partisan Hospital at Dolenji Novaki near Cerkno is a cluster of functionally-arranged Partisan hospital facilities located in the narrow, barely accessible Pasice Gorge, which is itself a natural attraction. The hospital complex comprises 14 wooden buildings and several small auxiliary facilities which were gradually set up in the period from December 1943 to May 1945.
The hospital was among the best-equipped of clandestine partisan hospitals, with an operating room, an X-ray apparatus, a care facility for the disabled, and a small electric plant. Most of the equipment was preserved in situ till the flood in 2007. A complete renovation was finished in May 2010. The hospital is administered by Idrija Municipal Museum.
Franja has received a renowned award presented by the Committee for European Heritage, the European Heritage Label (out of 36 proposed European sites the 16 were selected), and is also on a Tentative List of the candidates for a UNESCO World Heritage List.
Lipica Stud Farm is home to one of the world's most famous breed of horses, the Lippizaner. Founded by Archduke Charles of Austria in 1580, the farm has continuously bred the sturdy white horses for over four centuries and some of the best of these perform at the Spanish Riding School in Vienna.
The farm, extending over 311 hectares in the Karst countryside, was proclaimed a place of special cultural heritage in 1996, and has since that time been state-owned and managed by the Republic of Slovenia. At present the farm is home to around 350 white horses. The traditional Lipica Days are organised at the end of September. Museum Lipikum, the Lipizzaner Museum opened in Lipica in May 2011.
Monuments and sites web resources
Latest Entries
Pages in category "Monuments and sites"
The following 137 pages are in this category, out of 137 total.
A

B

Č

C

D

F

G

H

I

J

K

K cont.

L

M

N

O

P

P cont.

R

Š

S

T

U

V

W

Z

Ž
Media in category "Monuments and sites"
The following 178 files are in this category, out of 178 total.