Category:Architecture
From Culture.si
In our Events Archive you can search for Architecture from Slovenia Worldwide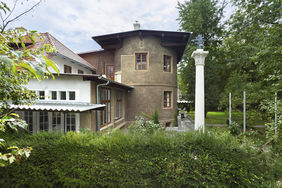 Now a small yet highly intriguing museum, the Plečnik House is the former abode of Jože Plečnik (1872–1957), one of the most important and certainly the most well known Slovene architect. As of 1974 devoted to this European architectural great, the museum houses the collection of Plečnik's personal artefacts as well as (since 2015) a study centre and an exhibition on the architect's life and work. However, the house itself is a testament in its own right, having been used as some sort of a prototype ground by its illustrious owner.
A thoroughly renovated complex of the two houses and an adjacent garden with a lapidarium, together with the entire inventory of furniture and other objects used by Plečnik, is since 2010 managed by the Museum and Galleries of Ljubljana.
Established in 2006 by Ana Kučan and Luka Javornik, Studio AKKA is probably the most renowned Slovene architecture office specialised in landscape design and site planning. Collaborating with some of the most visible Slovene bureaus, AKKA is responsible for some very prominent interventions into public space like the Nordic Centre Planica and the Sports Park Stožice.
Their works were awarded several Plečnik Awards and medals, the Piranesi Award, the Architizer A+ Popular Choice Award 2015, and others.
Architecture web resources
Latest Entries
Subcategories
This category has the following 21 subcategories, out of 21 total.
Pages in category "Architecture"
The following 80 pages are in this category, out of 80 total.
A

B

C

D

E

F

G

H

I

J

K

L

M

O

P

P cont.

R

S

T

U

Z
Media in category "Architecture"
The following 197 files are in this category, out of 197 total.