Category:Architecture
From Culture.si
Subcategories
This category has the following 20 subcategories, out of 20 total.
In our Events Archive you can search for Architecture from Slovenia Worldwide
Architecture web resources
Latest Entries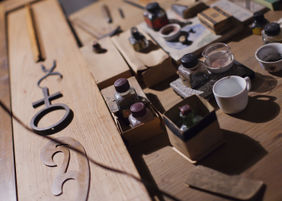 From 1972 until 2010 the Plečnik Collection represented an important department of the Museum of Architecture and Design. Now managed by the Museum and Galleries of Ljubljana), the collection is located at a separate location in the Plečnik House in Trnovo, where Jože Plečnik lived from 1921 until his death in 1957.
The collection consists of Plečnik's original work and furniture, his library, his drawing tools, and his personal belongings. The original artefacts of Jože Plečnik encompass a large archive of sketches, plans, photographs, and models made of wood, clay, and plaster, as well as Plečnik's correspondence and his student work. The main part of the collection is on display in the cylindrical annex of the house, constructed between 1923 and 1925 by the architect himself. The Plečnik House comprises a complex of two houses, and a garden with a lapidary, which all form a part of the Plečnik Collection as well.
The renovations of the Plečnik House and its surroundings lasted for two years, the Plečnik collection together with a permanent exhibition and a study centre is on view end of September 2015.

The first online guide of Slovene architecture and urbanism Architectural Guide was launched in 2005 as an open platform. The portal developed by TrajekT, Institute for Spatial Culture aims to educate and inform visitors and interested public about local architecture through photographic material, plans, and short reviews. Information on buildings and landscape designs can be browsed by selection of architect, city, type of the building, or year of the construction. Basic information is available also in English.
Pages in category "Architecture"
The following 75 pages are in this category, out of 75 total.
A

B

C

D

E

F

G

H

I

J

K

L

M

O

P

P cont.

R

S

T

U

Z
Media in category "Architecture"
The following 131 files are in this category, out of 131 total.