Category:Architecture
From Culture.si
Subcategories
This category has the following 21 subcategories, out of 21 total.
In our Events Archive you can search for Architecture from Slovenia Worldwide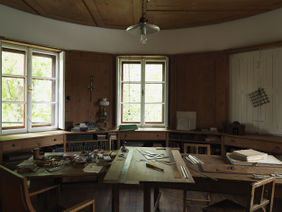 From 1972 until 2010 the Plečnik Collection represented an important department of the Museum of Architecture and Design. Now managed by the Museum and Galleries of Ljubljana), the collection is located at a separate location in the Plečnik House in Trnovo, where Jože Plečnik lived from 1921 until his death in 1957.
The collection consists of Plečnik's original work and furniture, his library, his drawing tools, and his personal belongings. The original artefacts of Jože Plečnik encompass a large archive of sketches, plans, photographs, and models made of wood, clay, and plaster, as well as Plečnik's correspondence and his student work. The main part of the collection is on display in the cylindrical annex of the house, constructed between 1923 and 1925 by the architect himself. In 2015 the exhibition premises were extended. Today the collection is housed in a complex of two houses at Karunova ulica 4 and 6, with an adjacent garden with a lapidarium.
The renovations of the Plečnik House and its surroundings took two years to complete, the Plečnik Collection together with a permanent exhibition and a study centre has been on view since September 2015.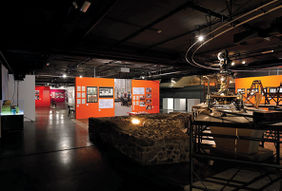 Established in 1988, the Jakopič Gallery is situated in the "look-out" basement floor of Slovenska cesta 9 in the centre of Ljubljana. The contemporary exhibiting space of more than 900 square metres is part of an architectural complex designed by Edvard Ravnikar on the location of the Roman Forum in Emona, and includes in situ ruins of ancient government buildings. The Jakopič Gallery was at first managed by the Museum of Modern Art, and later taken over by the former Architecture Museum of Ljubljana, which presented contemporary architectural and design exhibitions there until 2004. In 2007 the Municipality of Ljubljana renovated and re-opened the exhibition space, which has been managed by the Museum and Galleries of Ljubljana since 2008.
The eclectic programme presents interesting chapters of modern art. It has often served as one of the venues for larger exhibition projects such as May Salon, Biennial of Graphic Arts, the Month of Design or Photonic Moments.
all events
Architecture web resources
Latest Entries
Pages in category "Architecture"
The following 80 pages are in this category, out of 80 total.
A

B

C

D

E

F

F cont.

G

H

I

J

K

L

M

O

P

P cont.

R

S

T

U

Z
Media in category "Architecture"
The following 183 files are in this category, out of 183 total.