Category:Literature
From Culture.si
Subcategories
This category has the following 26 subcategories, out of 26 total.
In our Events Archive you can search for Literature from Slovenia Worldwide
Look Back and Laugh is a small publishing house issuing zines and artist's books. Led by the visual artist and graphic designer Zoran Pungerčar, this boutique enterprise was founded in 2011 and is stationed in Ljubljana. It runs a distinctively international profile, publishing artists from all over Europe and is regularly participating at zine fairs abroad. Each year Look Back and laugh also organises a fair for zines called Caffeine Hours.
Look Back and Laugh is open to all sorts of art and has also published music (on a cassette tape) and poetry. Possibly the most favoured technique for its publications is that of risograph printing.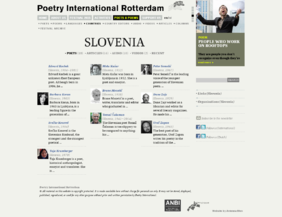 The Rotterdam-based Poetry International website is a worldwide forum for poetry with news, essays, interviews, discussion, and hundreds of poems by acclaimed modern poets from all around the world, both in their original language and in English translation. The pages on Slovene poetry feature around 17 articles in English on Slovene poetry and individual poets plus works by Srečko Kosovel (1904–1926), Edvard Kocbek (1904–1981), Dane Zajc (1929–2005), Tomaž Šalamun (b. 1941), Brane Mozetič (b. 1958), Meta Kušar (b. 1952), Barbara Korun (b. 1963), Uroš Zupan (b. 1963), Peter Semolič (b. 1967) and Taja Kramberger (b. 1970). These pages, however, were last updated in 2005.
Pages in category "Literature"
The following 172 pages are in this category, out of 172 total.
2

A

B

C

D

E

F

G

H

I

J

K

L

M

N

O

P

P cont.

R

S

Š

T

U

V

W

Y

Z
Media in category "Literature"
The following 92 files are in this category, out of 92 total.