Category:Literature
From Culture.si
In our Events Archive you can search for Literature from Slovenia Worldwide
Established in 1999, the Centre for Slovenian Literature is a non-governmental organisation dedicated to literary and publishing activities, primarily the international promotion of Slovene literature. The centre supplies information on contemporary Slovene literature to its foreign partners and stimulates translations of Slovene authors into foreign languages. It organises translators' visits to literary events and residencies, supplying them with books and literary magazines. Since 2003 every September a 3-week long residency for international writers, poets and dramatists takes place in Kočevje.
Since 2011 the Centre for Slovenian Literature publishes annually 10 Books from Slovenia with the authors' presentations and excerpts from the books in English (available also online).
A latecomer to the Metelkova mesto cultural complex, Menza pri koritu ("Canteen at the Trough") was established in 2000. Formally a youth club, it is actually a multi-purpose creative space, sometimes open throughout the day and offering a wide range of activities, featuring workshops, concerts, poetry evenings, film screenings and theatre performances. It can also be used as either practice grounds for musicians or as a place where one can actually get a cup of Turkish coffee.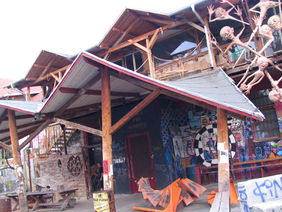 Literature web resources
Latest Entries
Subcategories
This category has the following 26 subcategories, out of 26 total.
Pages in category "Literature"
The following 173 pages are in this category, out of 173 total.
2

A

B

C

D

E

F

G

H

I

J

K

L

M

N

O

P

P cont.

R

S

Š

T

U

V

W

Y

Z
Media in category "Literature"
The following 95 files are in this category, out of 95 total.