Category:Literature
From Culture.si
In our Events Archive you can search for Literature from Slovenia Worldwide
The Days of Poetry and Wine Festival is a festival that hosts the younger generation of poets from all over the world. Up to 2009 it took place in Medana (a village in Goriška Brda next to the Italian border) during the last week in August, basically turning the village into the poetry capital of Europe for a week. In 2010 the 14th edition of the festival moves to Ptuj, a historical town of Roman origin in eastern Slovenia, one of regional partner cities of Maribor, European Capital of Culture 2012. Since then the festival takes place in Ptuj. It is run by Beletrina Publishing Institute.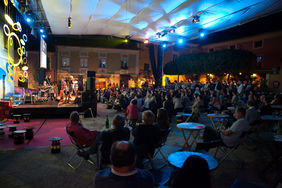 Španski borci Culture Centre reopened in November 2009 in the Ljubljana-Moste neighbourhood of the eastern part of the city. The centre is run by En-Knap Productions, as such it presents the largest facility intended for cultural activities in Slovenia managed by a non-governmental organisation. Providing a much-needed performing space in Ljubljana as well as two rehearsal spaces, the centre's programme focuses primarily on performing arts, however it also cover the areas of music, visual arts, literature, and offers a children's programme alongside. The centre also includes a reading room, a mediatheque, a coffee shop, and a gallery.
As the permanent residence of the EnKnapGroup (EKG) and one of the venues of the Gibanica (Moving Cake) Festival of Slovene Dance, the Španski borci Culture Centre has become the seat of the new Centre of Contemporary Dance, according to the agreement signed by the Ministry of Culture and the Municipality of Ljubljana in June 2011.
Literature web resources
Latest Entries
Subcategories
This category has the following 26 subcategories, out of 26 total.
Pages in category "Literature"
The following 173 pages are in this category, out of 173 total.
2

A

B

C

D

E

F

G

H

I

J

K

L

M

N

O

P

P cont.

R

S

Š

T

U

V

W

Y

Z
Media in category "Literature"
The following 95 files are in this category, out of 95 total.