Category:Visual arts
From Culture.si
Subcategories
This category has the following 35 subcategories, out of 35 total.
C

G

P

V

V cont.

V cont.

S
In our Events Archive you can search for Visual arts from Slovenia Worldwide
Beli sladoled (meaning, "White ice cream") is a painting group consisting of two academic painters: Miha Perne from Ljubljana and Leon Zuodar from Postojna. They are primarily interested in drawing and use the element of surprise when preparing exhibitions where they always avoid showing things twice.
Beli sladoled develops drawing in a wider context. The group considers drawings as living forms that set off visible reactions in contact with the viewer, mostly laughter. The drawings are usually on smaller formats and with various motifs that are a result of artistic experiment and development of a context.
The OHO Group Award is given annually to an individual Slovene artists or a group of Slovene artists up to 35 years of age, for works of art in the field of painting, photography, video, new media and performance. The prize was established in 2006 by the P.A.R.A.S.I.T.E. Institute (Ljubljana) in cooperation with the Foundation for a Civil Society (New York). It is based on an open call, followed by the selection of the nominees and then bestowed in a ceremony at the P74 Centre and Gallery.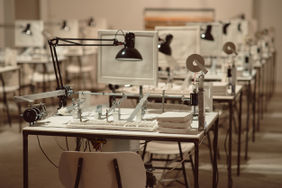 Upcoming events abroad
28 January to 25 February 2017


Ceci n'est pas une photographie, an exhibition by Alen Ožbolt, organised by Photon Gallery,

at Photon Gallery in Vienna, Austria

programme

3 February to 24 February 2017


The Slovenian Independent Biennial, an exhibition of contemporary Slovenian graphic illustration, supported by Kino Šiška Centre for Urban Culture and the Embassy of the Republic of Slovenia Washington, at Emporium Center in Knoxville, USA programme

27 June to 30 October 2017


NSK: From Kapital to Capital, an exhibition of the Slovenian art collective Neue Slowenische Kunst (NSK), organised in cooperation with Moderna galerija (MG), at Museo Nacional Centro de Arte Reina Sofía in Sofia, Bulgaria programme
all upcoming events
all events
Visual arts web resources
Latest Entries
Pages in category "Visual arts"
The following 281 pages are in this category, out of 281 total.
A

B

C

D

E

F

G

H

I

J

K

L

M

M cont.

N

O

P

R

S

Š

T

U

V

W

Z

Ž
Media in category "Visual arts"
The following 264 files are in this category, out of 264 total.