Category:Visual arts
From Culture.si
Subcategories
This category has the following 35 subcategories, out of 35 total.
C

G

P

V

V cont.

V cont.

S
In our Events Archive you can search for Visual arts from Slovenia Worldwide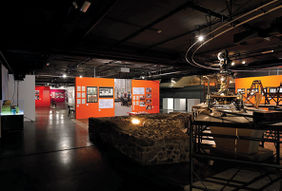 Established in 1988, the Jakopič Gallery is situated in the "look-out" basement floor of Slovenska cesta 9 in the centre of Ljubljana. The contemporary exhibiting space of more than 900 square metres is part of an architectural complex designed by Edvard Ravnikar on the location of the Roman Forum in Emona, and includes in situ ruins of ancient government buildings. The Jakopič Gallery was at first managed by the Museum of Modern Art, and later taken over by the former Architecture Museum of Ljubljana, which presented contemporary architectural and design exhibitions there until 2004. In 2007 the Municipality of Ljubljana renovated and re-opened the exhibition space, which has been managed by the Museum and Galleries of Ljubljana since 2008.
The eclectic programme presents interesting chapters of modern art. It has often served as one of the venues for larger exhibition projects such as May Salon, Biennial of Graphic Arts, the Month of Design or Photonic Moments.
Launched in 2000 by LokalPatriot Institute as an international summer photography workshop, the Fotopub Festival of Documentary Photography has since developed into a significant annual event dedicated entirely to documentary photography, with up to 10 exhibitions, a set of workshops, lectures, and screenings of photo-stories. Taking place in Novo mesto, a vibrant cultural centre of the Dolenjska region in south-east Slovenia, an intimate and vital festival has succeeded to bring to the city a summertime influx of international visitors interested in photography, acclaimed professionals, as well as photography lovers of all generations.
The Fotopub themes since 2008 were Human Footprints, Making Contact, Crossing Borders and The Private Eye in 2011, tackling trends within the photo documentary society such as the power of narrow narratives thriving on the Facebook platform. In 2012 the festival under the name Eurovision was in line with the Maribor, European Capital of Culture 2012 programme. The 2013 edition is dedicated to Alienation and curated by Klavdij Sluban. Matjaž Brulc, the artistic director of Simulaker Gallery, took over the management of the festival.
In 2014 a renewed, re-contextualised and artist-run Fotopub emerged, led by a newly established team of the Fotopub Association for Contemporary Culture. It focuses on contemporary art photography and aims at promoting the younger generation of Slovene and foreign photographers and building bridges between professionals and amateur audiences.
Upcoming events abroad
30 March to 31 March 2017


Pannonian (De)Mystifications, a series of events with writer Vlado Žabot featuring paintings by Zdenko Huzjan, supported by the Embassy of the Republic of Slovenia Warsaw and the Centre for Slovene as a Second/Foreign Language, at Faculty of Philology Krakow Śródmiejski Ośrodek Kultury, Faculty of Philology Sosnowiec, Rondo Sztuki in Katowice, Kraków, Sosnowiec, Poland programme

1 April to 20 April 2017


Dragan Živadinov (Delak Institute) participates in the section Space Art of the exhibition The Universe and Arts, An Artistic Voyage through Space at Artscience Museum in Singapore, Singapore programme

27 June to 30 October 2017


NSK: From Kapital to Capital, an exhibition of the Slovenian art collective Neue Slowenische Kunst (NSK), organised in cooperation with Moderna galerija (MG), at Museo Nacional Centro de Arte Reina Sofía in Sofia, Bulgaria programme
all upcoming events
all events
Visual arts web resources
Latest Entries
Pages in category "Visual arts"
The following 281 pages are in this category, out of 281 total.
3

A

B

C

D

E

F

G

H

I

J

K

L

M

M cont.

N

O

P

R

S

Š

T

U

V

W

Z

Ž
Media in category "Visual arts"
The following 265 files are in this category, out of 265 total.