Category:Visual arts
From Culture.si
Subcategories
This category has the following 35 subcategories, out of 35 total.
C

G

P

V

V cont.

V cont.

S
In our Events Archive you can search for Visual arts from Slovenia Worldwide
Visual arts web resources
Latest Entries
Launched in 2000 by LokalPatriot Institute as an international summer photography workshop, the Fotopub Festival of Documentary Photography has since developed into a significant annual event dedicated entirely to documentary photography, with up to 10 exhibitions, a set of workshops, lectures, and screenings of photo-stories. Taking place in Novo mesto, a vibrant cultural centre of the Dolenjska region in south-east Slovenia, an intimate and vital festival has succeeded to bring to the city a summertime influx of international visitors interested in photography, acclaimed professionals, as well as photography lovers of all generations.
The Fotopub themes since 2008 were Human Footprints, Making Contact, Crossing Borders and The Private Eye in 2011, tackling trends within the photo documentary society such as the power of narrow narratives thriving on the Facebook platform. In 2012 the festival under the name Eurovision was in line with the Maribor, European Capital of Culture 2012 programme. The 2013 edition is dedicated to Alienation and curated by Klavdij Sluban. Matjaž Brulc, the artistic director of Simulaker Gallery, took over the management of the festival.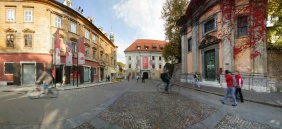 In 2009 the City Museum of Ljubljana and the City Art Gallery Ljubljana merged into a new public institute called the Museum and Galleries of Ljubljana. The merger was part of the Municipality of Ljubljana's cultural development plans for 2008–2011, endorsed in June 2008.
Pages in category "Visual arts"
The following 266 pages are in this category, out of 266 total.
A

B

C

D

E

F

G

G cont.

H

I

J

K

L

M

M cont.

N

O

P

R

S

Š

T

U

V

W

Z

Ž
Media in category "Visual arts"
The following 241 files are in this category, out of 241 total.