Category:Visual arts
From Culture.si
Subcategories
This category has the following 35 subcategories, out of 35 total.
C

G

P

V

V cont.

V cont.

S
In our Events Archive you can search for Visual arts from Slovenia Worldwide
The establishment of Škuc Gallery in 1978 as part of the alternative programmes of the ŠKUC offered an important foil to the dominant exhibition policy of the established national galleries and institutions in Slovenia.
Preparing approximately one exhibition monthly plus additional events and guest appearances abroad and at home, the Škuc Gallery has over the years become one of the most visited exhibition premises in Slovenia. Through close co-operation with institutions and individuals working in the region, including art centres in Austria, Croatia, Hungary and Italy and many more, Škuc Gallery has developed into an important art production centre.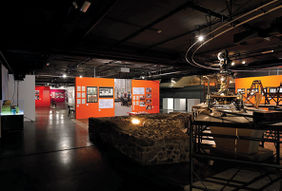 Established in 1988, the Jakopič Gallery is situated in the "look-out" basement floor of Slovenska cesta 9 in the centre of Ljubljana. The contemporary exhibiting space of more than 900 square metres is part of an architectural complex designed by Edvard Ravnikar on the location of the Roman Forum in Emona, and includes in situ ruins of ancient government buildings. The Jakopič Gallery was at first managed by the Museum of Modern Art, and later taken over by the former Architecture Museum of Ljubljana, which presented contemporary architectural and design exhibitions there until 2004. In 2007 the Municipality of Ljubljana renovated and re-opened the exhibition space, which has been managed by the Museum and Galleries of Ljubljana since 2008.
The eclectic programme presents interesting chapters of modern art. It has often served as one of the venues for larger exhibition projects such as May Salon, Biennial of Graphic Arts, the Month of Design or Photonic Moments.
Upcoming events abroad
28 February to 1 April 2017


Freud and me, alone, an exhibition of works by Žiga Kariž, organised by Photon Gallery and supported by the Slovenian Culture and Information Centre, Vienna (SKICA), Embassy of the Republic of Slovenia Vienna, at Photon Gallery in Vienna, Austria programme

7 March to 21 May 2017


Art in Europe 1945-1968, an exhibition featuring works by Matjaž Hanžek and the OHO Group, at The Pushkin State Museum of Fine Arts in Moscow, Russia programme

27 June to 30 October 2017


NSK: From Kapital to Capital, an exhibition of the Slovenian art collective Neue Slowenische Kunst (NSK), organised in cooperation with Moderna galerija (MG), at Museo Nacional Centro de Arte Reina Sofía in Sofia, Bulgaria programme
all upcoming events
all events
Visual arts web resources
Latest Entries
Pages in category "Visual arts"
The following 281 pages are in this category, out of 281 total.
A

B

C

D

E

F

G

H

I

J

K

L

M

M cont.

N

O

P

R

S

Š

T

U

V

W

Z

Ž
Media in category "Visual arts"
The following 265 files are in this category, out of 265 total.