Category:Visual arts
From Culture.si
Subcategories
This category has the following 35 subcategories, out of 35 total.
C

G

P

V

V cont.

V cont.

S
In our Events Archive you can search for Visual arts from Slovenia Worldwide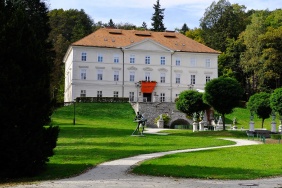 Established in 1986, the International Centre of Graphic Arts (MGLC) is housed in the Tivoli Mansion. It runs the Biennial of Graphic Arts, maintains an international collection of graphic arts and artists' books, and organises personal and thematic contemporary arts exhibitions, often reflecting political or social atmospheres of the chosen periods.
Founded in 1955, the Ljubljana Biennial of Graphic Arts is the world's oldest existing biennial exhibition of contemporary graphic arts. MGLC is among the founding member of the International Biennial Association (IBA), established in 2014.
With its collection of more than 3,000 art works by Slovene artists from the end of the 19th century up to the present, the Maribor Art Gallery (Umetnostna galerija Maribor (UGM)) is one of the main museums for modern and contemporary art in Slovenia. Painting, sculpture, and prints are joined by photographs, video art, multimedia installations, and interactive art projects. UGM serves as a regional museum of modern and contemporary art in the area of the Municipality of Maribor, its founder, as well as in the greater area of north-eastern Slovenia. The museum also runs the UGM Studio and manages the Forma Viva Open Air Sculpture Collection in the City Park. The researchers can benefit from its rich Library and Archive. In 2015 UGM has been in charge of the Slovenian pavilion featuring JAŠA at the Venice Biennial.
Pages in category "Visual arts"
The following 282 pages are in this category, out of 282 total.
A

B

C

D

E

F

F cont.

G

H

I

J

K

L

M

M cont.

N

O

P

R

S

Š

T

U

V

W

Z

Ž
Media in category "Visual arts"
The following 264 files are in this category, out of 264 total.