Category:Visual arts
From Culture.si
Subcategories
This category has the following 35 subcategories, out of 35 total.
C

G

P

V

V cont.

V cont.

S
In our Events Archive you can search for Visual arts from Slovenia Worldwide
Visual arts web resources
Latest Entries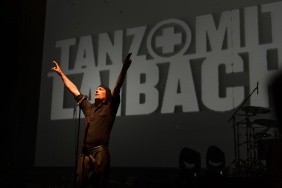 Laibach is an retro-avant-garde music group from Trbovlje, established in 1980. The name of this most famous Slovene band is the historic German version of the name for the Slovene capital Ljubljana. In 1984 they co-founded the Neue Slowenische Kunst art collective, Laibach has been involved in a "gesamtkunstwerk" multidisciplinary art practice from industrial music to visual arts (xeroxes, posters, prints, paintings, videos, installations and performances). Since the beginning the group was associated and surrounded with controversy, provoking strong reactions by political authorities in former Yugoslavia and in particular in the Socialist Republic of Slovenia. Laibach is actually best known for their cover versions, which are often used to subvert the original message or intention of the song.
This commercial gallery, managed by Mladinska knjiga Bookstores, specialises in book illustration, graphic art and antiquities and Slovene crafts objects. It incorporates a shop with tools for visual artists and occasionally presents some small exhibitions of work by local artists.

The origins of the ARS Gallery go back to 1973 when one of the Mladinska knjiga shops started selling imported artistic materials and literature. It evolved into one of the first commercial galleries, presenting works by contemporary Yugoslav artists. The gallery has been situated at its present location since 1980.
Pages in category "Visual arts"
The following 266 pages are in this category, out of 266 total.
A

B

C

D

E

F

G

G cont.

H

I

J

K

L

M

M cont.

N

O

P

R

S

Š

T

U

V

W

Z

Ž
Media in category "Visual arts"
The following 241 files are in this category, out of 241 total.