Category:Visual arts
From Culture.si
Subcategories
This category has the following 35 subcategories, out of 35 total.
C

G

P

V

V cont.

V cont.

S
Visual arts web resources
Latest Entries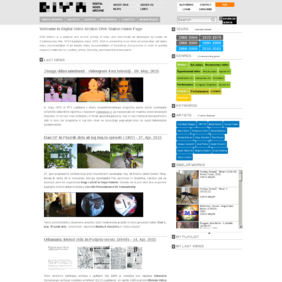 DIVA Station is a research and study archive of video and new media art developed and maintained by the SCCA-Ljubljana Centre for Contemporary Arts. It presents artworks by more than hundred artists based in Slovenia who have contributed their works to the care of the archive while maintaining the licence for these works. Apart from analogue and digital archive accessible for viewing at the SCCA Project Room, DIVA (Digital Video Archive) it is now also available online. DIVA Station constantly adds newly acquired works to the archive and promotes an overall understanding of artistic oeuvre by organising discussions, screenings and presentations.
The DIVA Station is also a partner archive of GAMA (Gateway to Archives of Media Art), an international Internet platform, which brings together eight European video and media archives to make them more visible and easily accessible in order to increase awareness and mediation of media art.
Managed by the Center for Knowledge Transfer in Information Technologies at the Jožef Stefan Institute, the VideoLectures.Net international web portal (online since 2002) promotes science, exchanges ideas, and fosters knowledge sharing. It is the world's largest collection of free educational online videos providing high quality didactic contents not only to the scientific community but also to the general public. In April 2010 the Ethics for the New Millennium lecture by His Holiness the Dalai Lama was published as the 10.000th video on the portal. In 2013 United nations and UNESCO declared Videolectures.net as the best educational project of the decade in the "e-Science & Technology" category.
VideoLectures.Net mainly includes the lectures from information and communication technologies in particular fields of artificial intelligence, machine learning, semantic web and data and text mining but is expanding towards visual arts, humanities, social studies and law as well.
Pages in category "Visual arts"
The following 266 pages are in this category, out of 266 total.
A

B

C

D

E

F

G

G cont.

H

I

J

K

L

M

M cont.

N

O

P

R

S

Š

T

U

V

W

Z

Ž
Media in category "Visual arts"
The following 240 files are in this category, out of 240 total.