Category:Visual arts
From Culture.si
Subcategories
This category has the following 35 subcategories, out of 35 total.
C

G

P

V

V cont.

V cont.

S
In our Events Archive you can search for Visual arts from Slovenia Worldwide
The Moderna galerija in Ljubljana has been the Slovene national institution for modern and contemporary art since 1948. In November 2011 when the renovations of its new space in the new cultural quarter at Metelkova were finished, the institution split into two venues and got the longer name and an abbreviated form MG+MSUM standing for Museum of Modern Art, Ljubljana plus Museum of Contemporary Art Metelkova.
The Museum of Modern Art continues its activities in the recently renovated space alongside Tivoli Park, focusing on the art of the 20th-century modernism and contemporary works disseminating modernistic ideas. Along with temporary exhibitions and projects MG presents 20th Century / Continuities and Ruptures, the permanent collection of Slovene 20th-century art. Its auditorium hosts various public presentations, symposia, conferences, and workshops organised either by Moderna galerija or other producers.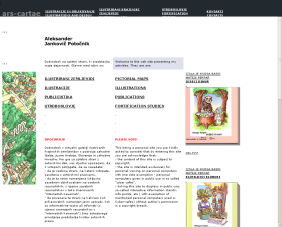 Ars-cartae.com is a virtual gallery of pictorial maps of Austria, Italy, Slovenia, and Croatia (different regions, cities, towns) by Aleksander Jankovič Potočnik, an architect, illustrator, multimedia artist, and researcher of fortifications.
Jankovič has published several books from these studies (e.g. The Ring of Wire: Fortifications Around Ljubljana 1942–1945 and Fortifications in Slovenia: A Survey of the Fortification Systems of the Postojna and Ljubljana Geographical Passage). In 2012 he presented his illustrations in the Union of Slovene Fine Arts Associations (ZDSLU) Gallery.
Pages in category "Visual arts"
The following 272 pages are in this category, out of 272 total.
A

B

C

D

E

F

G

G cont.

H

I

J

K

L

M

N

N cont.

O

P

R

S

Š

T

U

V

W

Z

Ž
Media in category "Visual arts"
The following 261 files are in this category, out of 261 total.