Category:Theatre
From Culture.si
Subcategories
This category has the following 27 subcategories, out of 27 total.
In our Events Archive you can search for Theatre from Slovenia Worldwide
Protected as a cultural, industrial, and historical monument, Stara Elektrarna - Old Power Station has become one of the most important contemporary performing arts venues in Ljubljana. Owned by Elektro Ljubljana (Enterprise for Distribution of Electric Energy, Co.), the brick building of the Old Power Station was the first electricity plant in Ljubljana (opened in 1898 and closed in the 1960s). In 2004, Ljubljana Urban Municipality and the Ministry of Culture decided to hire the space and make it available to the independent performing arts scene. Following an open call for NGOs to run the space, the contract went to Bunker Institute and was renewed in 2008.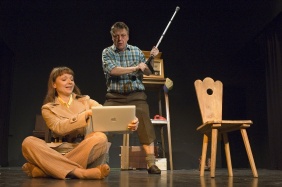 Established in 2003, Rozinteater is a vehicle for the talents of the well-known poet, dramatist, actor, and translator Andrej Rozman Roza. Rozman prepares his own productions, ranging from simple street performances and children's shows to politically engaged satirical performances for adults. Rozinteater's performances often tackle issues connected with Slovene national identity and re-examine its mythologies.
In 2009, Roza initiated a project with which he calls attention to extremely high taxes on books in Slovenia. For this purpose, he is inviting anyone who believes in the possibility of bringing this tax to zero to join the "community of believers", whom he dubs "the zeroers".
Pages in category "Theatre"
The following 161 pages are in this category, out of 161 total.
A

B

C

Č

D

E

F

G

H

I

I cont.

J

K

L

M

N

O

P

P cont.

R

S

Š

T

U

V

W

Z
Media in category "Theatre"
The following 259 files are in this category, out of 259 total.