Category:Producers
From Culture.si
Registered in 1993, Maska Institute is a non-profit, non-governmental organisation for publishing, production, education, and research. It is divided into three departments: Maska Productions (performances, interdisciplinary and visual artworks), Maska Publishing (Maska, Performing Arts Journal as well as books and other publications on contemporary performance and society), and Maska Symposium (an ongoing seminar about contemporary stage arts). Its activities engage in contemporary art and theory, research, experimental performing practices, interdisciplinary art, and critical theory all with a strong emphasis on international cooperation, especially throughout the entire space of Europe.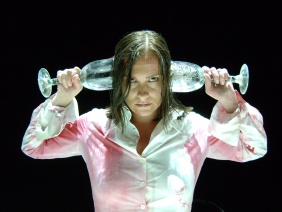 Founded in 2006 by stage director Sašo Jurcer and actress Mojtina Jurcer, Jurcer is a private non-for-profit organisation, a producer of performances by Inner World Theatre. Rejecting the mimetic foundations of the Western theatre tradition, the Inner World Theatre aims for a transposition of the boundaries between performance, physical theatre, contemporary dance, and modern opera.
Year of establishment
Latest Entries
Subcategories
This category has the following 12 subcategories, out of 12 total.
Pages in category "Producers"
The following 160 pages are in this category, out of 160 total.
A

B

C

D

E

F

G

G cont.

H

I

J

K

L

M

N

O

P

P cont.

Q

R

S

Š

T

U

V

Z