Laibach
From Culture.si
History
Established in Trbovlje, a coal mining industrial town in the centre of Slovenia, Laibach launched their first multimedia project Rdeči revirji (Red Districts) in the same year, a project designed to challenge the striking contradictions of the political structure of the town at that time. The project was banned before it opened, preventing the first public appearance of the group, though not the angry media response which followed. Laibach appeared again in 1982 with their first concert in Ljubljana. Next followed concerts around Yugoslavia (Zagreb, Belgrade) and a headlining appearance at the New Rock [Novi Rock] Festival in Križanke in the centre of Ljubljana. On 23 June 1983 the group made its first television appearance with an interview on the political news programme TV Tednik. The interview provoked numerous reactions, and was followed by an administrative political ban on public appearances and the use of the name Laibach.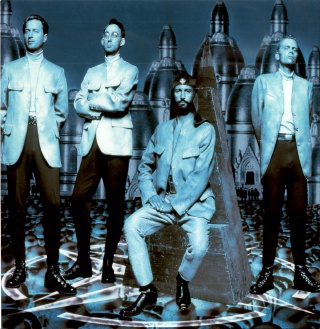 November and December 1983 saw the first European tour by the group, the Occupied Europe Tour, which also featured the British group Last Few Days. The 17-date tour covered 16 cities in eight countries in Eastern and Western Europe. After their performance in Warsaw the then ambassador of socialist Yugoslavia made a declaration which seems the most concise characterisation of Laibach's performances ever, saying: "This is a completely adequate presentation of the history of the Yugoslav nations."
The group made a successful anonymous appearance at the Malči Belič Hall, Ljubljana in December 1984. In the same year Laibach became a founding member of the Neue Slowenische Kunst (NSK) art collective.
Selected concerts and exhibitions
Recent projects of the veteran band with its constant changing personnel include fine and conceptually skewed remakes of (imperial) national anthems (album Volk, 2006) and a loose reinterpretation of Johann Sebastian Bach's The Art of Fugue (2008).
In April 2009 Laibach presented the project VOLKSWAGNER - and interpretation of Wagner's music by Laibach in collaboration with the RTV Slovenia Symphony Orchestra and Izidor Leitinger in Gallus Hall of Cankarjev dom in Ljubljana.
In September 2009 the Kino Šiška, a new centre of urban culture was inaugurated in Ljubljana with a concert by Laibach and the British guests Juno Reactor.
In 2009 a retrospective exhibition Ausstellung Laibach Kunst - Recapitulation 2009 was shown at Muzeum Sztuki in Łódź, confronting historic and recent material.
The International Centre of Graphic Arts, Ljubljana set up the exhibition GESAMTKUNST LAIBACH, Fundamentals 1980–1990, opened from 15 April to 6 June 2010, which presented the group's visual artworks (posters, album covers, fanzines, linocuts, xeroxes, paintings and installations) as well as the controversial TV interview from 1983 and other documentary material.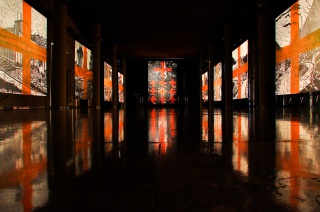 30 years after the Laibach's first (and than banned) exhibition, the group set up at the same place, in Laibach's home town Trbovlje, the multi-day event with concerts, symposium and exhibition Austellung Laibach Kunst: RED DISTRICT + BLACK CROSS in Delavski dom Trbovlje Cultural Centre.
The most complex exhibition of Laibach Kunst in Slovenia was the Austellung Laibach Kunst - Perspectives, opened at the Maribor Art Gallery in February 2011, featuring multi-media installations, oil paintings, photographs, prints and film. In May the exhibition Austellung Laibach Kunst 1980-2011 - Ceci n'est pas Malevich was set up in Croatian Artists' Centre (HDLU). Laibach's solo concert was held at Boogaloo, the venue where Laibach held their famous incriminated Music Biennale show in 1983.
In May 2011 Laibach's "installation performance" of Die Kunst der Fuge was presented at the Museum of Contemporary Art (MACBA) in Barcelona on the occasion of a large retrospecive exhibition of Eastern European arts entitled Museum of Parallel Narratives (1956-1986) - l'Internationale, within the EU supported project initiated by the Museum of Modern Art (Moderna galerija Ljubljana).
In 2011 Laibach has collaborated also in a coproduction with the East West Theatre Company Sarajevo, Slovene National Theatre Maribor and Maribor, European Capital of Culture 2012: the performance Europe Today, based on Miroslav Krleža's text, is directed by Haris Pašović and co-performed by Miki Manojlović and Edward Clug (choreography).
In May 2011 Laibach performed a special concert at London's historic Roundhouse as a part of the annual Short Circuit Electronic Music Festival, hosted by Mute Records. In August Laibach performed at the ArenaFest in the Roman Arena in Pula, Croatia (together with Guano Apes and Apocalyptica).

In April 2012 the exhibitions at the CHELSEA space and Calvert22, and a symposium Neue Slowenische Kunst (1984 - 1992): A Historical Perspective took place at the Tate Modern in London where Laibach had a concert at the Turbine Hall.
The Art Histories exhibition curated by Marie-Josée Jean featuring Laibach, Marina Gržinić and Aina Šmid and Irwin was staged at the VOX Centre in Montreal, Canada.
In 2012 a Laibach tour We Come in Peace took place in 15 European countries, followed by concerts in Ukraine and Russia.
In June 2013 Black Square - 100 Years, a group exhibition also featured works by Laibach and Irwin at Australian Experimental Art Foundation - Lion Arts Centre in Adelaide, Australia.
In autumn 2013 Was ist Kunst?, a joint exhibition also featuring works by Laibach was organized in the framework of the Festival of new art - steirischer herbst at Künstlerhaus in Graz, Austria 
In 2013 Laibach participated at the 2nd edition of Project Biennial D-0 ARK Underground at Atomic shelter ARK in Konjic, Bosnia and Herzegovina.
Laibach was presented within several festivals, it presented its soundtrack for the movie Iron Sky at several film festivals in 2012, in June 2014 along with other Slovene artists, they were guests of the IKS International Festival of Contemporary Theatre in Split, Croatia.
On the occasion of the 30th anniversary of the City University of Hong Kong and their Sound Art Symposium in March 2014 a concert an exhibition and an artist talk by Laibach was presented at the The Vine Centre in Hong Kong.
Releases
Laibach's first album Laibach was released in April 1985 on the Slovene ŠKUC Ropot label. However, because of the ban the record came out without the group's name; instead the cover featured a symbol that was Laibach's trademark. Its second and third albums Rekapitulacija 1980–1984 (1985) and Neu Konservatiw (1985) were the first of the group's records to gain an international release. Following Nova Akropola, Laibach's 1986 album for British independent Cherry Red, the group was signed by London-based Mute Records. Opus Dei, released in Spring 1987, was the first album on this new label.
The band's discography since 1987 includes Slovenska Akropola (1987), Krst Pod Triglavom-Baptism (1987), Let It Be (Mute Records, 1988), Sympathy for the Devil (Mute Records, 1988), Macbeth (Mute Records, 1990), Kapital (Mute Records, 1992), Ljubljana-Zagreb-Beograd (The Grey Area/Mute Records, 1993), NATO (Mute Records, 1994), The Occupied Europe NATO Tour 1994-1995 (The Grey Area/Mute Records, 1996), Jesus Christ Superstars (The Grey Area/Mute Records, 1996), Malči Belič, December 21, 1984 (The Grey Area/Mute Records, 1997), The John Peel Sessions (Strangefruit, 2002), WAT (Mute Records, 2003), Anthems (Mute Records, 2004, compilation), Volk (Mute Records, 2006), and Volk Tour London CC Club (Live Here Now, Mute Records, 2007) LAIBACHKUNSTDERFUGE (Dallas Records/Mute Records, 2008), Iron Sky – The Original Soundtrack (Mute Records, 2012), Monumental Retro-Avant-Garde - Live at London Tate Modern 14 April 2012 (Mute Records/Abbey Road Live Here Now, 2012), An Introduction To... Laibach (Mute Records/GoodToGo, 2012) and Spectre (Mute Records, 2014).
See also
External links

References
Gallery