Depot:Trimo Urban Crash
From Culture.si
Archival article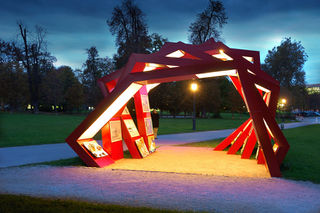 The Trimo Urban Crash is an international biennial competition, that awards the most innovative and creative ideas from students of architecture since 2007. The main idea of the competition is to offer students a possibility to work in close cooperation in realising a project, observing how it lives and how it is actually accepted in reality. The winning proposal for energising the urban environment is therefore placed at different spots in Ljubljana.
The installation of Rok Grdiša, who won the second prize at the Trimo Urban Crash competition in 2007, is located today in front of the sport hall Hala Tivoli as an info–point pavilion. The 2009 winning solution of a sculptural stage was originally coloured white, yet today – covered with graffiti – it integrates into the surroundings of Metelkova even better. The winning proposal for the Life Stand of the two Polish students of architecture and design was set up in Nove Fužine in Ljubljana in June 2011.
Recent editions
The 2007 competition resulted in two finalists, whose projects were realised. The overall winner of the Trimo Urban Crash 2007 contest was Jelena Grujić from Serbia. Her project was placed for a few months at the Krakovski nasip in Ljubljana. As a part of the award she attended the summer course at the Architectural Association School of Architecture in London.
In 2009 147 projects from 17 countries entered the competition. The international expert jury selection was followed by a public vote on the official website. The winners of the 2009 Trimo Urban Crash competition were Jan Ledwon and Alicja Chola from Poland. Their proposal for an outdoor stage has been realised and permanently placed at the Metelkova mesto Autonomous Cultural Zone. Second place went to Aleš Peternel and Matej Mejak from Slovenia, and third place to Italian architecture students Chiara Agosti and Francesca Bellina.
In 2011 the contest brief was to design a Life Stand, a kind of a tribune for watching games or events was set up at Nove Fužine, a residential neighborhood in Ljubljana. Out of 360 projects from 50 countries (43 project from Slovenia) the winners were Wojciech Nowak from the Faculty of Architecture in Gliwice and Martynika Bielawska from the Faculty of Arts and Design in Wroclaw.
Background
A leading European company, Trimo directs its energies towards the development, innovation and exchange of fresh, unconventional ideas. It encourages creativity with various projects and competitions which inspire people to think and apply daring approaches. Along with the Trimo Urban Crash competition, the company awards architects and constructors from all over Europe with Trimo Architectural Awards every two years, awarding original solutions that implement the company's products and applications.
See also
External links