Embassy of the Kingdom of the Netherlands in Slovenia
From Culture.si
Contact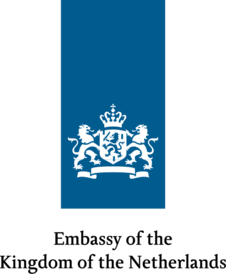 Veleposlaništvo Kraljevine Nizozemske
Palača Kapitelj, Poljanski nasip 6, SI-1000 Ljubljana
Johannes Obed Verboom, Ambassador
Art and design
From 2001 to 2011 the embassy organised the annual "Bilateral Focus", a one-month festivity held at numerous venues round Slovenia in October. Its aim was to promote economic solutions and trade as well as arts and culture from the Netherlands in Slovenia. Events involved many companies, cinemas, schools, faculties and art institutions from Ljubljana and some other Slovenian towns.
Despite the cessation of this event, the embassy is still strongly present in promoting design, both industrial and graphic. In 2012 it supported the 22nd edition of the Biennial of Design (BIO) at the Museum of Architecture and Design entitled Design Relations and curated by Margo Konings and Magriet Vollenberg.
In 2011 the embassy supported the mobile global exhibition Show your hope, initiated by visual artist Martin Voorbij and co-produced by Stripcore/Forum Ljubljana and Foundation80Q. Among 800 artists from all over the world, numerous Slovene artists actively participated in the project and were presented during the European Capital of Culture 2012 in Maribor.
Music, literature and theatre
Besides supporting guest appearances of Dutch musicians at the Jazz Cerkno Festival, in 2011 the embassy also supported the Sonica International Festival of Transitory Art which hosted several artists from the Netherlands (Blendid, Arno Scheper, Carolien Teunisse, etc.).
As a part of its ongoing literary projects, the embassy funded guest appearances of many authors, such as Magriet de Moor at Fabula Festival, Joris Ivens, Frank Westerman at Festival Ljubljana, Ester Naomi Perquin at the Days of Poetry and Wine Festival, and many others.
In 2013 the Dutch theatre production was the focus of the 48th edition of the Maribor Theatre Festival, the oldest and largest theatre festival in Slovenia. A publication with Slovenian translations of four Dutch contemporary drama texts was published on this occasion.
Photography and film
For years the embassy has supported the World Press Photo exhibition featuring a stunning annual overview of photo journalism. The event organised by the Dutch WPP Foundation is shown worldwide, and found its Ljubljana showroom at Cankarjev dom. For several years the embassy also supported the Emzin Cultural Institute, in 2011, for instance, their visual communications seminar with Max Kisman and Niels Schrader as guest lecturers attracted lots of attention.
For some years already the Netherlands has developed high-quality youth films and currently represent a leading European export of this genre. In collaboration with Kinodvor Cinema several awarded Dutch youth films were a part of the Kinobalon youth programme. Another film-flavoured cooperation is the embassy's regular support of the Ljubljana Gay and Lesbian Film Festival, the oldest gay and lesbian film festival in Europe.
Education and language
Upon request the embassy disseminates information about scholarships and research grants for study in the Netherlands and promotes summer schools of Dutch language and literature.
Recently the embassy in Ljubljana initiated an alumni network "Keep in Touch with the Dutch" to build a network of (former) international students who have studied at universities in the Netherlands or attended various exchange programmes.
See also
External links