Category:Archives
From Culture.si
Archives web resources
Latest Entries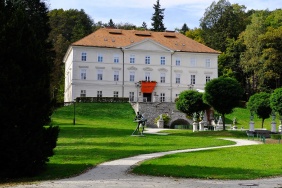 Established in 1986, the International Centre of Graphic Arts (MGLC) is housed in the Tivoli Mansion. It runs the Biennial of Graphic Arts, maintains an international collection of graphic arts and artists' books, and organises personal and thematic contemporary arts exhibitions, often reflecting political or social atmospheres of the chosen periods.
Founded in 1955, the Ljubljana Biennial of Graphic Arts is the world's oldest existing biennial exhibition of contemporary graphic arts. MGLC is among the founding member of the International Biennial Association (IBA), established in 2014. As of 2017 MGLC is also running the Švicarija Art Centre, a nearby residency and exhibition venue.
Established in 1997 at Metelkova mesto Autonomous Cultural Centre, KUD Mreža (meaning KUD Network) is carrying out a rather wide range of cultural programmes, from running art galleries and promoting concerts, to mediating information on funding opportunities and managing an archive of press clippings and other materials regarding Metelkova mesto.
Subcategories
This category has the following 30 subcategories, out of 30 total.
A

A cont.

C

D

F

H

L

M

N

P

R

S

T

V
Pages in category "Archives"
The following 67 pages are in this category, out of 67 total.
A

B

C

D

F

G

H

H cont.

I

J

K

M

N

R

R cont.

S

T

U

V
Media in category "Archives"
The following 29 files are in this category, out of 29 total.