Category:Archives
From Culture.si
Archives web resources
Latest Entries
The Slovene Film Archives (SFA) is the central institution for the storage and protection of the Slovene national film heritage. It is a part of the main state archival institution, the Archives of the Republic of Slovenia. The SFA was founded on the basis of the legislation that classified film as archival material. Over the years it has collected and then technically processed more than 90 per cent of all the films produced in Slovenia. Its main task is to register, collect, maintain and protect film material and to introduce it to the public. Its collection comprises fiction, documentary, scientific and animation films, trailers, newsreels, adverts, and industrial and training films. It also holds a collection of screenplays, stills, and posters. The majority of the materials are accessible on prior request.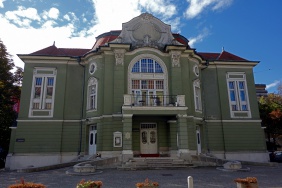 The Slovenian National Theatre Drama Ljubljana (shortens to SNT Drama Ljubljana in English) is one of the nine professional repertoire theatres in Slovenia and at the same time the oldest of the three theatres founded by the Government of the Republic of Slovenia. Being the major drama theatre in Slovenia, the theatre's repertoire includes contemporary, classical, and experimental drama works of Slovene and foreign playwrights.
The ensemble includes 49 permanent members though a dozen retired members of the ensemble as well as students of the Academy of Theatre, Radio, Film and Television (AGRFT) regularly appear in the theatre's productions. The theatre annually presents 10 to 14 new productions, while the repertory commonly consists of over twenty performances. SNT Drama Ljubljana has presented its successful productions in more than 20 countries around the world.
Subcategories
This category has the following 30 subcategories, out of 30 total.
A

A cont.

C

D

F

H

L

M

N

P

R

S

T

V
Pages in category "Archives"
The following 67 pages are in this category, out of 67 total.
A

B

C

D

F

G

H

H cont.

I

J

K

M

N

R

R cont.

S

T

U

V
Media in category "Archives"
The following 29 files are in this category, out of 29 total.