Category:Media
From Culture.si
Subcategories
This category has the following 15 subcategories, out of 15 total.
In this section you can find a list of selected media that
cover arts, culture and humanities (including scientific journals)
offer content for international readership
act also as cultural producers and bestow awards, organise events or festivals etc.
Media web resources
Latest Entries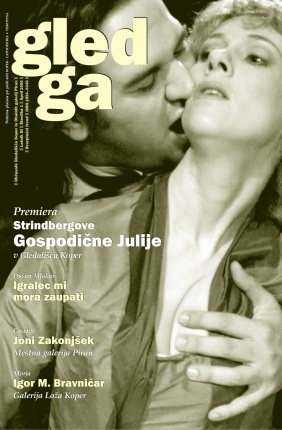 Gledga Magazine is a free cultural magazine, dedicated to the lively and diverse programmes of Koper Theatre and Obalne galerije - Coastal Galleries. Its name is a combination of the first syllable of the Slovenian words gledališče (theatre) and galerija (gallery).
Issued 5-6 times per year in 3000–5000 copies, it brings the news on exhibitions, performances, symposia and conferences as well as photo chronicles and interviews with the local and international artists and participants. Published since 2003 Gledga is the first example of such a symbiosis among municipal cultural institutions in Slovenia.
Ekran, Magazine for Film and Television was established in 1962 and is by far the most relevant Slovene film magazine of all time and also the one with the longest tradition. Throughout its history it has been a home for many generations of Slovene film critics as well as open towards foreign writers. Ekran is neither an academic magazine nor a commercially oriented popular magazine. In certain periods its orientation has slightly changed – from more academic to more popular – but Ekran has mostly retained its focus on providing a general overview of both the contemporary world film production – not only on "auteur" and independent cinema but also on mainstream cinema – and the recent developments in the film industry. Furthermore it has always watchfully followed current tendencies in film criticism, analysis and debates and in its most influential period – when Slavoj Žižek, Mladen Dolar, Zdenko Vrdlovec, and others introduced Lacanian concepts into film theory – it also promoted new ones.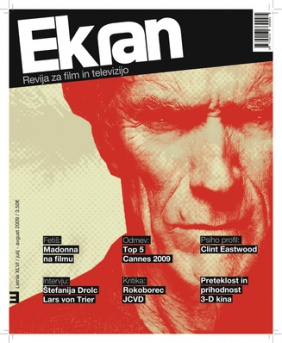 Pages in category "Media"
The following 140 pages are in this category, out of 140 total.
A

B

Č

C

D

E

F

G

H

J

J cont.

K

L

M

N

O

P

R

R cont.

S

Š

T

U

V

Z
Media in category "Media"
The following 2 files are in this category, out of 2 total.