Category:Visual arts
From Culture.si
Subcategories
This category has the following 35 subcategories, out of 35 total.
C

G

P

V

V cont.

V cont.

S
Visual arts web resources
Latest Entries
Avgust Černigoj Gallery comprises a collection of around 1400 works of Avgust Černigoj (1898–1985), a key figure of Constructivism and the Slovene historic avant-garde artistic scene. The Gallery is part of the Lipica Stud Farm (the cradle of the Lipizzaner horse) in the village Lipica, where Černigoj spent the last five years of his life. The permanent exhibition installation of around 400 works was set up by Novi kolektivizem (NK). The gallery is run by Goriška Museum.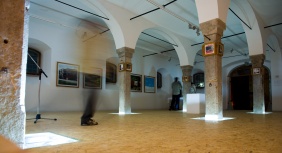 Established in 2006 as a non-profit space, the Simulaker Gallery has grown into the most important space for presentations of contemporary art practices in the southeast region of Slovenia. Located in the old town centre of Novo mesto in a 160-square-metre renovated stable for horses, the programme was initially run by curator Iztok Hotko. Since 2009 the programme is created by curator and art critic Matjaž Brulc. In spring 2009 the gallery initiated an annual project entitled The First Chance, presenting artworks of art students from art departments round Slovenia or internationally.
The gallery collaborates also with the local branch of the Union of Slovene Fine Arts Associations and Fotopub Festival of Documentary Photography.
Pages in category "Visual arts"
The following 263 pages are in this category, out of 263 total.
A

B

C

D

E

F

G

G cont.

H

I

J

K

L

M

M cont.

N

O

P

R

S

Š

T

U

V

W

Z

Ž
Media in category "Visual arts"
The following 221 files are in this category, out of 221 total.