Category:Visual arts
From Culture.si
Subcategories
This category has the following 35 subcategories, out of 35 total.
C

G

P

V

V cont.

V cont.

S
Visual arts web resources
Latest Entries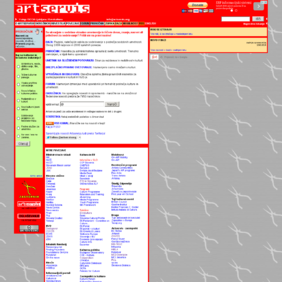 Established in 2001, Artservis.org is a web-based bilingual information resource for artists, theorists, and cultural managers who operate with/in Slovenia or abroad. It collects and publishes information on funding sources (national and international, public and private), participation opportunities (calls for proposals, invitations), educational programmes (focusing on art or theory production and management), collaboration, advocacy (including a manual for freelance artists, artists' associations, and NGOs), and provides other useful on-line resources (free legal consulting, E-mail lists, websites, databases, forums). Its free weekly e-mail Newsletter is received by more than 6,000 subscribers around the globe. Since 2006 Artservis.org has been a member of the Informal Network of SEE Cultural Portals (inSEEcp).
Situated in Metelkova mesto Autonomous Cultural Zone and run by KUD Mreža Arts and Culture Association, Alkatraz Gallery started out as a project initiated in 1996 by young students of the Department of Sculpture, Academy of Fine Arts and Design with Boštjan Drinovec and Nataša Tajnik at the head. Encouraging experimental art and site specific projects in different approaches and media, the main goal of the gallery is to feature the projects of young (inter)national artists. Since 2008 the Alkatraz Gallery visits international art fairs with the aim to present the more radical positions of the artists whose works deal critically and even ironically with actual global problems.
Since 2010 the gallery has participated in the Artyčok.TV, an open archive project led by the DigiLab of the Academy of Fine Arts in Prague and supported by the EU Culture programme, contributing to one of the largest archives covering the independent arts scene.
Pages in category "Visual arts"
The following 266 pages are in this category, out of 266 total.
A

B

C

D

E

F

G

G cont.

H

I

J

K

L

M

M cont.

N

O

P

R

S

Š

T

U

V

W

Z

Ž
Media in category "Visual arts"
The following 238 files are in this category, out of 238 total.