Category:Visual arts
From Culture.si
Subcategories
This category has the following 35 subcategories, out of 35 total.
C

G

P

V

V cont.

V cont.

S
In our Events Archive you can search for Visual arts from Slovenia Worldwide
all events
Visual arts web resources
Latest Entries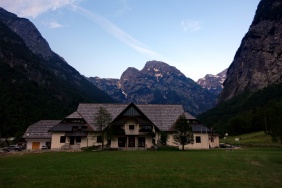 Originally opened in 1953, the Trenta Lodge became part of the Goriška Museum in 1958. In 1993 Triglav National Park opened an Information Centre there, introducing additional artefacts relating to the natural and cultural world of the Julian Alps. Nestled in the beautiful mountain village of Trenta, located in the Soča Valley on the western border of Slovenia, the Trenta Lodge is also an information point from where visitors can hike the Soča River Trail, the oldest trail in Triglav National Park.
The Art Society of Celje is a voluntary organisation, established in 2002, which combines art lovers and professional members. Before the House of Culture Celje was established, which is still strongly connected to the Art Society of Celje, the biggest achievements of the group were productions such as the musical Beauty and the Beast (2006/07) and the opera The Noblemen of Teharje [Teharski plemiči], written by Benjamin Ipavec. The latter was awarded the bronze Coat–of-Arms of Celje.
Many productions promote youth creativity. In the creative and pedagogical sense, the society prepares annual singing master classes under the famous Croatian soprano Vlatka Oršanić. The school of musicals with Slovene baritone Boštjan Korošec also takes place every year.
Pages in category "Visual arts"
The following 267 pages are in this category, out of 267 total.
A

B

C

D

E

F

G

G cont.

H

I

J

K

L

M

M cont.

N

O

P

R

S

Š

T

U

V

W

Z

Ž
Media in category "Visual arts"
The following 249 files are in this category, out of 249 total.