Category:Visual arts
From Culture.si
Subcategories
This category has the following 35 subcategories, out of 35 total.
C

G

P

V

V cont.

V cont.

S
In our Events Archive you can search for Visual arts from Slovenia Worldwide
The Likovni salon Celje (Likovni salon Gallery) is a referential contemporary arts space where exhibitions of Slovene and international artists are featured. Many exhibitions extend to other venues managed by the institute. The gallery opened in 1963 as a modernist white cube space in the ground floor of the Narodni dom cultural house and was initially managed by the local Association of Fine Artists, since 2005 it is managed by the Celeia Celje Institute - Centre for Contemporary Arts.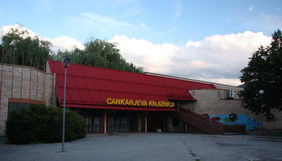 Founded in 1958, Ivan Cankar Library is a regional library and an information centre. In addition to its ongoing library activities, it runs a variety of events and educational activities for children and adults, including English lessons, music, dance, and fine arts workshops, weekly fairytale readings, new book presentations, and exhibitions by local artists. Reading club events are also organised with the aim of stimulating reading. The library has a special room dedicated to the first published works of Ivan Cankar (1876–1918), a fin de siècle writer born in Vrhnika. Ivan Cankar Library has a branch library in Borovnica. In 2014 the library moved to the new Culture House in the renovated premises of the former IUV Leather Industry Vrhnika. The library incorporates some of the features of the former industrial sewing hall.
Pages in category "Visual arts"
The following 267 pages are in this category, out of 267 total.
A

B

C

D

E

F

F cont.

G

H

I

J

K

L

M

M cont.

N

O

P

R

S

Š

T

U

V

W

Z

Ž
Media in category "Visual arts"
The following 249 files are in this category, out of 249 total.