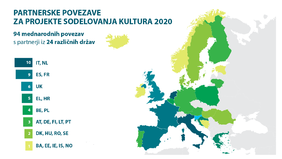 Slovene cultural producers have been consistently successful in the European Union's programmes for the cultural and creative sectors. Today, these programmes are united under the name Creative Europe.
Through an impressive performance of their application-genius, in 2020, 4 project leaders managed to claim no less than 1,4 million euros, while 14 Slovene producers are engaged as partners in the granted Cooperation Projects of the Culture subprogramme. The producers located in Ljubljana, Škofja Loka and Kranj have been collaborating with 94 partners from 24 countries, mostly the Netherlands (10), Italy (10), Spain (9), France (9), UK (6), and Greece (5). This time performing arts projects (music, theatre, dance) prevail (almost 50%), while the number of cultural heritage and visual arts projects is not scarce as well (circa 20% each).
Consult the infographic that shows the distribution of projects by art field and by the organisation's role in the project. By clicking on it you can get to detailed information about each project or producer.
The interactive chart has been updated by Motovila Institute which runs the Creative Europe Desk Slovenia.