Depot:Jurcer, Inner World Theatre Production Company
From Culture.si
In 2018 the institute formally concluded its activities.
Archival article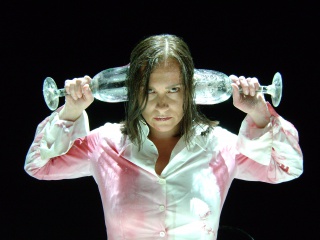 Founded in 2006 by stage director Sašo Jurcer and actress Mojtina Jurcer, Jurcer is a private non-for-profit organisation, a producer of performances by Inner World Theatre. Rejecting the mimetic foundations of the Western theatre tradition, the Inner World Theatre aims for a transposition of the boundaries between performance, physical theatre, contemporary dance, and modern opera.
Inner World Theatre
In a decade of research in tandem with the actress Mojtina Jurcer, Sašo Jurcer has developed a theatre system, which – on the basis of temporal decompression and spatial decomposition – liberates the actor's body from the physical confines of the outer and – through the bodily calligraphy of inner mental states – connects it to the dramaturgy of manifestations of human inner motion. In Jurcer's performances the actor's body becomes an intersection of the movement and the dynamics of consciousness, its contact, collision and intertwining with, and transition from the external world into the world of inner mental states.
Performances and international cooperation
Jurcer produced Hamlet/Enjoy in 2001, which was re-staged in 2006 in a revised version and under the title Hamlet/Dreams [Hamlet/Sanje] at the Zadar Snova Festival of Contemporary Theatre (Croatia), at the Armmono4 Festival in Yerevan (Armenia), and the I-Fest Best of European Solo Performances in Chicago (USA). Jurcer's other productions include A Cup of Chocolate [Skodelica čokolade], Self-portrait [Avtoportret] (2005), Anatomy Of Loneliness [Anatomija osamljenosti] (2007), and Medea's Scream (2008), co-produced by Eẋ Ponto International Festival, Slovene National Theatre Maribor, Festival Teuta – New Ancient Theatre (Montenegro), and Zadar Snova Festival (Croatia). This show, originally conceived to be presented in outdoor and unconventional spaces, particularly venues of great visual and architectonic impact, can be presented at virtually any venue, traditional or not, due to its great flexibility of scenic elements.
Jurcer's recent international collaboration has included around 20 presentations at various theatre, dance and performance festivals, such as Mittelfest (Italy), Shakespeare International Festival of Solo Performances (Armenia), Gesture Festival SÍN (Hungary), etc. Jurcer has also appeared in the Naples, St Petersburg, Helsinki, Graz, Budapest, Alexandria, etc. In 2010 the Medea's Scream was presented at the Mikro Festival, Festival Of New Theatrical Forms in Thessaloniki, and in 2011 at the the SOLO International Festival in Moscow, in the Montenegrin National Theatre in Podgorica and in the Royal Theatre - Zetski Dom in Cetinje, Montenegro. In 2012 Medea's Scream opened the season of the Teatro Vascello in Rome. It was included into the Maribor, European Capital of Culture 2012 programme and the YICD EU–CHINA 2012 with the participation at the Shanghai Contemporary Contemporary Theatre Festival 2012ACT). In October 2013 a cooperation with the Festival MARIA and the National Academic Drama Theater Ivan Franko in Kiev, Ukraine was set up, eventually a festival screening of the performance took place.
External links
Gallery