Russian Scientific and Cultural Centre, Ljubljana
From Culture.si
Exhibitions
The Russian Scientific and Cultural Centre was opened with the exhibition Sky is black, Earth is blue, dedicated to the 50th anniversary of Yuri Gagarin's first flight into space, prepared by Miha Turšič and Dragan Živadinov from the Cultural Centre of European Space Technologies (KSEVT).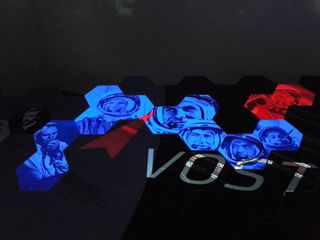 In cooperation with the Embassy of the Russian Federation in Slovenia the exhibition In the Mirrors of Time. Peoples of Russia through the Eyes of Photographers at the Turn of the 19th–20th Centuries from the collection of the St Petersburg Kunstkamera was featured in May 2011.
A small permanent exhibit presents the work and life of Davorin Martin Matvejevič Hostnik (1853–1929), Slovene translator and philologist who lived and worked as teacher in Russia since 1880 and tried to popularise Russian language among Slovenes. Next to some literary translations he published the Slovenian-Russian and Russian-Slovenian dictionaries and a short grammar book of Russian language.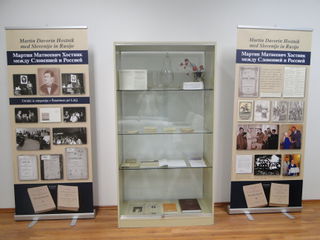 Courses and scholarships
The Russian Scientific and Cultural Centre organises Russian language courses and lectures on Russian culture and society. Music and visual arts lessons are given by Russian artists on the premises of the centre and screenings of Russian films take place in the film club.
The centre provides also information about bilateral research and scientific cooperation. Occasionally, the centre publishes an open call for scholarships for study and research stay at the universities and academies in the Russian federation.
See also
External links
Gallery