VAL Piran Folkloric Dance Group
From Culture.si
Contact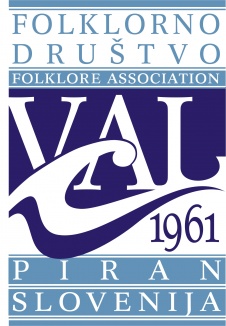 Folklorno društvo VAL Piran
Prvomajski trg 2, SI-6330 Piran-Pirano
Phone386 (0) 5 673 4573
Majda Dobravc, Director
Programme
The group presents a programme of 9 Slovene dances: Istrian šagra (a festivity in Istria), Ca to šuška [What whispers], A Night in the Salina (Salina dances and customs), dances of Goriška, dances of Karst, dances of Bela Krajina, dances of Gorenjska, dances of Štajerska, and dances of Prekmurje. VAL Piran is the only Slovene group that presents Salina dances and costumes from the salt flats along the Slovene coast in Strunjan, Lucija, and Sečovlje.
International appearance
The group regularly appears in Italy, Germany, Istria, and across Slovenia, and has performed in festivals in Croatia, Bulgaria, Hungary, Slovakia, and Belgium. Recently, it has appeared at the international folklore festivals La Vega, Ballus, and Sinnai in Sardinia, Italy; at the Augsburg Folklore Festival; and in Turkey.
Val Piran is a member of the Union of Slovene Folklore Groups, which operates under the auspices of the International Council for Organisations of Folklore Festivals and Folk Art (CIOFF), Slovenia.
See also
External links
Gallery