Exodos International Festival of Contemporary Performing Arts
From Culture.si
Overview
Initiated by Miran Šušteršič and his Panoptikon Institute, the Exodos Festival has presented a vast number of prominent and influential performing arts makers and companies. The scope and quality of the presented works makes the festival one of the most important contemporary performing arts festivals in the wider region. Among others, it has featured foreign artists such as Jozsef Nagy, DV8, Enrique Vargas, Wim Vandekeybus, Jan Fabre, Needcompany, Vera Montero, Emio Greco, Ultima Vez, Jonathan Burrows, Jan Ritsema, Nigel Charnock & Helsinki City Theatre Dance Company, Goran Sergej Pristaš & Bad.co, Compagnie Marie Chouinard, Mark Tompkins, Vera Mantero, Robert Lepage, Lydia Lunch, Mark Tompkins, Daniel Leveille, Rabih Mroué, Jan Decorte, Mark Ravenhill, Dave St-Pierre, Raimund Hoghe, Forced Entertainment, and many more.
Over the years, Exodos has also functioned as a platform for the work of leading Slovene artists, such as Maja Delak, Ivica Buljan, Dragan Živadinov, Sebastijan Horvat, Iztok Kovač, Matjaž Farič, Ema Kugler, Barbara Novakovič, Emil Hrvatin, Betontanc, Fourklor, Matjaž Berger, Diego de Brea, Sanja Nešković Peršin, Mateja Bučar, etc.
Exodos Festival took place for a number of years at Cankarjev dom. The events were also presented at different venues in Ljubljana, such as Stara Elektrarna - Old Power Station, Dance Theatre Ljubljana, Cyberpipe, etc. as well as in non-theatrical spaces. The 2011 edition returns to Cankarjev dom.
Overview of past festival editions
In 2007, the theme of the festival was Art and Pornography and presented Dave St-Pierre's La Pornographie des âmes [Bare Naked Souls], Mette Ingavrtsen's 50/50, and Wayne Traub's musical opera Maria Dolores. This festival section also included a theoretical part, which tackled the issue of pornographic discourse in Slovene culture and theatre space, and organised a practical dramaturgy workshop with Bojana Kunst, Ivana Ivković, and George Skalkogianis. In 2007, the Ministry of Culture withdrew its support, the festival thus organised an ad-hoc presentation of projects rejected support at the Ministry at Glej Theatre, while the programme also presented Janez Janša's Fake It!, co-produced by Maska Institute and Exodos Institute and Via Negativa's performance Four Deaths.
The 2008 edition of Exodos thematically highlighted the issue of lack, opening up the question of the accessibility of culture to people with special needs. It featured Raimund Hoghe's 36, Avenue Georges Mandel, Dave St-Pierre's A little tenderness for crying out loud!, Lydia Lunch's The Ghosts of Spain, etc.
The 2009 edition was titled Technological Occupations and presented the informance Postgravity Art::Syntapiens by Dragan Živadinov, Dunja Zupančič, and Miha Turšič, produced by Delak Institute, accompanied by the photographic exhibition by the Russian cosmonaut Jurij Baturin at the Herman Potočnik Noordung Memorial Centre Vitanje; the presentation of the multi-year project Ballettikka Internetikka, co-produced by Intima Virtual Base and Cona Institute; the multi-genre performance Sleep by Big Art Group and Caden Manson, dealing with environmental issues and contemporary existential crises in the digitalised society; the experimental project EUX by the Belgian art group CREW, employing technological tools to relativise perception of reality; and the project small metal objects by the Back to Back Theatre.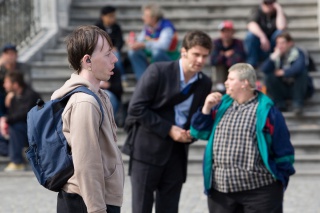 The 16th edition of Exodos Festival involved the creation of a Labyrinth of Art in the framework of the project World Book Capital Ljubljana 2010. A total of 287 Canadian Hemlock trees have been planted during the year-long project-in-process initiated by Bulgarian visual artist Venelin Shurelov. Eventually, the trees will grow into a labyrinth in which visitors can stroll and reflect.
See also
External links
Gallery