Activities
Kinoatelje's activities encompass film production, educational projects for the youth, workshops for professional educators, research projects, publishing of books, film festival organisation and other events connected to the cinema, as well as many other activities.
In 1981, Kinoatelje organised the first retrospective of Slovene cinema in Italy, which include productions between 1948 and 1981, called Cinema sloveno. It was followed by various avant-premières of Slovene films and other retrospectives. Since then, Kinoatelje has organised several events and projects, including Film Video Monitor, Gorica Kinema-Gorizia Cinema, Cinematography in Gorica 1896–1918, Film 100 Gorica, Mittelmonitor, Una città dimenticata (The Forgotten City), Remakes, A Chronicle of Love, and Film and Culture in Gorizia from the Avant-garde up to Nowadays. A special research project was dedicated to stage and film actress Nora Gregor (1901–1949), a native of Gorizia.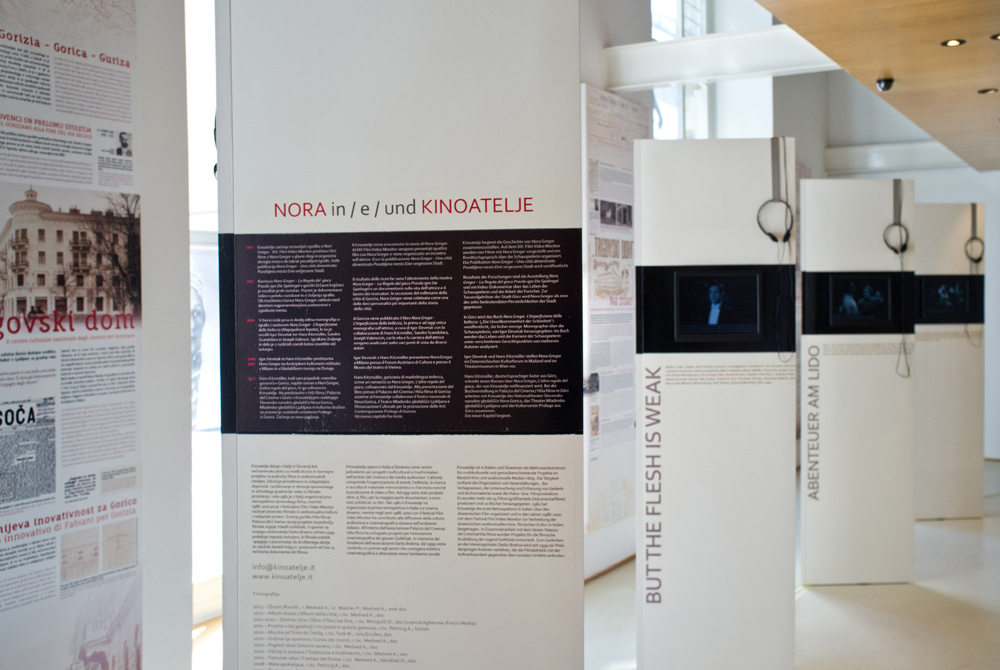 One of the latest research projects put forward by Kinoatelje was dedicated to stage and film actress Nora Gregor (1901–1949), a native of Gorizia.
Since 1999, Kinoatelje organises the annual cross-border Tribute to a Vision Fim Festival, connecting audiences and film institutions in 7 different cities in Italy and Slovenia.
Film production
Since 2003, Kinoatelje and its Slovene branch the Kinoatelje Institute have co-produced several multimedia projects and documentaries. Jointly with the author tandem Nadja Velušček and Anja Medved, the organisations conceived and directed many documentaries exploring the complexity of border identities through personal and collective memory. The first among them was My Borderline (Moja meja). The Kinoatelje film collection also features A Small Apocalypse (Mala Apokalipsa, 2008); Alvaro Petricig's experimental film about abandoned villages in a remote Italian corner along the border; Beyond the Wire (Onstran žice, 2012), a documentary feature film about the Gonars concentration camp directed by Dorino Minigutti; and A Calm day (Miren dan, 2018) the feature debut by Jan Mozetič.
Educational programme
In the previous decade, Kinoatelje focused on developing cross-border educational film programmes and projects which promote creative and critical thinking among the young, teachers and mentors. Some of the past projects include The Refugee's Suitcase, From Diary to Blog, the Nova Gorica Youth Film Campus, etc.
See also
External links
Gallery