Depot:Strictly Analog Festival
From Culture.si
Though not in any way against digital technologies, the Strictly Analog Festival (or, as it is also called, Strictly Analog Ljubljana) presents artists who deal in organic, analogue sounds, visuals and patterns. Their work is by way of audiovisual events, discussions, workshops, transitory objects and social interventions presented at different locations in Ljubljana. With its core events hosted by Poligon Creative Centre and in 2015 Cirkulacija 2, some of its outposts have also been Metelkova, MoTA Point, and some other urban public spaces.
Collaborations
As it is, the Strictly Analog Festival is an international joint project and has a number of ties with its partner institutions in Graz, Trieste, and Tokyo. Furthermore, it has also collaborated with the local based Lighting Guerrilla Festival, MoTA Museum of Transitory Art, and Projekt Atol Institute.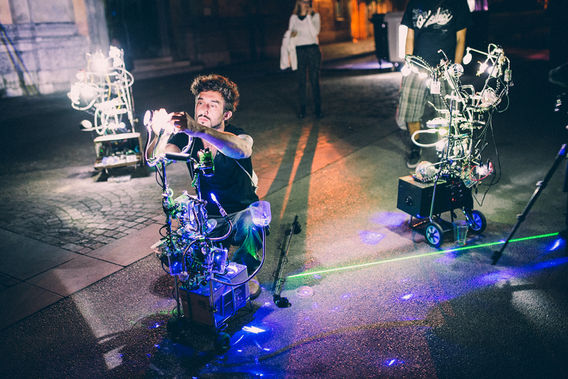 Some of the invited artists were OchoReSotto (AT), Casperelectronics(US), Regolith (AT), VirageVisuals (IT), Gernot Tutner (AT), RaumZeitPiraten (AT) and a number of local artists (Niplodok, Izland, Zergon, Saša Spačal, Tilen Sepič, etc.).
See also
External links
Gallery