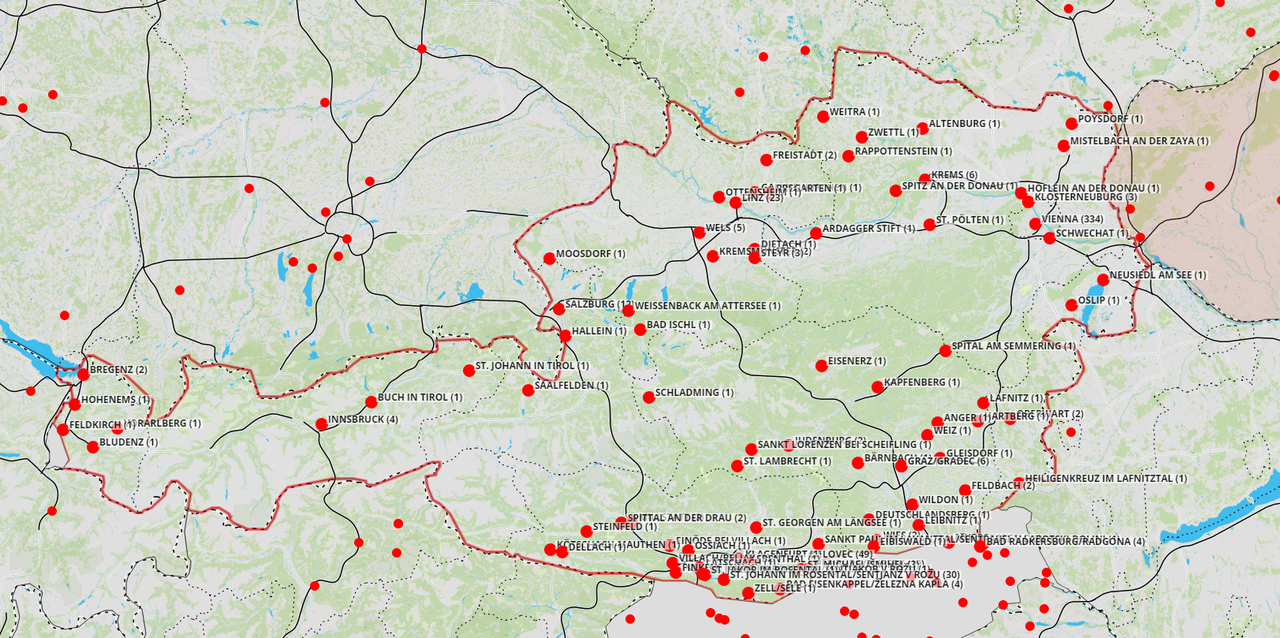 Online version (printscreen) of interactive Culture from Slovenia World Map, featuring events in Austria. Collected 2010–2018 by Ljudmila Art and Science Laboratory for the Culture.si database of events worldwide.
SKICA & Slovenian Embassy in Vienna
The Slovenian Culture and Information Centre (SKICA) in Vienna at the Embassy of the Republic of Slovenia, together with the Slovene Arts & Culture Residency programme by the Ministry of Culture is a backbone of a vivid and intense cultural cooperation between the two neighbour states.
Slovene artists and producers hosted in Austria
Every third day, Slovene artists and producers feature on cultural events in Austria. Check the right-hand column and (the archive or explore the map.) Half of these events take place in Vienna; there is also a strong connection with Carinthia, the region with a culturally prolific Slovenian minority.
At the festivals in Austria
Slovene artists and producers regularly participate at established Austrian festivals: Waves Vienna (MENT Ljubljana, Kino Šiška Centre for Urban Culture, SIGIC, Slovene Music Information Centre...), Vienna Design Week (Niko Kralj, Gigodesign, Poligon Creative Centre...), LET'S CEE Film Festival (Staragara, Sever & Sever Production, Petra Pan Film Production...), Festival of Literature and Wine in Krems (Versopolis), and Ars Electronica in Linz (Kapelica Gallery). Two Slovene artists have even won the prestigious Golden Nica Award there: (Marko Peljhan in 2001 and Maja Smrekar in 2017). The P74 Centre and Gallery regularly presents artists at the ViennaFair, while Photon Gallery participates in the ViennaPhotoBook Festival and viennacontemporary. In 2013, Photon opened a new gallery space in Vienna.
Cf. the list of all the festivals in Austria with Slovenian participation in the right-hand column.
Literature connections
In 2018, the Grand Austrian State Prize goes to writer Florjan Lipuš (b. 1937) who has written in Slovene language. In 2011, however, Maja Haderlap (b. 1961), also a Carinthian writer, was bestowed the Ingeborg Bachmann Prize, one of the most important in contemporary German literature, for the novel Angel of Oblivion, which was later turned into a play and produced in Slovenia by the Slovenian National Theatre Drama Ljubljana in 2014. Erwin Koestler has translated several prose works by Ivan Cankar and put into German the graphic novel The Mexicans, published by the Austrian Bahoe Books in 2018.
Partnerships
Quite a few partnerships have lasted for years, among them, the collaboration between the temporary RadioCona and the Ö1 Kunstradio; the creative collaboration between the accordionists Bratko Bibič and Otto Lehner; Aksioma Institute has collaborated in various projects with the University of Applied Science FH JOANNEUM Graz; Flota Institute with the D.ID Dance Identity platform for choreographic research and the practice of contemporary dance and its Tanztage festival held in Oberwart; and the Slovene Ethnographic Museum with Weltmuseum Wien in the SWICH (Sharing a World of Inclusion, Creativity and Heritage) project.
Slovenian-Austrian Year of Neighbourhood Dialogue 2019–2020
A year-long project aimed at developing new partnerships and cooperation between institutions and inhabitants of the neighbouring countries as well as eliminating stereotypes. More information.

See a list of Austria-related articles below.
See also
Events in Austria
Festivals in Austria
ACRYL's festival
Akkordeon Festival Wien
Ars Electronica Festival Linz
Ars Electronica Linz
Blessed Be the Rage of Your Flesh
BuchQuartier Book Fair for Independent and Small Publishers
Buch Wien Book Fair
Classical:NEXT
Common Past Common Future Performance Festival Vienna
Crossing Europe Festival Linz
Curated by
Dicht-Fest
espresso film, Open Air Kurzfilmfestival
European Festival of Poetry Vienna
Festival of Alternative Choirs (FAC)
Filmestival Neue Heimatfilm
Filmfestival Freistadt
FM4 Frequency Festival
Heart of Noise Festival
ImPulsTanz
Impulstanz Festival
International Accordion Festival
International Animation Film festival Tricky Women
International Film Festival Innsbruck
International Puppet Festival Wels
International Puppet Theater Festival
International Puppet Theatre Festival SommerTraumHafen
Jazz and the City Festival
K3 Film Festival
KuKuK, Regional Theatre Festival For Young Audiences Wildon
Labyrinth höfleiner donauweiten poesiefestival
LET'S CEE Film Festival
Liquid Music Festival
Literatur & Wein, Das Kulturenfestival
LiWoLi Festival
Month of Photography Vienna
Music Theatre Days Wien
Music Unlimited
New Adits Festival of Contemporary Music
Nextcomic Festival
Niños Consentidos Vienna Experimental and Interdisciplinary Art Festival
PannOpticum - International Puppet Theatre Festival
Parallel Vienna Art Fair
Pelzverkehr Festival of Dance and Performance
Popfest Wien
Rampenfiber Queer-feminist Music Festival
Salzburg Festival
Schamrock, Festival of Female Poets
Spectrum Theatre Festival
Spleen Festival Graz
Steirischer Herbst
Tanzhafen Festival
Transborders
Vienna Contemporary Art Fair
Viennacontemporary International Art Fair
Vienna Design Week
Vienna Festival
Viennale
ViennaPhotoBookFestival
VIS Vienna Shorts Festival
Waves Vienna Music Showcase Festival and Conference
Wels International Puppetry Festival
Wels International Puppet Theatre Festival
Wiener Festwochen
World Festival of Ivan Cankar
World Festival of Slovene Documentary Film
ZONK Festival
Subcategories
This category has only the following subcategory.
Articles in category "Austria"
The following 17 pages are in this category, out of 17 total.
Media in category "Austria"
The following 2 files are in this category, out of 2 total.